Ugly God is an American rapper, songwriter, and producer. He got into the limelight after he released his single, Water, which is now certified as Platinum. After that, he has released several singles, mixtapes, album and collaborated with many artists. Let's know about Ugly God's life, his early life, career, net worth, girlfriend and all.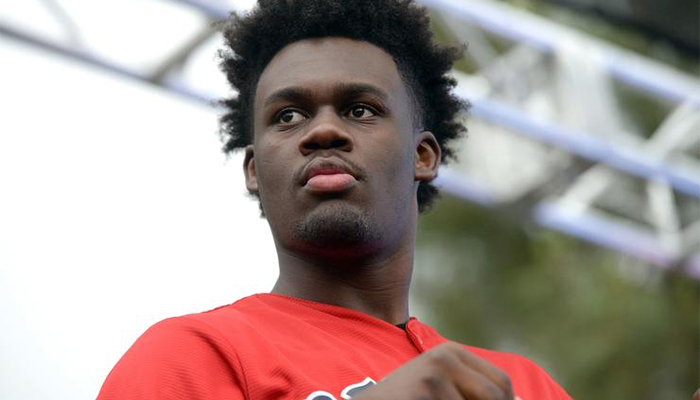 Ugly God Bio and Early Life
Ugly God (Royce Rodriguez) was born on September 19, 1996, in Indiana, United States. Any further information about his parents or relatives is not yet disclosed by him. Ugly God lived in lived in Indiana only for a few months after his birth, his parents got moved to Cleveland, Ohio. But even after moving to Ohio, he again got moved to Houston, Texas after two years of staying in Ohio. He spends most of the time of life in Houston.
Ugly God went to the University of Southern Mississippi and there he got into rapping and started it. Initially, he had gone to university to pursue his career as a computer engineer, but he got more drawn towards rapping and eventually dropped his studies in university.
Ugly God wasn't his first choice of nickname. Initially, he had nicknamed himself, Pussy Bacon, when he was in 7th grade till he was in 10th. But later he changed it to, Ugly God because of its offensiveness in the society and his parents.
Ugly God Age, Height, Weight
This 21-year-old American rapper, songwriter, and producer is of 5 feet 9 inches height and he weighs 172lbs.
Ugly God Career, Songs, Mixtapes, Albums and Collaboration
Ugly God was in his way to become an engineer, but fate played its trick and he ended up being drawn toward music world.
Ugly God first released his first debut single titled, Water on March 16, 2016. It was first premiered on March 16, 2016, through his SoundCloud account. Afterwards, it got released for digital download on November 18, 2016, by Asylum Records. It is the lead single from his debut mixtape The Booty Tape. It was produced by Ugly God himself along with Danny Wolf. It has over 95 million plays in SoundCloud since its addition. The song was successful to debut at number 100 on the Billboard Hot 100 and later reached number 80 on the chart. And now Water is certified as platinum.
Ugly God then released his next single, Fuck Ugly God on June 27, 2017. This song was very popular and became an instant hit among his friends.
Then on August 4, 2017, Ugly God released his commercial debut mixtape titled The Booty Tape. It was released by Asylum Records. The album's first promotional single, "Bitch!", was released on February 1, 2017. The album's second promotional single, "Stop Smoking Black & Milds", was released on August 3, 2017. It's recording sessions took place from 2015 to 2017, with all the writing, recording and its executive production credited to Ugly God himself, alongside the additional production from Danny Wolf and Nikko Bunkin, among others. The mixtape features a solo guest appearance from American rapper Wiz Khalifa. It charted at no. 27 on the Billboard 200.
Ugly God released an extended play, Just a Lil Something Before the Album, as a promotion of his upcoming album, Bumps and Bruises. Although any release date of his upcoming album hasn't been fixed yet, it is dated from 2018 itself.
Apart from his own songs, Ugly God also appeared on the song sog of DJ BJ's rap title. Let's Do It, which also featured Trill Sammy, another rapper. Upon its release, it received positive reviews. He also got featured in another single, this time from Wintertime's single, How Do U Feel (Remix). It was released on June 16, 2017. He also featured in the song of Lil Yatchy, which is titled Boom from the album Lil Boat 2. This song was released on March 9, 2018.
Ugly God Girlfriends
This 21-year-old rapper hasn't tied the knot with anyone else. And talking about his girlfriends, he has posted pictures of a girl on his social media, which we presume to be his girlfriend. She goes by the name of Uglygoddess in her Instagram, however, her actual name is Edith. However, nothing has been confirmed yet.
Ugly God Net Worth
Ugly God net worth is around $ 300 thousand.
His annual average income is around $100,000. Ugly God earned his money mostly from his singles and album. His song, Water has been streamed over 87 million times since it has been uploaded and still on rising. It was successful enough to enter on Billboard Hot 100 at number 100, staying there for up to four weeks. It also reached at number 34 on Hot R&B Songs charts and now it is certified as platinum.
Apart from his sales, Ugly God also earned his money from several live shows. Back in 2016, he performed over dozen times in the United States only, including places like Chicago, Illinois to Pensacola, Florida. He has been performing on stage since 2017. He has dated his performance in Philadelphia, Pennslyvania until September this year.
Ugly God's mixtape The Booty Tape also gained him a good money. Ugly God's mixtape The Booty Tape also gained him a good money.
He was also listed in 10 members of XXL's "2017 Freshman Class." His performance in Freshman Freestyle has over 18 million views on YouTube.
Ugly Gods House and Car
Ugly God lives in a condo which he calls "Nintendo water house" which he bought in $500,000.
And talking of his car,  he posted a picture of himself on his Instagram, where he was standing on top of his new red jeep. He even captioned the picture letting everyone know that he is now an owner of a brand new car.
Take a tour of his house:
Ugly God Facts
He is an animal lover.
He wears fake jewellery.
He is half African American and Dominican.