Susan Andrews name list lies in those list of big names, who have capable to achieve the popularity through their relationship. Susan is the wife of a well-known TV personality, Tucker Carlson who has hosted the nightly political talk show Tucker Carlson Tonight on Fox News since 2016.
The couple is broadly known as the high school sweethearts and their romantic love story is quite interesting than you ever thought. Let us have look on it.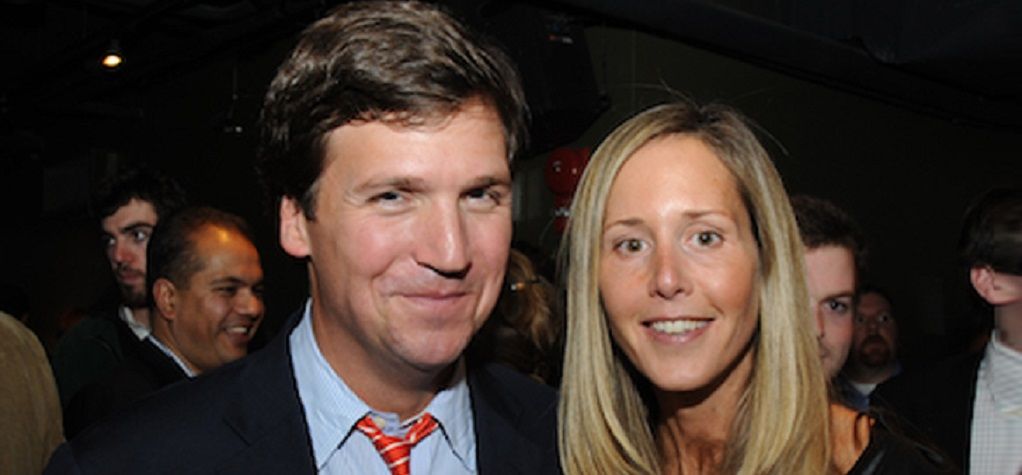 Quick Facts
| | |
| --- | --- |
| Born Name | Susan Andrews |
| Birth Place | United States |
| Birth Date | 1969 |
| School | St.George's School in Middletown, Rhode Island |
| Nationality | American |
| Profession | Unknown |
| Spouse | Tucker Carlson |
| Net Worth | Unknown |
| Age | 49 years |
| Marital Status | Married |
| Children | Four |
Susan Andrews' Married Life: Husband, Tucker Carlson
Very few couples proved that true love exists. Likewise, Susan Andrews married former editors-in-chief of The Daily Caller, Tucker Carlson in 1991 with whom she was in a relationship since her teenage. Susan met Tucker for the first time at the high school when they were 15 years old.
Susan and Tucker both studied the same school at St.George's School in Middletown, Rhode Island. During the time, Susan and Tucker both were studying the same level. Her husband, Tucker Carlson said in an interview with PEOPLE that she was the cutest tenth grader in America and was more realistic about him.
Susan Andres stated:
"There was a bounce in his walk, he was in his khaki pants and ribbon belt, and I thought, even then, he seemed so optimistic and positive…"
The couple has been together more for than 30 years. Before her husband's graduation from Trinity college, Carlson asked Susan's father's permission to marry her. As of now, Susan and Tucker both are living a bliss marriage without any controversies of having an extramarital affair or divorce.
Susan Andrews: Mother of Four Kids
After their wedding, the couple decided to initiate their family. Being ready with responsibility with motherly duties, she became a mother of four kids. Susan has three daughters  Dorothy, Lillie, Hopie, and a son named Buckley Carlson.
The couple shift in their new home back in 2017 which them $2.04 million during their move. At present, she lives along with her family in District Kent neighborhood which is located in Washington D.C.
Susan's Husband, Carlson Was Accused of Raping A Woman
In 2016, Susan's husband Tucker was accused of rape by a woman named Kimberly Carter from Indiana. That incident took place at a Kentucky pizza and the lady said that Carlson molested her.
According to Kimberly's report, she suffers from schizoaffective disorder, a patient with a case of mental disorder and explained that the accusation was not true and apologized for the all misunderstanding.  The Fox News hots spent $14,000 for defending himself and even discussed the incident in his autobiography 'Politicians, Partisans, and Parasites: My Adventures in Cable News.
'
Susan Andrews, board member of a school
During her school days, Susan Andrews was a board member. That was the same school where her dad accused of not reporting a sexual harassment scandal. Because of that, her father was fired from the job. After a lot of investigation, the source indicated that more than a decade later Rev. Andrews had left St. Georges. It seemed as if his lawyer was quick to state that he hadn't broken any laws. Therefore, there were no charges brought forth.
Short Biography: Age, Family, and Education
Susan Andrews was born in 1969 in the United States of America. Her exact date of birth and place are not known. She holds an American nationality and she didn't reveal anything relating to her parents and family.
It seems like, she has maintained a low profile about herself in the public and what we know about her only through her husband who is Fox News anchor and presenter. She is very supportive of her husband and children. Reportedly, she previously worked at  St. Patrick, Fcps, At Your Sevice Hospitality Management LLC.
Short Description of Tucker Carlson
Born in 1969 in San Fransisco, California, USA, Tucker Carlson is a news anchor, political commentator, pundit, and columnist.  He celebrates his birthday on May 16 that makes him age 49. He is one of the best political news and conservative on Foxs News Channel.
Every child walks into their parents' footsteps and same did Tucker followed the steps of his father Richard Warner Carlson who was the President and CEO of the Corporation for Public Broadcasting. After he graduated from the Trinity College in Hartford Connecticut, his very first job was an editorial staff at Political Review.
During his career, he has worked in many newspapers and worked with CNN and MSNBC. Also, he has written articles for popular magazines;  New York Times Magazine, The Weekly Standard, Esquire, The New Republic, and The Daily Beast. He indeed has had a handful and is successful in what he does.
Tucker is one of the highest paid TV personalities with an estimated net worth of $8 million.
Social Media
Wife of Tucker, Susan is not active on any social media but you can follow Tucker Carlson on Twitter, Facebook, and Instagram to know more about their life.
You may follow us on Instagram and  Facebook for recent updates about your favorite celebrity.