Sara Eisen: Salary and Net Worth, Age, Husband, Children & Bio
by
CELEBTATTLER
| VIEW 941
When it comes to news anchoring, there has always been something spicy and shocking things we heard every day. Like other TV journalists, today we discussed one of the most talented gorgeous lady journalist, Sara Eisen. Sara Eisen is an American News anchor, correspondent, and contributor.
Sara Eisen is well-known as an anchor of CNBC's Worldwide Exchange and Squawk on the Street. Prior to CNBC, Sara was a co-anchor of Bloomberg Surveillance as well as a correspondent for Bloomberg Television. Keep reading the article to know more about Eisen's net worth, salary, personal life, family and much more.
Who is Sara Eisen?
Sara Eisen is the daughter of Dr. Drore Eisen and Dr. Jane Eisen, born in December 1970 in Cincinnati. Her father is a dermatologist and mother is a retired pediatric dentist.
Sara Eisen's Parents Sara's father has founded the CDX Diagnostics, a laboratory which specializes in cancer detection and its prevention.
After her high school graduation, she went on to Medill School of Journalism where she received her university degree from Northwestern University. Sar attended a Jewish summer camp-Camp Ramah. Later she worked as an aerobics instructor for two years.
The former chairman of the US Federal Reserve, Ben Bernanke, American businessman, Michell Dell, and CNN's journalists Jake Tapper and Wolf Blitzer all make the list of notable personalities who are alumni of the camp.
Career as a Correspondent and Anchor
Sara Eisen has always been focused on her career in the media field since her childhood.
When she was a child, she used to interview her family and close relatives on different occasions. Today, she is living her passion right now. As of current writing, Sara is serving as a television correspondent and anchor on CNBC Network.
She co-anchored two shows on CNBC: at 5 am, Worldwide Exchange and Squawk on the Street at 10 am. The first show is broadcast from CNBC Global Headquarters in Englewood Cliffs, New Jersey while the second program airs from the New York Stock Exchange.
Sara began her journey as an intern on the Forex TV where she reported on foreign currencies and told how to exchange the foreign markets. Prior to, she covered business news while at college. During her college days, Sara got an internship with Bloomberg TV in Hong Kong.
After gaining her first experiences in the field of media, she returned to New York and joined as a production assistant at Bloomberg in 2008. While she was working, she got the opportunity on Bloomberg Radio and then to TV where she reported on foreign exchange.
Later, she promoted to as a Bloomberg correspondent. At the time, she Sara Eisen covered numerous stories that include the Tsunami aftermath, European debt crisis and the Fukushima crisis in Japan. She also a regular voice on the program called On the Economy for Bloomberg Radio.
Eisen co-hosted the morning TV show Bloomberg Surveillance along with Tom Keene and also appeared on Lunch Money. In the year 2013, Eisen left Bloomberg and appointed as a correspondent by CNBC. In the beginning, she reported the business news.
Moreover, Eisen co-hosted Power Lunch alongside Michelle Caruso-Cabrera, Tyler Mathisen and Melissa Lee. Sara Eisen has been serving on CNBC as a correspondent till to date.
How much is Sara Eisen net worth?
Sara Eisen has accumulated a tremendous amount of fortune, serving as a correspondent for Bloomberg and CNBC.
She was paid a higher salary of $50,000 a month while she working at Bloomberg. Sara is hardworking and dedicated so CNBC is paying her an impressive salary. An American news correspondent and anchor, Sara Eisen has a net worth of $5 million.
Love stories blossom and when they do it reaches a beautiful phase of marriage. The famous TV personality, Sara Eisen married Matthew Levine. At the time, many men heart broke when Eisen's marital news came in the spotlight.
Let's have a closer look, how her married life is going at present. Sara Eisen and Matthew Levine got married on 29th of May in 2016 among the closet family, relatives, and friends at Weylin B. Seymour's in Brooklyn. Sara's husband, Matthew is the managing director of Bloomberg TV and handles all the editorial contents.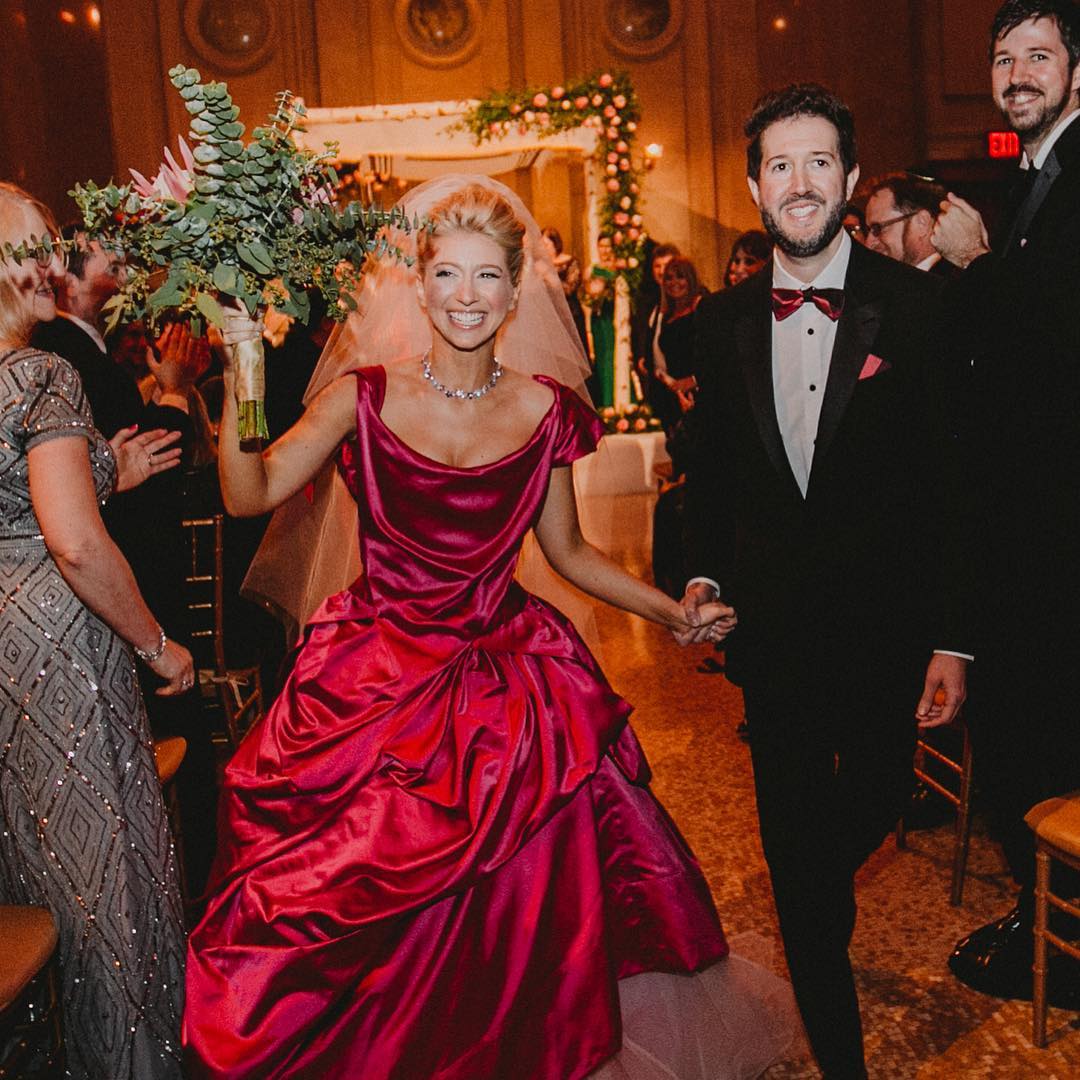 Sara Eisen weds Matthew Levine Both are involved in the television industry, we are sure that they met through their profession. Sara and Matthew began dating each other from 2011. After being in a relationship for many years, the two lovebirds decided to take their relationship into the next level and eventually got married.
The couple went to Thailand for their honeymoon. You can see a few glimpses of her honeymoon on her Instagram. The pair is blessed with two children. She often shared photos of her kids on her social media. Sara posted a photo her son, Gerson in July 2016.
Back in 2017, she uploaded a picture of herself, flaunting her baby bump. On December 21st, 2017, Eisen took to Instagram where she shared a cute picture of her second son, Samuel.
The beautiful and mother of two children has maintained her figure so well that in any kind of clothing easily fits her.
She has se*y and toned legs. Sara loves to travel and explore new places. In her free time, she spends her time with her husband and children. Sara Eisen has a height of 5 feet 6 inches (167 cm) followed by the weight of 55 kg.
She has an attractive hourglass body shape with the body measurements of 36-27-37 inches.
Social Media Presence
Sara is quite active on various social media platforms such as Twitter, Instagram, and Facebook where she has huge numbers of fans followers.
She uploaded her pictures and photos of her family, friends, and children as well. Further, she shares news and other updates on her Twitter account. If we have missed something then let us know on the comment section below.