Nadine Caridi wife of John Macaluso
by
CELEBTATTLER
| VIEW 1041
If you don't know her then she is one of the wives of Jordan Belfort, a former stockbroker of wall street and now an author and motivational speaker. The movie "Wolf of Wall Street" is based upon his career as a stockbroker.
This movie is based on his memoir and was released in 2013. Well, in 1999 he was pleaded guilty to fraud and related crimes in connection stock and penny stock scam. Jordan met Nadine Caridi while he was still married to his former wife Denise Lombardo.
Jordan and Nadine got married in 1991 after he got divorced with Denise. Nadine was in the fashion and showbiz industry. She was also seen in many advertisements and commercials during the 90s which also includes Monday Night Football Commercials.
Nadine made her fortune during the 80s but ended her career as a model after she got married. Let's get to some interesting stories of Nadine Caridi as we read more. Here I have collected some mesmerizing facts and interesting things about her life.
Early Life and Education
Born on November 6, 1962, Nadine Caridi is also known by many as "the Duchess of Bay Ridge" since she was raised in Bay Ridge of New York. She was born in London, England but was raised in Bay Ridge of New York.
She belongs to British nationality. Information about her parents and siblings is not been revealed on social media. She attended John Dewey High School. Then, Nadine earned Master's Degree in Counseling Psychology from Pacifica Graduate Institute and had her Ph.D.
in 2015.
Relationship & Marriage
Nadine has married twice to Jordan Belfort and John Macaluso. She was first married to Jordan Belfort and currently, she is happily married to John.
Nadine Caridi and Jordan Belfort (First husband)
There is an interesting story about how Jordan and Nadine met for the first time.
Nadine was introduced to Jordan by her former boyfriend Alan in a 4th of July at a pool party in the Hamptons. Jordan liked Nadine in the first sight but at that time he was married to Denise Lombardo. Nadine was in her 20's when they started dating.
After Jordan divorced Denise, Jordan and Nadine married in 1991 in the Caribbean. And it is amazing to know that Jordan has named his yacht "Nadine". In June 1996, the yacht sank off the east coast of Sardinia. Here is a story shared by Jordan about his yacht sinking.
They have always been a secretive couple and did not share any information about their martial life with media. The couple has two children; a son and a daughter. Jordan and Nadine marriage life last for 14 years. They got divorced in 2005.
Jordan was unfaithful to his wife which was the same reason for their divorce. She has even claimed domestic violence against him. One of such events is Jordan kicked Nadine down the stairs of his 24-bedroom in Long Island mansion while carrying their little daughter.
He was under the heavy influence of drugs. The couple is divorced now but they live close to each other because of their children.
Nadine Caridi and John Macaluso (Second husband)
After some interval, Nadine met John Macaluso.
They got married in Manhattan Beach. John Macaluso was the CEO of Wizard World and a former entrepreneur. Wizard World Inc. which is an expo company for Si-Fi movies, comics, gaming, and more. He resigned on April 19, 2016. After that, he started his new venture called Fandemic, one of the best new Comic-Cons.
Nadine is happily married and living with her family in Hermosa Beach, California. John is 22 years older than her and has three daughters from his ex-wife. Currently, Nadine is focused on her career and family.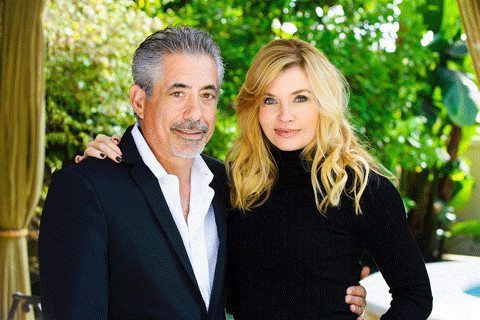 Children of Nadine Caridi
Nadine has one daughter and a son with Jordan Belfort.
Chandler Belfort and Carter Belfort is their daughter and son name. https://www.instagram.com/p/s0tdSbpjBk/?utm_source=ig_embed&utm_campaign=embed_legacy
Career
She started her career as a model. Because of her looks and charm, she quickly made a name for herself.
She became the poster girl of a beer brand, Miller Lite in the 1990's and gained recognition because of it. She has also appeared in the commercial for Monday Night Football and many other several national advertising campaigns.
She is a well-known personality in showbiz and fashion industry. But after her divorce, she ended up her career completely as a model. Now she is working as a therapist. Her main service focuses on Family and Relationship issues.
You can follow her on her Facebook Page to know more about her and her professional services. You can see this gorgeous lady in Miller Lite Commercial of 1990. https://www.youtube.com/watch?v=IdsCPHaT9uk When she started her career as Miller Lite Girl, she got fame and money with it.
Following it, she was also featured in commercials like Monday Night Football. Her life was featured in blockbuster movie 'Wolf of Wall Street' in 2013. Probably, she might have received some royalties from the movie Her net worth has not been revealed however, it can be expected that her worth is in millions.
Nadine Caridi is currently 56 years old. She has brown eyes, dark brown hair, and her zodiac sign is Virgo. Nadine is a smart and confident woman. Her body measure is not been disclosed at the moment. If you want to know more about her then follow her on facebook Nadine Macaluso and Instagram https://www.instagram.com/drnadinemacaluso/.