Mel Gibson's Net Worth, Career, Movies, Wife & Girlfriends
by
CELEBTATTLER
| VIEW 179
Two times Academy Awards winning actor and filmmaker, Mel Gibson is best known for his role as an action hero such as Max Rockatansky in the movie 'Mad Max post-apocalyptic.' Gibson was named the "Se*iest Man Alive" by People in 1985.
He produced, directed, and starred in the epic historical drama film Braveheart for which he won the Golden Globe Award.
Mel Gibson's Net Worth
Mel Gibson has an estimated net worth of 425 million. Before divorce from Robyn Denise Moore, he had a net worth of $850 million.
After the divorce settlement finalized between Mel and his former wife Robyn, he gave his half properties to her. Mel earned a tremendous amount of money through his movies. He has had a lot of work in the front and behind the camera.
In 2000, he acted in three blockbuster movies, The Patriot, Chicken Run and What Women Want which gross over $100 million. The Patriot earned over $125 million worldwide. Chicken Run is a stop-motion animated comedy movie produced by British studio Aardman Animations, successfully grossed over $224 million over the world.
It is the highest grossing stop animated movie to the date. In the same year, an American romantic fantasy comedy film 'What Women Want' became the another biggest hit which grossed over $374 million worldwide against a budget of $70 million.
Apart from the Hollywood, he is also a philanthropist. He supported many charities and the foundation. Mel and his former wife, Robyn gave millions to provide life-saving medical treatment to needy children over the world. Gibson donated $5 million to Mattel Children's Hospital at UCLA and Cedars-Sinai Medical Center in Los Angeles in 2004 and subsidized archeological unearthings in the "support of Mayan development".
House and Cars
Mel Gibson's Malibu estate listed on the market for $17.5 million. He has owned several homes in Malibu, and he is selling the Old World style home which comprises 5.5 acres. The home has five bedrooms, a detached guest house and a separate gym and pool.
Gibson purchased the Malibu estate for $11.5 million in 2008 form then married Hollywood couple David Duchovny and Tea Leoni.
Malibu Estate The Braveheart actor has a huge net worth, but he drives $12,000 smart car. There is no doubt that he drives a luxurious and eco-friendly car.
In 2010, he crashed out $110,000, Maserati.
Career
After graduation, Mel Gibson inspired to be a chef or a journalist. But he ended up taking a different part of career after his sister submitted an application on his behalf at the 'National Institute of Dramatic Art' in Sydney.
He went for auditioned and got selected. In 1977, after graduating, Mel went to the Southern Australian Theater Company. While he was at NIDA, he played as a stage actor in a number of stages. After that, he tried his hand at televison; he played his first role on the Australian series 'The Sullivans' in 1977.
In 1979, he played in the film 'Mad Max' in 1979 and later he played a mentally slow youth movie, 'Tim.' Mel came back with 'Mad Max 2: The Road Warrior' in 1981. He played in several movies like The River, The Year of Living Dangerously, Th Bounty, Payback, Maverick and many more.
In 995, Mel Gibson produced, directed and starred in the biographical film "Braveheart" which went on to win Best Picture and Best Director Oscars. In the 2000s, he played in several hit movies such as The Million Dollar Hotel, The Patriot, Signs, What Women Want and The Passion of the Christ.
After the long break from the Hollywood industry, in 2010, he assumed the lead apart in the emotion picture "Edge of Darkness". In 2013, Mel acted as negative characters in the movie 'Machete Kills' and The Expendables 3 in 2014.
Mel Gibson announced that he would reunite with Randall Wallace to make a sequel for 'The Passion of the Christ' focusing on the resurrection of Jesus. In the same year he opened up on "The Last Show with Stephen Colbert" about the sequel's title will be Resurrection in the upcoming movie and also stated it could probably take three years to complete this project.
In May 2018, Mel announced that he would be directing a WWII film titled, "Destroyer".
Personal Life
Mel Gibson married Robyn Denise Moore on 7 June 1980 who is a dental nurse in Roman Catholic Church in Forestville, New South Wales.
The couple had seven children together, One daughter, and six sons. His children names are Hannah Gibson, Edward, Christian, William, Louis, Milo, and Thomas and also he is the grandfather of three grandchildren.
Mel Gibson and ex-wife, Robyn The couple separated on 29 July 2006 after 26 years of marriage.
His ex-wife, Robyn file divorced on 13 April 2009 citing irreconcilable differences. In the same year, Gibson began dating the Russian Pianist, Oksana Grigorieva. The couple gave to their first and Gibson's eight children, Lucia in 2010.
A year after, they split up. In June 2010, Oksana file a restraining order against Gibson to keep away from her and their kids. Gibson obtained the restraining order against Oksana Grigorieva on June 25, 2010.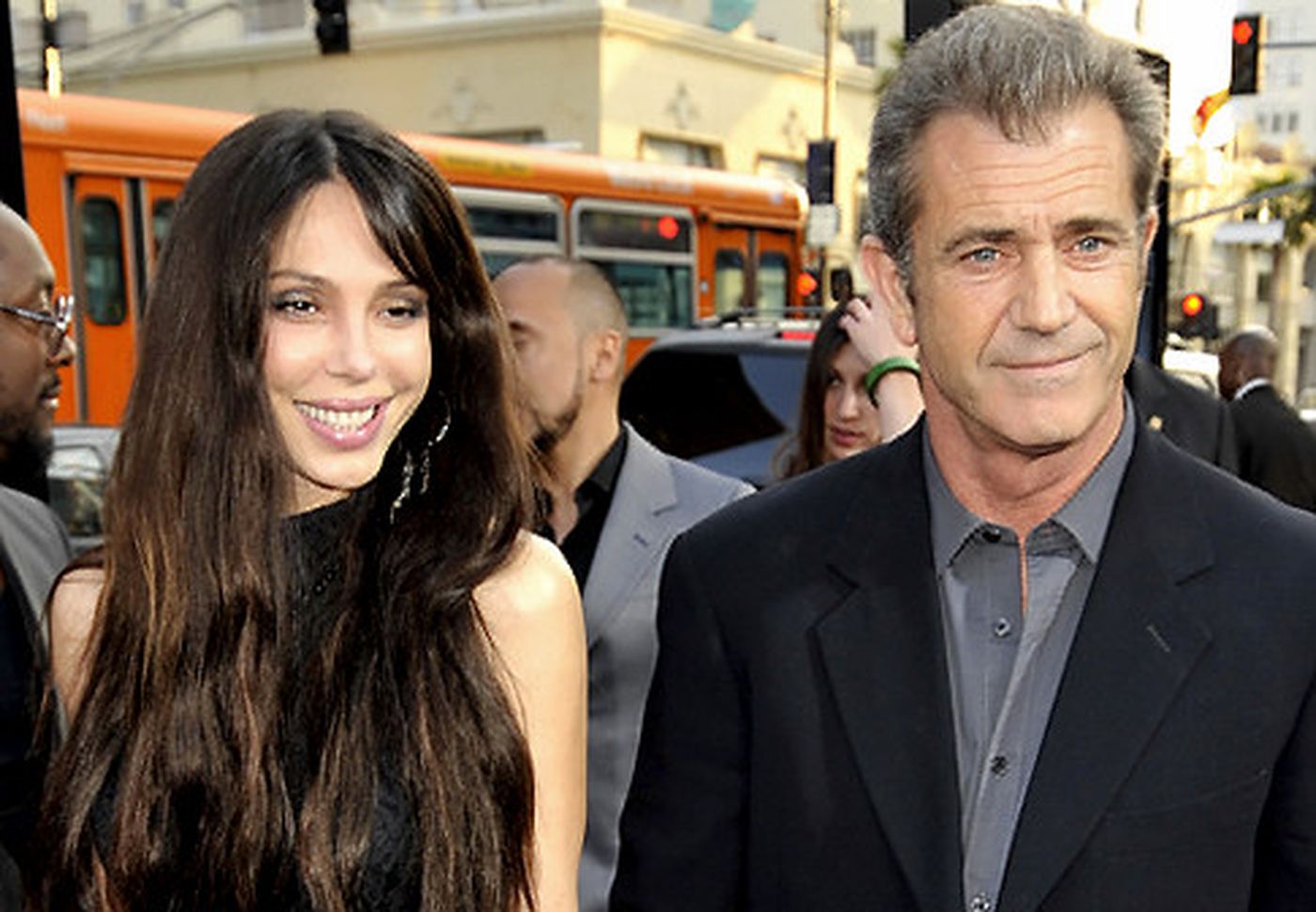 Mel Gibson and Oksana Later Grigorieva accused Mel of domestic violence after their separation, with a taped phone conversation of Gibson to Oksana, which posted on the internet.
He admitted to slapping Lucia's mother once with an open palm but refuted her claim that he'd punched her numerous times. In 2011, Mel pleaded no contest to a misdemeanor charge of domestic violence.
Mel Gibson and Rosalind Ross After separation from Oksana, Mel started dating the former champion vaulter and writer Rosalind Ross who is 35 years younger than him.
The couple started dating in 2016, and a year later, she gave birth to their son and Gibson's ninth child, LarsGerard on 20 January 2017 in Los Angeles.
Bio
Mel Colmcille Gerard Gibson was born on January 3rd, 1956, in Peekskill, New York, the USA to Hutton Gibson and Anne Patricia.
He was the second son of his parents. His father was a writer, and his mother died in 1990. He grew up with his siblings and one of his younger brothers, Donal is an actor. Mel was 12 years old during the Vietnam War. Later the family shifted to West Pymble, Sydney, Australia.
Mel completed high school education at St. Leo's Catholic college in Wahroonga, South Wales. For graduation, he went to the University of New South Wales in Sydney.
Social Profile
Mel Gilson is quite active in various social media such as Facebook, Twitter, and Instagram.
He has 148.8k followers on Instagram and 23.8k followers on the Twitter account.
Age, Height, Weight and Body Measurement
Multi-faceted, Mel Gibson is 66 years old and has 1.77 meters in height. His weight and body measurements are unknown.