Chelsea Handler Bio, Husband?, Net Worth, Relationships, Career, Instagram & Twitter
by
CELEBTATTLER
| VIEW 478
Can a hilarious comedian and a rough & tough hip-hop artist have a love chemistry?! Chelsea Handler is a famous American comedian how has a list of famous celebrities in her dating history. And you'll be shocked to know that one of many of her past lovers is non-other than famous rapper and singer, 50 Cent.
Yes, it is true. And there are a few more who might surprise who! Find out yourself everything about Chelsea Handler with this article.
Bio
Chelsea Handler Chelsea Handler is an American is a comedian, actress, writer, tv host, and producer.
Chelsea is widely recognized for her late-night comedy series "Chelsea Lately" which aired on E! channel. Chelsea Joy Handler was born on 25 February 1975 in Livingston, New Jersey to Seymour Handler and Rita. Her mother was a homemaker and father was a car dealer.
Her father came to the United States of America in 1958. She is the youngest of six children. Chelsea has two sisters and three brothers. Chelsea's father is Jewish and mother is German. Her mother diagnosed with breast cancer in 1989 and battle the diseases for over fifteen years.
She was just nine years old, when her eldest brother, Chet died at the age 21, in a hiking accident in Wyoming. Then at the age of 19, she moved to Los Angeles, California and worked as a waitress. Chelsea is an American by Nationality but her roots belong to Ashkenazi Jewish and German ethnicity.
Back in 2012, her net worth was $12.5 million. In 2014, she signed a deal with Netflix and made $10 million from her late-night comedy show. Mostly, she generates her income through her show and her acting. Apart from that, she has written five books which help her to make more money.
She released her first book, My Horizontal Life: A Collection of One-Night Stands in 2005 which sold over 1.7 million copies and listed at the New York Times Best Seller. In 2009, Maxim magazine listed her as one of the 100 Most Beautiful People at the number 91.
Chelsea Handler House
Chelsea Handler's Los Angeles mansion is now on sale. Handler is looking to make good on her investment. The house has six bedrooms, six and a half bathrooms which she purchased it for $5.942 million in 2010.
The house covers 5,572 square foot area of land. The living space is open and floor-to-ceiling glass doors lead to outdoor space perfect for entertaining.
Los Angeles Home
Chelsea Handler Cars
Chelsea has quite a large collection of cars collections.
She owns several luxury cars like Tesla, Mercedes Benz, Be, tly and Range Rover.
Career
Chelsea Handler began her career as a stand-up comedian at the age of 21. Before that, she worked as a waitress at a restaurant. Then she made her appearance in television shows and films.
From 2002 to 2005, she appeared in the television series 'Girl Behaving Badly' and other shows like Weekends at the D.L. , The Bernie Mac Show, My Wife and Kids, and The Practice. Then, she started her hosting career and the first reality show she hosted was 'On the Lot.' In 2006, she joined E!
and hosted the last two seasons of "The Chelsea Handler Show". In July 2017, Handler hosted her own show named "Chelsea Lately" which aired on E! In the same year, Handler appeared on the internet-based program 'In the Motherhood.' Besides, she also appeared in numerous films and television series.
Her first roled was Nikita in the movie 'National Lampoon Presents Cattle Car' in 2006. She acted in movies and television sitcom like The practice, In the Motherhood, This Means War, Fun Size, Web Therapy, and various others.
Apart from her acting and hosting career, Chelsae also made her name in the writing field. Her books are My Horizontal Life: A Collection of One-Night, Aer you there Vodka? It's Me, Chelsea, Uganda Be Kidding Me etc.
Awards and Achievement
In 2009, Chelsea was entitled to the name 'Grand Marshall' significantly and won the 'Ally for Equality Award' that year.
A month later, in April, she won the Bravo A-List Award for A-List Funny. Chelsea Handler was also awarded the 'Glamour Award for the Queen of the Night., She received the Comedy Person of the Year Award at Montreal's Just for Laughs comedy festival in July 2012.
Does Chelsea Handler have a Husband? Her Relationships
Chelsea is reported single. However, she has been through multiple unsuccessful relationships. 47 years old TV personality dated a number of guys in the past. But what about her present relationship status? Or Is she dating anyone? Chelsea first was in a relationship with a famous rapper and singer, 50 Cent.
It was probably the most high-profile relationship of her. 50 Cent also came as a musical guest on Handler's show, Chelsea Lately finale. They both looked adorable together. The duo met on her show and thing took off from there.
Even Ciara, 50 Cent's ex-girlfriend cane on her show and said her that Ciara wanted him back and wasn't happy that she was dating him. After the incident, the duo split up.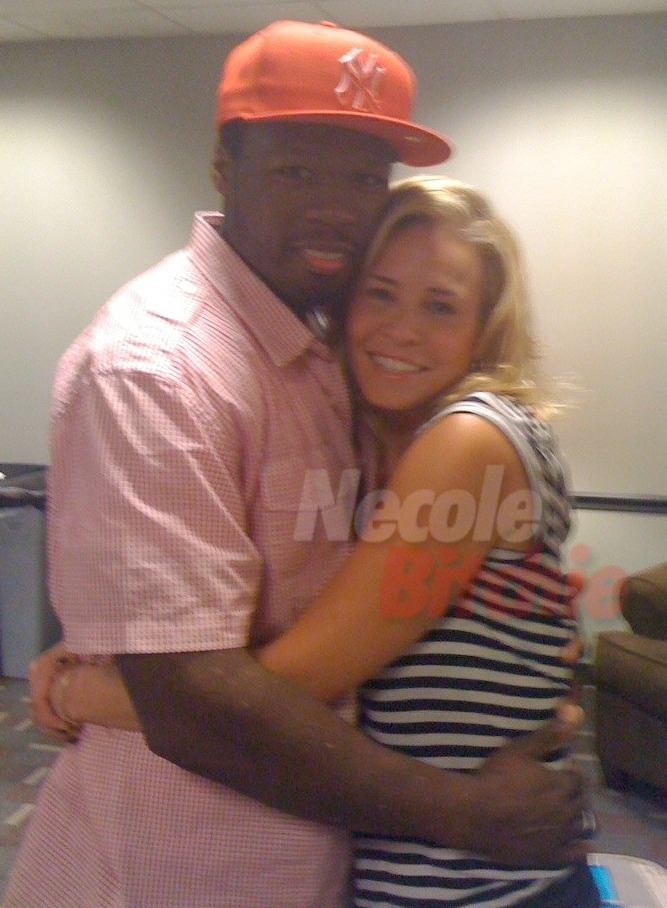 Chelsea and 50 Cent Then she dated a Canadian animal trainer, entertainer, and television producer, Dave Salmoni for several months and later they broke up.
After a few weeks, she joked about her relationship with Dave on her show. After that, she has been romantically involved with David Alan Grier, an American actor, and comedian. David is almost 20 years older than Handler but had great chemistry as both of them are comedians.
Handler went to date Ted Harbert, the NBC Broadcasting chairman. Reportedly, the couple started dating in 2007 but unfortunately, the couple broke their relationship after three years in 2010.
Chelsea and Ted Chelsea Handler dated the hotelier Andre Balazs.
The couple began dating in 2011 and Handler and Andre has been in an on-off relationship for three years and later their love story mark full stop.
Chelsea Handler Instagram & Twitter
Chelsea Handler is active on major social media sites like Twitter and Instagram.
She has a follower of 8.28 million followers on Twitter and 3.3 million followers on Instagram. Freely share your views with comments. Hope you enjoyed reading it! For more interesting articles on your favorite celebs keep following Celeb Tattler.
Instagram
Twitter