Ashley Horner Fitness Programs, How Long, What Equipment?
by
CELEBTATTLER
| VIEW 780
Find out all about fitness celebrity Ashley Horner known for her transformation programs. Where does she live? How much does she earn? How old is she?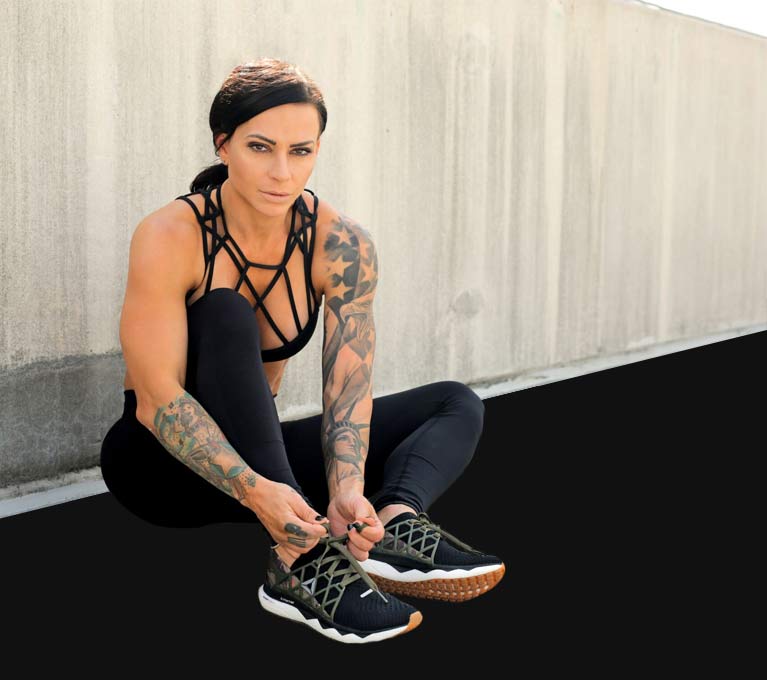 It must be tough to be a fitness celebrity. They are a dime a dozen these days, and they get all sorts of criticisms from their appearance to their actual fitness.
Ashley Horner is no stranger to the pitfalls of being such a celebrity. Receiving much flak from her 'failed' Ironman challenge in 2018, she's brushed off the dust, picked up where she left and continues to inspire people to push their fitness limitations.
Ashley Horner has indeed proven to live up to her philosophy of Charlie Mike: Continue Mission whatever happens. HOW DOES ASHLEY HORNER EARN INCOME? Ashley Horner has definitely built a name for herself in the fitness industry, known as the fitness celebrity with a 'badass' training.
She has created over 20 fitness programmes, all of which can be purchased on her website. She offers meal training as well in conjunction with her programmes. She also sells fitness merchandise on her website to accompany various fitness programmes.
She also has a training facility in Virginia Beach called American Sled Dogs. ASHLEY HORNER CHILDHOOD / EARLY YEARS Ashley Horner was born and raised in Oklahoma, where she spent most of her childhood on a large ranch. She recalls spending summers with her father bailing hay and fishing ponds.
Ashley told Bodybuilding.com that she was a Tomboy growing up, never wanting the 'girly dolls' to play with. She says, "I was always trying to keep up with my older brother. So, at a young age my Mom and Dad put me into sports".
Throughout high school, Ashely played soccer competitively and joined the collegiate soccer team at Northeastern University in Oklahoma.
HOW DID ASHLEY HORNER GET INTO BODYBUILDING? Although Ashley had always been a natural athlete and was always into fitness, things started to change when she had her son.
She gained 45 pounds and lost touch with fitness. It was in the months after her son was born when she realised how much she'd gained weight. Ashley says, "I will never forget months after my son was born, I stood in front of the mirror and was horrified by what I saw!" From that day on, she made the commitment to train and prepare for her first figure competition held in Cape Cod, Massachusetts in April of 2008.
She ended up winning her first competition. Since then, she went on to compete in more figure competitions and ended up bagging more awards such as: ASHLEY HORNER CHILDREN Ashley Horner has 3 sons. Her two eldest, Tripp (13) and Cash (12) and Otto (6).
The two elder sons are from a previous partnership/relationship. Her youngest is with her current husband. She often addresses what it's like to stay fit as a busy mom so she regularly posts content about being a mom on her social media, such as this video she created about making healthy treats with her youngest son.
ASHLEY HORNER HUSBANDAshley Horner is married. Not much has been known about her husband until last month, when she uploaded a video on her YouTube channel called "The Hard and Dirty Q&A" where she and her husband answered viewers' burning questions.
In the 21-minute video, they disclosed how they met, got married quickly, separated for more than a year and got back together again. He works in the military and his name is not disclosed.
HOW OLD IS ASHELY HORNER? Ashley Horner was born on the 22nd of February 1984.
She is 38 years of age as of writing. She was born under the astrological sign Pisces. WHERE DOES ASHLEY HORNER LIVE? Together with her family, Ashley Horner lives in Virginia Beach, Virginia. Her husband works in the military, so it is presumed that they moved here from the West Coast after she got married.
HOW MUCH DOES ASHLEY HORNER WEIGH? Ashley Horner participates in figure competitions and when she is training or in competition season, she weighs 122 pounds. Off-season she weighs 128 pounds. She stands 5 feet 4 inches tall.
ASHLEY HORNER CHARLIE MIKE Known for her tough, badass, hardcore style of training, Ashley Horner became popular in 2016 because of her training program, Charlie Mike, which she created under Bodybuilding.com. Targeted to those with an already advanced level of fitness, Charlie Mike is a 6-week hard core 'military' kind of training aimed at women who want to be different inside and out after finishing the programme.
In the Military, the code Charlie Mike stands for 'Continue Mission' and Ashley wants her fitness followers to do the same – not give up on their goals and embrace this hard-as-nails kind of physical and mental conditioning.
ASHLEY HORNER PLASTIC SURGERY Though Ashley Horner does not seem to have had plastic surgery, she is not saying no to this in the future and in fact wrote on her website blog in 2016 that she will get plastic surgery one day due to the insecurities she had growing up.
She requested that people who opt for plastic surgery should not be judged as no one knows what they are suffering from, for them to turn to plastic surgery as a means of comfort or solution.
ASHLEY HORNER AND TRIATHLON In 2018, Ashely Horner made the headlines as she decided to take on a ''Woman of Iron" challenge where she will do 50 Ironman Triathlons in 50 Locations in 50 Days' in order to raise $100,000 for an orphanage in Haiti.
Due to the extreme nature of her challenge, much publicity and media coverage was given leading up to the event. However, the triathlon community didn't take to this idea quite warmly. They thought that Ashley did not respect the discipline and magnitude of the sport enough.
That someone like her, who had little background in triathlon would embark on a challenge like this for the sake of hype and publicity. Nevertheless, the world watched as Ashely took on her own challenge. Unfortunately, four days into her 50-day challenge, Ashley stopped due to a medical scare.
While many were concerned for her health, many also couldn't help but give the inevitable "told-you-so" reactions. Ashley may not have proven that she's a 'woman of iron' but this has not deterred her from helping people get fitter and stronger by the day.
HOW LONG DOES ASHLEY HORNER'S PROGRAMS TAKE? Ashley has over 20 fitness programmes available currently in the market. These programmes are varied and focus on different target areas. For instance, her program Sweet Cakes ($50.00) targets the glutes area and lasts for six weeks.
Dumbbell Crew ($100.00) is a program for those with a busy schedule and limited gym space. This program is 12-weeks long. One of her latest programmes, Achieving Prominence ($100.00) is for total body conditioning that has varied workouts to 'keep the body guessing' like long runs, explosive HIIT (High Intensity Interval Training), and heavy lifting and bodyweight.
This programme runs for 100 days. Her longest-running programme would have to be Earth Below Me, a six month trainer made to transform an intermediate runner into an expert. Overall, Ashley Horner's programmes vary from 6 weeks to 6 months long.
WHAT EQUIPMENT DO YOU NEED FOR ASHLEY HORNER PROGRAMMES? The nature of Ashley Horner's fitness programmes is focused on muscle building and sculpting. Because of this, most of her programmes require equipment. Her programme Fortitude requires a sandbag, the programme Bandit requires resistance bands, which she sells on her website.
For Dumbbell Crew, all you need are two sets of dumbbells. Her fitness programme Valor recommends the use of a training facility. It is best to check which equipment are required for each programme before buying. Her programme descriptions usually say which equipment you need, and there are links to her merchandise if they carry that specific equipment.
HOW CAN YOU GET IN TOUCH WITH ASHLEY HORNER? For business and partnership inquiries, you can reach Ashley Horner via email at [email protected]