Clifton Murray Bio, Net Worth, Wife, Age, Instagram, Baby, The Tenors
by
CELEBTATTLER
| VIEW 2220
Read about The Tenors' Clifton Murray: his net worth, personal life, wife, and family. Do you know that he dances, handles weapons, and plays sports?
Performing and a great voice runs in Clifton Murray's blood. His paternal grandparents both sang and entertained audiences in the 50s and 60s.

Georgia, his sister, is also a singer in Canada-- honed by the years she spent with Clifton and their father performing before guests in the family- owned
resort
.
Before joining the world renowned classical crossover boy band The Tenors, Clifton appeared in films and television.

He used to play rugby, soccer, basketball, highjump and hockey.
What can't Clifton Murray do?
Clifton Murray's Family
Music is an enormous part of Clifton's family. The famous Irish tenor and Canadian TV personality
George Murray
is his grandfather, and his grandmother
Shirley Harmer
, used to be a singer and TV actress.

For 50 years, she sang in the church choir up until her death in 2016.
His mother Deborah, also a music lover, is from
St. John's
and it is where he gets his compassionate heart from. Described as humanitarians, Clifton's maternal grandfather Walter Davis worked two decades to eradicate TB via Newfoundland Tuberculosis Association.

Olga Davis, Murray's grandmother was one of the first nurses on the
Christmas Seals
--a program of the
American Lung Association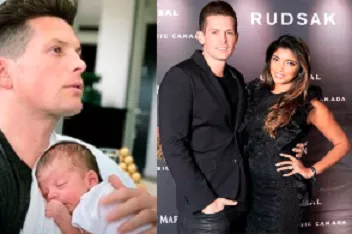 Clifton Murray's Wife and Son
In 2015, he
married
his long term girlfriend and best friend Rachel Carvalho, in Vancouver, Canada.
A gorgeous woman, she could pass off as Hollywood actress Priyanka Chopra's doppelganger. The couple had their first son, Theodore James Murray, in 2019. Clifton Murray's Childhood At age 10, Clifton started performing with sister (also a singer) Georgia and their father at the family-owned Nimmo Bay Wilderness Resort, which still exists to this day (2020).
As the resort hosted people from all walks of life, Clifton learned to perform well and socialize with various audiences at a young age-- skills invaluable to his career in the entertainment industry. He also travelled extensively in Canada's eastern and western portions, where his maternal and paternal grandparents were from.
Clifton said he travelled often to Newfoundland from British Colombia. What Was Clifton Murray's Childhood Dream? Making it to the Olympic high jump team, being an NBA player or a movie star would have been Clifton's childhood dream and growing up, he did not waste an opportunity to hone his passion for athletics and the performing arts.
Which Schools Did Clifton Murray Attend? If not for health issues mainly a shoulder injury and later on a hypertrophic cardiomyopathy (heart condition) diagnosis, Clifton would have been an athlete after receiving a rugby scholarship at the University of Victoria.
Setting his sights on the entertainment industry, Clifton studied theatre and voice at Brentwood College, and graduated with honors from Vancouver Film School. He also studied figure skating for four years and went to North Island Dance School for two years.
Clifton's Other Interests A prolific athlete, entertainer, and outdoor expert, he was a nationally ranked high-jumper, provincial rugby player, soccer and basketball player, a kickboxer, heli-snowboarder, and a hockey island all star player.
Owing to their family business, Clifton also handles weapons and is an outdoor guide. He plays contemporary guitar, sings, performs musicals in theater, and dances hip hop. Clifton Murray on Canadian Idol At 18, he joined Season 5 of the Canadian Idol, which was first aired in June 2007.
His debut performance of Edwin Mccain's I'll Be did not impress the judges and sent him to the bottom four. Clifton was eliminated early in the competition. Carly Rae Jepsen was also a contestant in that season and did better than Clifton, she was the last woman standing.
Jepsen's performance failed to topple Brian Melo, who was declared Canadian Idol 2007 winner. Clifton Murray Before The Tenors Before joining the renowned quartet The Tenors in 2009, Murray was a soloist for the Vancouver- based Good Noise Gospel Choir.
He also played the lead role in the production of Daniel Brooks' play The Good Life in Studio City, Los Angeles.
Clifton Murray Movies and TV Appearances Many would have found Murray familiar, as he starred in few films and television shows.
As a teen, and before belting songs in the Canadian Idol, he starred as one of Channing Tatum's friends in the 2006 romantic comedy sports film, She's the Man, where Amanda Bynes was the lead actress/ actor. In 2009, he starred alongside Ben Stiller in Night at the Museum II and pro wrestler Steve Austin in Damage, both in 2009.
He also appeared in the hit TV series Boston Legal, top billed by Hollywood veteran actors William Shatner and James Spader. These roles further earned him television guestings in the L Word, Smallville, Reaper, Pain Killer Jane and Flash Gordon.
Murray in The Tenors For those who haven't seen him in movies, Murray is known as part of the vocal trio powerhouse, The Tenors. Fraser Walters, and Victor Micallef complete the classical boy band. In 2010, the world witnessed the group's vocal excellence on Oprah when they performed Leonard Cohen's "Hallelujah" with fellow Canadian Céline Dion.
Their ability to crossover from classical to contemporary pop music with ease has made them famous. Since then, international audiences have eagerly received the group, among them Queen Elizabeth II, who told them at the sidelines of ITV network's Diamond Jubilee Show that Hallelujah was one of her favorite songs.
In the same event, the quartet also sang "God Save the Queen", the harmony of which Murray only learned on the way to Windsor Castle.
The Tenors Controversy Remigio Pereira was a long time fourth tenor who left in 2016 after causing a controversy for changing the lyrics to the Canadian national anthem.
The formerly rogue Tenor also held an "All Lives Matter" sign during the Major League Baseball (MLB) All-Star Game in San Diego in July of the same year. The group had told the public that professional and personal differences led to the "difficult decision" to part ways.
The Tenors Collaboration Performances It was only the beginning, as The Tenors conquered the music world by performing at the Emmys in 2011 and with superstars like Andrea Bocelli, Sting and Paul McCartney and entertained audiences around the world.
Crossing genre barriers allows the group to share performances with legends Neil Young, Paul Anka, David Foster, Natalie Cole; and pop and R&B artists Justin Bieber and Brian McKnight.
Instagram