Sara Haines Bio, Net Worth 2020, Husband, The View, Good Morning America
by
CELEBTATTLER
| VIEW 210
The famous TV personality, who's almost always seen smiling, is not only known for her hosting skills. Read on to know more surprising facts about her.
Sara Haines is a familiar face to those who watch American television.

A journalist who reports on breaking news, she lets her hair down as she banters with the other hosts of
'Good Morning America 3'
: former pro football player
Michael Strahan
and multi-talented TV personality
Keke Palmer
.
The show, also called
GMA 3: Strahan, Sara and Keke
' is only one of the few shows Haines has hosted.

She was also part of the
Today Show
, and
The View
in the years past.
Sara Haines: Personal Life
Born and raised in
Newton,Iowa,
Sara Haines is the daughter of Dick Haines and Sandy Haines. The Iowa native enjoyed a close family relationship and said she felt safe wherever her parents were.

She counts her mother as the biggest influence in her life.
Sara has three siblings; two older sisters and a brother. Her favorite memories growing up were at the Iowa State Fair, where she would eat gyros and drink fresh-squeezed lemonade.
She attended
Smith College
in
Northampton, Massachusetts
where she earned her Bachelor of Arts degree in Government
.
In an interview, Sara said she was raised in an extremely conservative household but attended Left-leaning Smith College. She had also substituted for his gay brother on an all-gay men in a New York volleyball team, which she said allowed her to have more gay friends that straight ones. She shared her mother has now become mentally and physically incapacitated, partly because of Parkinson's disease.
QUICK FACTS
Sara Haines: Early Career
It might sound weird, but Sara moved to New York to fulfill her dream of becoming a comedian. She later realized only her mother thought she was funny. But if
Saturday Night Live
producer and director
Lorne Michaels
called her to say they have a spot, though, Haines said she would drop everything in a heartbeat
.
Jumpstarting her career in television was her stint as a production coordinator for NBC Universal's 'Today at Rockefeller Center', in 2002 until 2009.
Her responsibilities included booking cars for the hosts and guests, and arranging catering. She moved up to become a contributing correspondent to the said show from 2009 to 2013 where she was suspended in the middle of Rockefeller Plaza in an astronaut suit, as her first ever television appearance.
She worked alongside television show veterans Kathie Lee Gifford and Hoda Kotb in those years.
Sara Haines on Good Morning America (2013-2016) In 2013, she joined ABC News as a correspondent and as a weekend edition pop news anchor for Good Morning America, staying there for three years, until 2016. Haines said she considered working with Gifford and Kotb as one of the best experiences, where she learned about trusting one's gut and playing up on the hosts' chemistry.
She also said that it's not always about raising a big opinion; listening could be a good approach to hosting, too. Haines' First Pregnancy on GMA More than a year after marrying lawyer husband Max Shifrin, Sara announced her pregnancy at the GMA Show on the prodding of GMA host Amy Robach. She admitted having the tendency to over share but did not plan to make an enormous deal out of her pregnancy in the GMA show.
Like any other woman in her early stage of pregnancy, Sara wanted to withhold the news as long as she could, fearing that it would work against her career. Amy Robach was one of the very few people she told about her pregnancy and instead of hearing advice she was expecting to hear, Hains said Robach advised her to 'tell everybody', as Morning TV and babies are the perfect match. The View (2016-2018) Haines completed the ladies of The View as a co-anchor in 2016, staying from the 20th to 21st season.
This made her a staple in American television, as The View is said to be enjoying high viewership. She often joined actress-comedian Whoopi Goldberg, lawyer- journalist Sunny Hostin, comedian-writer-actress Joy Behar, and columnist- author Meghan McCain, who's also the daughter of Senator John McCain, in the panel.
Having premiered in 1997, The View has a roster of famous television personalities, among them Barbara Walters, who stayed from the show's debut broadcast until her retirement in 2014. On 02 August 2018, Haines announced that she is leaving one dream job (The View) to another (Good Morning America Day), where she will host with Michael Strahan.
The show, also named Strahan & Sara, began airing September 10, 2018. For hosting The View, Haines was twice nominated, in 2017 and 2018, for Daytime Emmy Award for Best Talk Show Host. Why Did Sara Leave The View? According to unverified reports, co-host Meghan McCain was not thrilled to have Haines on the show and treated the latter 'as if she does not exist'.
In her introduction segment years back, McCain was asked why she joined the panel. While she acknowledged the works of Whoopi Goldberg and Joy Behar, she left out Hostin and Haines. McCain and Hostin have had minor spats in the show, but they seem to have settle their differences.
This did not happen between McCain and Haines. A few weeks before Haines announced her departure, McCain, Hostin and Behar went out for a drink after work, leaving Haines to feel bad about being left out again, mentioning the issue on air the following day.
McCain-Haines Controversy Continues It seems that Haines' spat with McCain has not ended, when, in 2019, McCain acknowledged Harris Faulkner's 'Outnumbered Overtime' for prevailing over her competition the show headlined by Strahan and Haines (Good Morning America 3: Strahan & Sara).
McCain tweeted: 'So proud of you, Harris, (not that you need the accolades). Thank you for always being a woman I can look up to in this industry, for all the goals I wish to achieve myself, and for being a pillar of strength and friendship I can rely on.
And you do it all with grace and class.' According to Nielsen stats, 'Outnumbered Overtime' has beaten ABC's 'Strahan and Sara' eight times out of 17 episodes in July, and nearly 20 times in 2018, The Wrap reported. According to sources, McCain is only congratulating a former mentor and friend, being that she has worked with Fox News years prior.
Sara Haines Back in GMA (2018- present) Haines returned to the Good Morning America Show as Michael Strahan's partner in GMA Day: Strahan & Sara. According to industry rumors, the show had been struggling in the ratings game after replacing the cooking show 'The Chew'.
In 2019, hoping to attract younger audiences, ABC recruited Keke Palmer as the third host. The show has then been renamed, GMA 3: Strahan, Sara and Keke Palmer filled in for Haines when the latter was on maternity leave for her third child, and her performance and skills apparently impressed ABC executives.
Keke starred alongside Constance Wu and Jennifer Lopez in the film, Hustlers. Sara Haines Husband, Children Haines married lawyer Max Shifrin in The Bahamas in 2014. The couple is based in Brooklyn. Max is an associate for the Cleveland, Ohio-based law firm Baker & Hostetler LLP.
They have three children together named Alec Richard, (March 2016); Sandra Grace, (December 2017), and Caleb Joseph (June 2019). The couple are still very much together.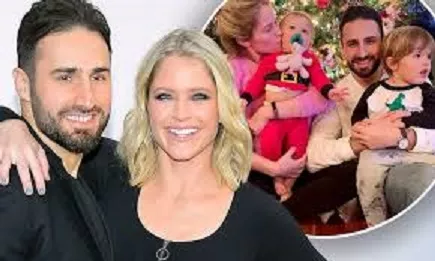 Sara Haines' Feet Apart from her infectious smile and perky personality, Sara is also known for her beautiful feet, as voted by over 200 persons in the website likely created for those with feet fetish. She is also lesser-known to have appeared on screen in the Adam Sandler movie, Pixels, in 2015. Sara Haines: Instagram, Twitter, YouTube Sara said she prefers Instagram over Twitter, as it is 'driven by photos and not trolls'.
She has more than 500K followers on Twitter though, since joining the platform in 2008. Her Instagram account followers are almost 300K, but it could increase in no time, as she continues to post adorable photos of her children.
She created her own YouTube Channel in April 2020, at the height of COVID- 19 pandemic. If not chatting with subscribers and fans, videos are mainly about 'Couples in Quarantine,' where partners discuss their experiences about staying at more (to avoid getting sick). American Pie star Jason Biggs and actress/ author wife Jenny Mollen were among the first interviewees.
A month prior, The View hosts had interviewed the couple about their quarantine experience. Haines: Back as The View Host As GMA 3 is on production hiatus because of COVID-19 pandemic restrictions, Haines has returned to The View as a filler for 77 -year- old Joy Behar. Upon the urging of her daughter and due to her being part of the vulnerable group, Behar announced her decision to take a temporary time off from the show on March 2020. The current pandemic has changed the way shows produce content.
The View has joined the bandwagon of shows conducting their programs online, where Whoopi Goldberg, Joy Behar, and Meghan McCain (who we just found out is pregnant!) are all calling into the program from home. No announcement has been issued if Haines will stay on the show for good. Sara Haines Net Worth
| | |
| --- | --- |
| Estimated Net Worth 2020 | $15M |
| How Much Did Sara Haines Earn Last year? | $10M |
| What is Sara Haines' Income Source? | TV Hosting |
According to Payscale.com
,
the average U.S.

news anchor salary stands at $60K and about $70K for ABC, the TV company in which Sara Haines belongs
.
However, many top anchors of major networks earn way more than this average, with some raking in millions of dollars annually, per
report
.
Sara's
co-anchor Michael Strahan reportedly
earns
$17 million a year, and it is safe to assume that her annual salary does not fall far behind. Let's assume she is earning $ 10M yearly.