Ray Tabano Bio, Net Worth, Aerosmith cofounder,
by
CELEBTATTLER
Know more about Steven Tyler's lifelong friend and Aerosmith cofounder, Ray Tabano. What has he been up to after quitting the band?
World famous bands have their share of members who quit shortly before making it big.
And if The Beatles had Pete Best, the Aerosmith had Ray Tabano. The 73-year-old musician is cofounder of the band and childhood friend to frontman Steven Tyler. He was the original rhythm guitarist of the rock group before being fired by Aerosmith's former managers Steve Leber and David Krebs.
The duo managed Aerosmith from 1972 to 1984, and are credited for grooming AC/DC, the Scorpions, Def Leppard, Joan Jett, among others, to superstardom. Ray Tabano, however, proved that one can leave a band without the drama and lawsuit.
He continues to support Aerosmith to this day. QUICK FACTS
Full Name

Raymond Jay John Tabano

Professional Name

Ray Tabano

Also Known As

Crazy Raymond

Age

76 yo

Date of Birth

23 Dec 1946

Place of Birth

The Bronx, New York

Height

5'8 (1.77m)

Weight

70kg (155 lbs)

Ethnicity

Caucasian (American)

Lives in

Yonkers, New York

Hair Color

Gray

Eye color

Dark brown

Profession

Musician, Guitarist, Chef, Entrepreneur, Band Manager

Education

French Culinary Institute

Roosevelt High School

Relationship status

Married

Wife

Lorraine Capaso Tabano

Son/ Daughter

Unknown

Zodiac Sign

Capricorn

Net worth

$ 3M

Hobbies

Playing music, playing golf

Social media Presence

http://www.crazyraymond.net/

https://www.facebook.com/CrazyRamond/

https://twitter.com/one800raymond?lang=en

Trivia

May 30th is

declared

as Ray Tabano Day in his hometown in Yonkers, NY.
Ray Tabano and Steven Tyler Early Life
Before forming the Aerosmith, childhood friends Steven Victor Tallarico, later known as Steven Tyler, and Raymond "Crazy Raymond" Tabano were living in the
northeast section of Yonkers, New York.

Both attended Roosevelt High School
.
In his autobiographical book,
Does The Noise In My Head Bother You,
Steven Tyler
shared
his lifelong friendship with Ray started when he yelled at him to "stay off his vines" while the latter was climbing a tree.

Two days later, Ray, in Steven Tyler's words, "beat the shit out" of him but also recruited him to join the Green Mountain Boys Gang. Gang membership, which he said was more like a club, meant protection from thugs and fascination from girls into "assholes".
Ray's father had a bar on Morris Park Avenue in the Bronx, and that's where the then 14-year-old Steven used to hangout, drinking beer and singing with Ray.
The two were later expelled after an undercover police busted them for smoking pot, Tyler further reveals in his book.
Tabano and Tyler: The Strangeurs/ Chain Reaction
From there, Tyler and Tabano's formed their first band named
The Strangeurs
.
Tabano and Alan Strohmayer played bass; Barry Shapiro and Tyler hit the drums as Tyler also did vocals; Don Solomon performed on the keyboards and vocals; and Peter Stahl on guitars.

Quickly gaining popularity as a cover band, The Strangeurs formed a fan base in New York and around the New England area, where they were known as a party band
.
The Strangeurs would later change their name to Chain Reaction, lasting from 1964 to 1968.

The rock band achieved moderate success and opened for famous bands
The Beach Boys
,
The Byrds
and
The Yardbirds
.
They released two songs "You Should Have Been Here Yesterday" / "Ever Lovin' Man" and "The Sun" / "When I Needed You"-- which was included in Aerosmith's 3-disc set "Pandora's Box" in 1991.
Aerosmith Origins
Tyler and Tabano went to Boston to form a new band, as the latter was also opening a leather goods store.
Tyler had earlier met musicians Joe Perry (guitarist) and bassist Tom Hamilton in New Hampshire.

They had also moved to Boston and were only missing a drummer to complete the group. The band was formed when, one day, (future) drummer Joey Kramer walked into Tabano's "The Yellow Cow" store looking to see if Tabano could get him an audition.

He did, and the rest, as they say, is history
.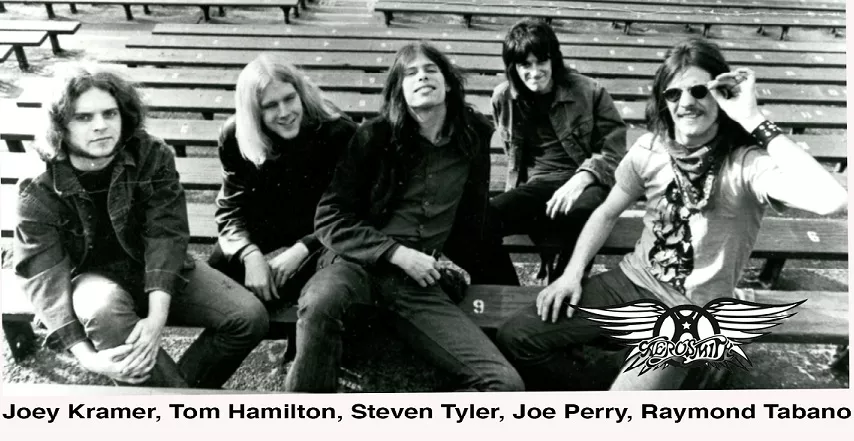 Ray Tabano: Aerosmith Guitarist
Formed in 1970, the Aerosmith had Tabano playing rhythm guitars. He left after one and a half years because he was non-committal. There were stories that Ray was
lacking
in guitar skills.

He was often told to "practice" by the other band members, including close friend Tyler. The band has issued no comment about disputing or validating this
.
Hence in 1971, Tabano was replaced by
Brad Whitford
. In an interview, Whitford
said
it felt weird having the person he replaced still very much involved in the band.

He explained "Crazy Ray" was immersed in marketing stuff, forming the band's fan group, designing its first logo and making unique merchandise items.
Ray Tabano Lived in a Commune
It was, after all, the 70's and shortly after leaving the band, he and some friends from Yonkers moved to
Brooks, Maine
to live in a
commune
.
After getting signed and recording their first album, Tyler contacted Tabano to re-join the band, but the latter refused. A year later, Tyler called again, and Tabano, already tired from living in the commune, moved back to
Boston
.
Tabano: Working in the Backseat
He re-joined Aerosmith but had given up playing and instead focused on working in the
"Wherehouse"
- a warehouse rented out by Aerosmith for various purposes, from 1975- 1980s. Located at 55 Pond Street in
Waltham, Massachusetts
, it was the band's office, garage, hangout place and recording studio.
As the band's Marketing Director, it was where Tabano started the band's line of merchandise and designed the band's iconic logo — the winged "A". The Wherehouse was also the birthplace of the band's official fan club,
Aero Force One
.

Aerosmith's first merchandise flyer was placed inside the 1977 "
Draw the Line
" album. Eager fans started purchasing the merchandise. Tabano's marketing genius worked. The band continues to sell
merchandise
to this day.
In 1979, after allegedly displaying erratic behavior and showing his "Crazy Raymond" side, he was fired by then Aerosmith managers
Steve Leber
and David Krebs
.
Ray Tabano After Aerosmith
Remaining in Boston, Tabano managed few local bands.

He opened a production and merchandise company. After a few years, industry challenges forced him to give up, eventually. In the 1980s, after divorcing his wife, he moved back to his birthplace in Yonkers.
Along with musicians from his birthplace in Yonkers, Ray founded Crazy Raymond & the Watchdogs and toured for three years in the
New England regio
n
.

The band played in local clubs and concert halls, including in the then Aerosmith-owned
Mama Kin
Music Hall in Boston.
Steven Tyler and Ray Tabano's ties remained strong, though, as the two were often seen performing on stage with Ray's band.
Ray eventually earned a Culinary degree from the French Culinary Institute and went to Manhattan as a Hotel Chef. He later founded a catering company named
5 Star Gourmet Catering
.
Ray Tabano on Pawn Stars
A 2015 best of
Pawn Stars
video
posted on
YouTube
shows the gray-haired Tabano selling two Aerosmith special edition tour shirts to
Rick Harrison
.

Explaining how he got hold of the shirts, Tabano said he was one of the founding members, which raised Harrison's eyebrows.
One of the shirts was signed by the band, while the other one had Tyler and Tabano's names in the tag.

Tabano originally wanted them sold for $3,000 but an appraiser priced it at only $2400, which Tabano said was way below its value. Harrison and Tabano haggled until agreeing to a $1100 price point
.
Ray Tabano on American Pickers
Three years later, in 2018, Tabano appeared in an episode of
American Pickers
with the title, "
Roll Like a Rock Star
", where he authenticated an
International Harvester Metro Van
as property of the band Aerosmith.

Tabano described the van as their "rolling hotel".
Property owner Phil discovered the antiquated van partly buried in his land in
Chesterfield, Massachusetts
and showed an Aerosmith logo different from the emblem that the band has been using.

To determine if the van is what he suspects it to be, Phil contacted
Mike Wolfe
and
Frank Fritz
.
Aerosmith Buys Back Van
After validating its notable history, the owner agreed to sell it to Wolfe for
$25,000
. They restored it on Aerosmith's behalf, and the band
bought it back
.
Aerosmith played shows in MGM Springfield and enjoys Vegas residency for their Deuces are Wild shows, incorporating the vehicle in their gigs. Ray Tabano: Net Worth
| | |
| --- | --- |
| Estimated Net Worth 2020 | $3M |
| How Much Did Ray Tabano Earn Last year? | $500K |
| What is Ray Tabano's Income Sources? | Catering Company, Gigs, Managing Bands, occasional TV appearances |
| How Much Does Ray Tabano Earn from His Catering Company? | $10K-20K/mo |
| How Much Does Ray Tabano Earn from managing bands and gigs? | $10K-20K/mo |
As Aerosmith's marketing director for several years, he created various merchandise and was reportedly sacked in 1979 following accusations of engaging in business transactions behind the band's back.

The specifics of the transactions are unknown. He could have likely gained $2 million in his services for the band for years.
After Aerosmith, Ray managed and formed local bands, which continue to this day. He is approximately earning an average of $10K per month, revenues from gigs included
.
His brief appearances in TV shows such as Pawn Stars (2015) and American Pickers (2018) likely added $15k in his coffers. According to the 2017 Screen Actors Guild (SAG) rate sheet, a major role performer can earn at least $5k for a 30-minute show while the rate increases to $8k for a one-hour show.
Ray Tabano's Bands According to Tabano's website, he is back to making music for the past six years. He is also forming a new band named "The 3Rd Step". New songs will be recorded and Steven Tyler will join him for a song or two.
Making more road trips and shows will be on Tabano's to- do list in the coming months. He may be contacted through Lisa Martineau ( [email protected]).
Steven Tyler