JOHN ROMERO NET WORTH, DOOM, WHAT IS HE DOING NOW?
by
CELEBTATTLER
| VIEW 481
Read all about John Romero the programmer who brought Doom to PC Gaming. His net worth, assets, bio, marriages, history, and what he is doing in Ireland.
John Romano is the revolutionary video programmer who brought the world Doom, the very first first-person shooting style game.

John is living proof that history can be made through passion and hard work alone as he broke records in the world of programming without any formal training
.
JOHN ROMERO FACTS
WHO IS JOHN ROMERO?
John Romero is an American award-winning video game designer, level designer, and programmer whose work spans over 130 games.

He is the co-founder of
id Software
and Ion Storm (ceased operations February 2005). His notable works include the
Commander Keen series, Wolfenstein 3D, Doom Series, Quake,
and
Daikatana.
WHAT IS JOHN ROMERO KNOWN FOR?
John Romero is best known for working on games such as
Doom, Quake, Wolfenstein 3D,
and
Dangerous Dave
.

Along with id Software's lead programmer John D Carmack, John Romero's game designs led to the mass popularisation of the first-person shooter style in the 1990's. John Romero then coined this first-person shooter style as 'deathmatch'.
JOHN ROMERO NET WORTH 2019 2020
| | |
| --- | --- |
| ESTIMATED NET WORTH IN 2019 | $20 Million (estimated) |
| PREVIOUS YEAR'S NET WORTH (2018) | $17.5 Million (estimated) |
| ANNUAL SALARY | Not known |
| INCOME SOURCE | Romero Games (Game Development Studio) and Speaking Engagements |
JOHN ROMERO: HOUSE, CARS, LIFESTYLES AND OTHER ASSETS
What does John Romero spend his money on?
While John Romero is not really known to be lavish and extravagant, these undated photos from a
personal photo album
show that John is seemingly fond of yellow vehicles.
There are shots of a Yellow Hummer with captions saying,
'This is my 1997 Fly-Yellow Turbo Diesel 4-Door Hardtop.'
While the company Hummer is now defunct, a second-hand 1997 Hummer H1 Wagon still fetches up to $64,000
.
There are other photos of a Ferrari captioned, 'This was my 1991 Fly-yellow Ferrari Testarossa.' And it looks like John Romero knows how to invest in cars. Around eight years ago, the price of a Ferrari Testarossa would be $45,000 to $75,000.
Now, the nicer ones are selling for about $150,000 or possibly more. There is also a photo of a grandiose house which John captioned as, 'Here's my old house in Stonebriar, located near Frisco, TX.
A lot plan of the two-storey residence is also included in the photo album. The photo shows that the property is 44.7 acres in size. A similar-sized property around Frisco, Texas sells for $500,000 upwards. John Romero has since moved to Galway, Ireland where he lives with his wife.
HOW MUCH DOES JOHN ROMERO EARN? In his current role as co-owner of Romero Games, a Game Development Studio company which he runs with his wife Brenda in Galway, Ireland, it is not known yet how much they earn as an income. Currently, John Romero offers his skills, expertise, and experience as a speaker in global conferences and events. Based on this article by Harvard Business Review, paid speaking can be a lucrative and enjoyable career, and those who are very well-known in their career can bring in around $20,000 to $35,000 per talk.
WHAT IS JOHN ROMERO'S ETHNICITY?
John Romero is known to be of Mexican, Yaqui and Cherokee heritage. In a 2013 Tweet, someone asked what John Romero's ethnicity was, and John himself answered it saying, 'Mexican-American'.
In an Instagram post dated February 2019, John Romero paid tribute to his heritage showing a photograph of his father Alfonso and his grandmother Socorro. In the caption, he explained why he can speak only a little bit of Spanish.
His family were not taught Spanish in an effort to assimilate more to the American culture. He laments that this is sad but that despite this, his culture is very much alive in him and close to his heart. JOHN ROMERO PARENTS John Romero's parents, Alfonso Antonio Romero and Ginny Schuneman, met when they were teenagers in Tucson, Arizona.
John's father was a first-generation Mexican-American and was a maintenance man in an air force base. After Alfonso Antonio and Ginny got married, they moved to Colorado in the hopes that their inter-racial marriage will be more accepted. CHILDHOOD / EARLY YEARS In an interview with PC Games, John Romero shared that he grew up in a small town in Northern California which had a population of only 6,000.
Growing up in the era of dark arcades in the 70's, it was challenging for John as they had no computer at home. So, at the age of 11, he went to the local college where students were learning BASIC. In an attempt to keep him at home, John's parents got him an Apple II Plus and he was 'done going outside.' He credits the Apple II as his personal home arcade.
After a few years, he was able to programme 20 games and learned the 6502 Assembly language of all his favourite arcade games. EARLY INFLUENCES John Romero was already inclined to video games when he was young. He names Space Invaders (1978) and Pac-Man (1980) as the two games that got him thinking about the design of video games. He cites Nasir Gebelli, Bill Budge, and Shigeru Miyamoto as programmers who influenced his childhood.
HOW DID JOHN ROMERO GET STARTED IN PROGRAMMING? In a 2016 interview with the Financial Post, John Romero was asked how he learned all about programming. He shared that when he was 11, he went up to the local college and asked computer science students what they were typing.
'I wrote it down and started using it myself. I was interested in programming so I asked them about programming. And for some reason these college students were telling an 11-year oldwho shouldn't even have been there in the computer science building –everything that they knew.' WHERE DID JOHN ROMERO GO TO COLLEGE? John Romero did not go to College or have any formal training in programming.
In this interview, John gives a piece of advice to those aspiring to have a career in programming: 'If you have a portfolio of games – indie games that you can do at homethat you can show , that's far more impressive to an employer than showing them a degree you got somewhere and having no experience.' In John Romero's current company Romero Games, non-College graduates are encouraged to apply.
This can be found in the website's F.A.Q section: Q: Do I need to have a college degree to work at Romero Games? A: No. You need to show demonstrated proof of ability. If you spent all your time coding while others went to college, that's fine.
It's what John Romero did, too. JOHN ROMERO – CAREER START John Romero's career technically started in June 1984 when his first published game, Scout Search, appeared in the June issue of inCider Magazine.
After programming for 8 years, his first industry job was at Origin Systems in 1987. During this time, he worked on the Apple II to Commodore 64 port of 2400. It was also during this time when John Romero had his first collaboration with his friend Lane Roathe when they co-founded a company called Ideas From the Deep.' JOHN ROMERO AND DOOM (ID SOFTWARE) In March of 1989, John Romero moved to Shreveport, Louisiana where he joined Softdisk in their Special Projects division.
He eventually started a PC Games division in July of 1990 where he hired John D Carmack and brought together Adrian Carmack and Tom Hall to form their group. In February 1991, all of them left Softdisk to form ID Software.
John Romero worked at ID Software until 1996 and he was involved in the creation of several milestone games such as Commander Keen, Doom, Doom II: Hell on Earth, Wolfenstein 3D, and Quake. There were many elements that John Romero and John Carmack popularised back in 1993 with Doom, but the game was known most for being the most important first-shooter game ever made.
John Romero made history then as Doom changed PC gaming forever.
WHO IS JOHN ROMERO'S WIFE? John Romero is married to Brenda Romero (maiden name Branda Brathwaite), an award-winning game designer, Fulbright scholar, entrepreneur, artist, writer, and creative director.
She herself entered the game industry in 1981. She runs Romero Games together with John and also goes on speaking engagements for global events and conferences. John and Brenda Romero were married in October of 2012. They currently live in Galway, Ireland.
JOHN ROMERO PREVIOUS MARRIAGES John Romero has had three previous marriages: His first marriage was to Kelly Mitchell (married 1987-1989), his second marriage was to Elizabeth Ann McCall (married 1990-1998) and then to Raluca Alexandra Plesca (married 2004-2011) WHY DID JOHN ROMERO MOVE TO IRELAND? In 2015, someone posted a Quora question, 'Why did John Romero move to Ireland and what is he doing there?' John Romero himself answered the question saying, 'My wife and I love Ireland.
The country is absolutely breath-takingly beautiful, and the food is amazing ' John also praised the people of Ireland, describing them as polite, friendly, and helpful, saying there's no better place to raise 4 kids.
John also mentioned that the game development scene in Ireland is doing better than ever. And the 4,000 castles in the country is a bonus. According to IDA Ireland (Foreign Direct Investment Ireland, formerly known as Industrial Development Authority), Ireland is the world's second-largest software exporter.
You can view more about John Romero's life in Galway, Ireland in this video feature.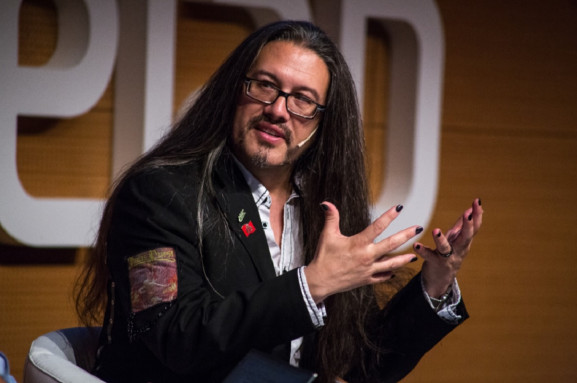 WHAT IS JOHN ROMERO DOING NOW? Together with his wife Brenda Romero, John now runs a design consultancy group called Romero Games.
Individually and as a couple, John and Brenda Romero are available for speaking engagements and have given talks at the biggest companies and conferences in the world. Some companies they have spoken for are Facebook, Google, Microsoft, TedX, SAP, Dell, Amazon, and many more. His game development studio, Romero Games, is based in Galway, Ireland, where he currently resides with his wife. In 2019, John Romero returned to creating games for one last entry, Sigil.
It is a free release that continues the story of the original Doom. It is his first full episode in over two decades. JOHN ROMERO'S SECRET TO ID SOFTWARE'S SUCCESS Despite his success, John Romero is known to be outspoken and generous with his knowledge and sharing information.
In 2016, he was interviewed by UK trade magazine MCV/ Develop where he candidly shared things they did right in Id Software. A big factor, he said was that they did not make prototypes. 'No prototypes.
Just make the game. Polish as you go. Don't depend on polish happening later. Always maintain constantly shippable code.' He also shared the importance of fixing bugs early on. 'If you don't fix bugs, your new code will be built on a buggy codebase and ensure an unstable foundation.' John Romero also credits their success to each team being focused on one project at a time.
'Write your code for this game onlynot for a future game. You're going to be writing a new code later because you'll be smarter.'