Ian Jeffrey Age, Net Worth, YouTube, Instagram, Controversy
by
CELEBTATTLER
If you're a fan of makeup artist and beauty vlogger James Charles, you've probably heard about his good-looking brother Ian Jeffrey, who has appeared several times in James' YouTube videos. Ian appears to be quite shy and reserved, but as it turns out that this teenager is actually working his way up the fashion and modeling industry.
Quick Facts
Full Name
Ian Jeffrey
Real Name
Ian Jeffrey Dickinson
Birthdate
17 December 2001
Current Age

21 years old

Horoscope

Sagittarius

Birth Place

Bethlehem, Albany County, New York

Current Residence

Los Angeles, California

Nationality

American

Ethnicity

Caucasian, American

Education

Bethlehem Central High School

Height

6' 2" or 187.96 cm

Eye Color

Brown

Marital Status

Single

Relationship Status

Single

Is Ian Jeffrey Gay?

Considering that he had a girlfriend, we wouldn't say that Ian Jeffrey is gay.

Profession

Model, Social Media Influencer

Net Worth

Approximately $1 Million - $5 Million

Social Media Presence

Instagram, Twitter, YouTube, Facebook

Youtube Channel

https://www.youtube.com/channel/UC5XrSs44fpyA5h8rSdxOtnA

Facebook Page

Ian Jeffrey is not on Facebook

Instagram Page

https://www.instagram.com/ianjeffrey/

https://www.instagram.com/whoisianjeffrey/

Twitter Profile

https://twitter.com/ianjd12

TV Shows, Films she's been in

Ian Jeffrey hasn't been in any films

Parents

Charles (Father) and Christie (Mother) Dickinson

Siblings

James Charles
Who is Ian Jeffrey?
Ian Charles, better known as Ian Jeffrey, is an American model and 'Instagram' sensation who is creating a lot of buzz in the fashion scene.

He is the younger brother of makeup artist and beauty influencer James Charles. Ian has appeared in a few of his videos, showing him trying James's makeup. Ian shares a special bond with his brother, as apparent in the videos.

He also helped in creating and promoting James' own fashion line, 'Sisters Apparel.'
Ian loves listening to hip-hop music. His favorite YouTubers are his own brother James, fashion influencer PAQ, and lifestyle content creator Danny Duncan
.
Why is Ian Jeffrey famous? Ian started to become popular when he and his mother visited Los Angeles, California in July 2017, to meet his brother James Charles, who was already a popular social media influence. Ian soon started appearing in several of James's videos.
Some of them show Ian trying his brother's makeup tutorials. Soon Ian started his own YouTube channel and has collaborated with James in several videos. Two of their most popular videos were "Little Brother Does My Makeup" and "Turning My Little Brother Into a Drag Queen".
The videos have earned more than 8 million and 10 million views, respectively. In February 2018, Ian posted his first picture on Instagram, a portrait of him holding a black ice-cream. Afterwhich, Ian became an instant celebrity and is now a popular Instagram model.
He promotes James' products on his official Instagram account and also endorses brands such as Morphe. Where is Ian Jeffrey from? Both Ian and James were raised together in New York, both attending Bethlehem Central High School.
How old is Ian Jeffrey? Ian Charles was born Ian Jeffrey Dickinson, on December 17, 2001, in Bethlehem, Albany County, New York. He is 18 years old. Early Life & Family Ian Jeffrey is the younger son of Charles and Christie Dickinson.
His father worked as a contractor. His older brother, James Charles, is a popular makeup artist, host, LGBT icon, and YouTube influencer. Ian is now better known as "Ian Jeffrey" on the Internet. Unlike James, who was inclined toward painting in childhood, Ian was interested in sports.
He was also a member of the basketball and football teams of his high school. Ian moved to Los Angeles later to visit his brother in 2017 and gained fame after appearing in his brother's YouTube videos. Why did Ian Jeffrey move back to New York? Ian Jeffrey moved back to New York to pursue a modeling career.
Ian is currently signed with Wilhelmina Models. He is managed by New York-based talent manager Victoria Lyandres. Apart from doing photo shoots, he also walks the ramp for various designers and brands like Victor Li and Dirty Pineapple.
He has also started a fashion brand of his own, called 'Dusted Garments,' which sells reworked clothes and accessories.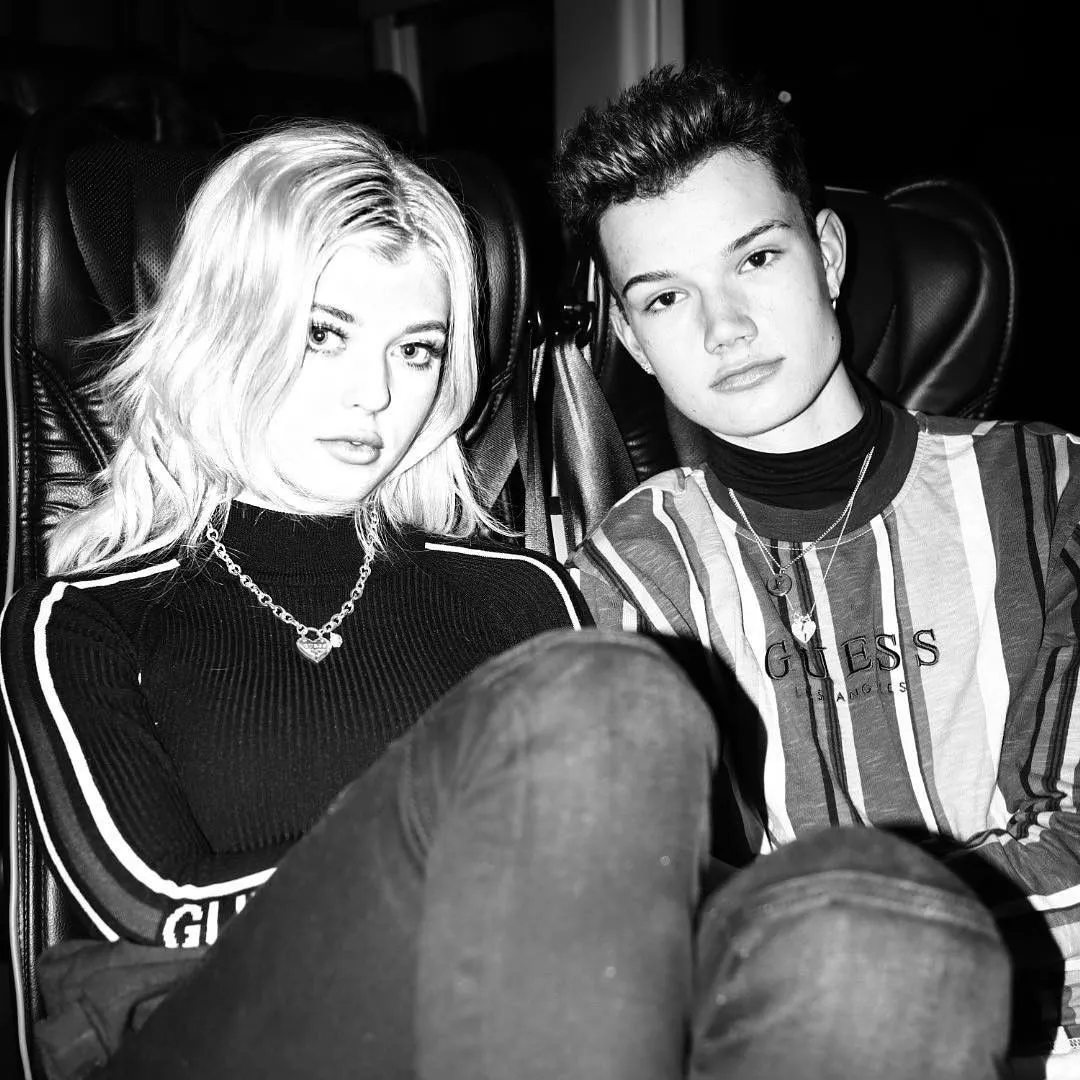 Does Ian Jeffrey have a girlfriend? It is not known whether Ian James is currently dating anyone.
He previously dated popular singer and social-media sensation Loren Gray in late 2018. In December 2018, they confirmed their relationship by posting a photo of them together on his Instagram account. The relationship, however, was short-lived.
On March 17, 2019, Loren announced on her Twitter page that she and Ian were no longer together, adding that they were better off as friends. How tall is Ian Jeffrey? Ian Jeffrey stands about 6'1" or 187.96 cm.
Ian Jeffrey's Instagram and YouTube Ian keeps two Instagram accounts: @ianjeffrey, where he has 1.7 Million followers and @whoisianjeffrey, where he has 172,000 followers. He also has an Instagram account for his clothing brand @dustedgarments, with 3,799 followers.
His YouTube channel has about 803,000 subscribers. His channel currently does not have any content. What is Ian Jeffrey's Net Worth? Being signed under a major modeling agency in New York, as well as owning his own clothing company, we'd say that Ian Jeffrey is worth around $1 to 5 Million.
Is Ian Jeffrey gay? Ian has dated a couple of girls before. We would say that he is straight.
Ian Jeffrey Controversy He was criticized in social media after he said in one of his brother's videos that he did not believe in global warming.
He also gained criticism when he liked the 'Students for Trump' page on a social media platform. When his brother James Charles was involved in a high-profile controversy involving beauty vloggers Tati Westbrook and Jefree Star, Ian defended James through Twitter by posting, "Why does everyone act so tough on the internet?".
In a tweet that's now deleted, Jeffree Star responded, "Why is your brother a predator? Why'd you really move back to NYC? Exactly. Shut the f**k up."
Instagram