Charli D'Amelio net worth, age, YouTube, TikTok
by
CELEBTATTLER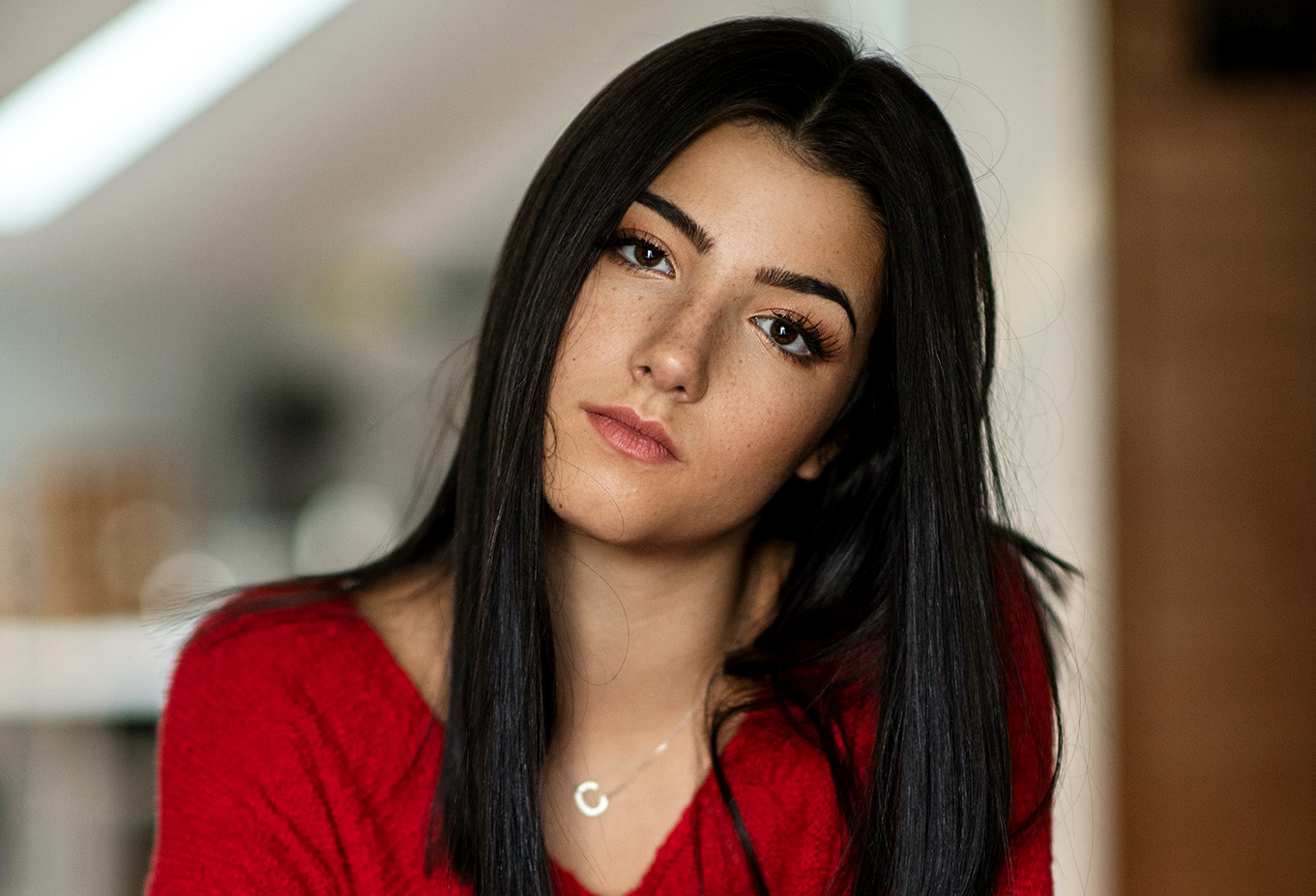 At just 15 years old, Charli D'Amelio is already a huge success thanks to the short-form video sharing app TikTok. Her dance videos and vlogs are making waves across the Internet and even celebrities have come to know this sweet, young star from Connecticut.
And now you can too, as we have laid down below the 411 on this future super star. Quick Facts
Full Name
Charli D'Amelio
Real Name
Charli D'Amelio
Birthdate
May 1, 2004
Current Age
18 years old
Horoscope

Taurus

Birth Place

Norwalk, Connecticut

Current Residence

Norwalk, Connecticut

Nationality

American

Ethnicity

Caucasian, Italian

Education
Charli is still in high school.

She goes to King School, a private school in Stamford, Connecticut

.
Height

5' 6" or 170 cm

Eye Color

Dark Brown

Marital Status

Single

Relationship Status

Single

Is Charli D'Amelio Gay?

No, Charli is not gay

Profession

Social media personality and dancer

Net Worth
Approx.

$3 Million

Social Media Presence

YouTube, Instagram, TikTok, Facebook

Youtube Channel

https://www.youtube.com/channel/UCi3OE-aN09WOcN9d2stCvPg

Facebook Page

https://www.facebook.com/Charli-DAmelio-1618433065104198/

Twitter Profile

https://twitter.com/charlidamelio

Instagram Page

https://www.instagram.com/charlidamelio/

TikTok Profile

https://www.tiktok.com/@charlidamelio

Films she's been in

She starred as the voice of Tinker in the animated film StarDog and Turbocat

.
Parents

Marc D'Amelio (Father), Heidi D'Amelio (Mother)

Siblings

Dixie D'Amelio
Who is Charli D'Amelio?
Charli D'Amelio is an American social media personality and dancer. She is one of the most popular users currently dominating TikTok, a social video sharing app.

As of April 2020, she has accumulated over 49.9 million followers, the most-followed individual on the platform. She has been called the "reigning queen of TikTok" by the New York Times.
Charli D'Amelio's Personal Life
Charli's immediate family includes her father, Marc D'Amelio, her mother, Heidi D'Amelio, and her older sister, Dixie D'Amelio.

Charli's father is a politician who previously ran for state senate in 2018.
Charli started when she was 3 and started competing when she was 5. She also said in an interview that aside from pursuing internet fame, her greatest dream is to be a professional dancer, as she has a decade of competitive dance experience.

Her favorite styles of dance are jazz and contemporary.
How old is Charli D'Amelio?
Charli D'Amelio was born on May 1, 2004. She is currently 15 years old. She is a Taurus.
How did Charli D'Amelio become famous?
Charli is a favorite among Gen Zers and basically every other TikToker out there.

She and her videos became an overnight success. Her first video to go viral was this TikTok duet with @Move_With_Joy. Her choreography and dance skills are top-notch. She herself, however, doesn't understand how all of her Internet fame happened.

In fact, on her TikTok bio, she says, "don't worry i don't get the hype either". She said in an interview with MEL magazine, "I wish I could give everyone an explanation as to what happened, but I have no idea".
Charli D'Amelio's TikTok, YouTube, Instagram, and Twitter
D'Amelio's career began in the summer of 2019 when she uploaded dance videos on TikTok. In just 10 months, she became the most-followed account on the social media platform TikTok, with over 49.8 Million followers.

This title was previously held by Loren Gray. She also has 15.2 Million Instagram followers, 2.58 Million YouTube subscribers, and over 846,000 Twitter followers.
Charli D'Amelio's career
In November 2019, she danced onstage during Bebe Rexha's and the Jonas Brothers' performances in New York as part of their Happiness Begins Tour
.
In January 2020, D'Amelio signed with talent agency United Talent Agency. She is a part of the collaborative TikTok web group "Hype House" along with 18 others including Addison Rae Easterling and Dixie D'Amelio. She was also featured in a Super Bowl commercial for Sabra Hummus along with other celebrities.
She also got to attend Super Bowl LIV and meet her idol Jennifer Lopez to create the viral TikTok challenge "J Lo Super Bowl Challenge." She performed at the NBA All-Star game, along with fellow Hype House members Addison Rae, her sister Dixie, and creator of the "renegade" dance, Jalaiah Harmon.
On March 27, 2020, D'Amelio collaborated on YouTube with Stranger Things actor Noah Schnapp. What is Charli D'Amelio's net worth? We'd say that Charli D'Amelio is worth around $3 Million. Alessandro Bogliari, an expert on the platform, estimates that D'Amelio could make between $2,056 and $3,427 per post as her popularity grows.
Most recently, D'Amelio and her family hosted a meet and greet at the teen's hometown dance studio, charging $100 per ticket for the "VIP experience". The event's profits were donated to the Abilis Foundation, a charity that provides assistance to adults and children with developmental disabilities and their families in lower Fairfield County.
Charli D'Amelio's Relationship Charli was previously in a relationship with Chase Hudson, also known as Lil Huddy. After a bunch of fan speculation, They confirmed their relationship on Valentine's Day in 2020.
In just about a month later, rumors started circulating, saying that Lil Huddy was cheating on Charli after he was found to be sending private and intimate messages with TikToker Nessa Barret. How tall is Charli D'Amelio? Charli is 5' 6" in height or about 170 centimeters.
What is Charli D'Amelio's race or ethnicity? Charli is Caucasian of Italian descent. Where does she live? Charli lives with her family in Norwalk, Connecticut. Where does Charli D'Amelio go to school? Charli goes to King School, a private school in Stamford, Connecticut.
She tries to balance normal life with her new-found popularity. In an interview, Charli shared that her classmates would record her walking to class and share it with one another in private Snapchat stories and group chats.
Charli D'Amelio and UNICEF Charli and her sister Dixie have partnered with UNICEF in speaking out against online bullying and the perils of finding fame on the platform. She said in the video, "Some of the most hurtful comments that I read about myself online are, 'She's fatter than when we got her famous.' Or, 'She's ugly.'" She also says that she suffered a lot of body image issues and bad eating habits.
She and her sister have both suffered bullying and body shaming even at a younger age, with Dixie even going to therapy at one point. They point out how these issues are difficult for victims and give advice for them how to cope up and find the right support.
How to contact Charli D'Amelio? For those who want to book Charli to events or projects, you may contact her talent agency through their Email: [email protected].
Tiktok
• Chow Down With TikTok's Top 5 Fast Food Viral Sensations!
• Kourtney kardashian Wishes Addison B'day with Retro TikTok
• 35-Year-Old TikTok Star Carl Eiswerth Dies in Car Crash
• "Italia's Got Talent" Welcomes TikTok Sensation Khaby Lame to its Jury
• "Wishing to be Bella Hadid": Selena Gomez Experiments with TikTok Filter
• Will Smith Brings Laughter to Fans with Oscar-Inspired TikTok Video