DAPPER DAN: BIO, NET WORTH, HOW HE STARTED, GUCCI COLLABORATION, MEMOIR
by
CELEBTATTLER
| VIEW 1926
Fashion designer Dapper Dan has been called a natural born hustler and a fashion outlaw due to his brazen counterfeit creations in the 1980's and early 90's. Twenty-five years later, Dapper Dan is back with more swagger than ever, proving to everyone that a second chance at success is never too late.
WHO IS DAPPER DAN? Dapper Dan is an American fashion designer, tailor, and businessman known to be the "king of knock-offs" and bringing Harlem into the fashion spotlight as he combines elegance and swagger in his designs.
He is also known for his rags to riches then rags and riches again life story.
DAPPER DAN'S CHILDHOOD / EARLY YEARS Dapper Dan was born and raised in Harlem, New York. He was born on the 8th of August 1944. This was post-World War II in New York and Dapper Dan recalls seeing horses and buggies in the streets of Manhattan during that time.
Growing up poor, he describes his childhood as tough and he had to learn survival at an early age. In his memoir, "Made in Harlem", he shares that he had to learn how to steal and became a gambler by the time he was 13 years old.
He says, "I was born at the bottom so anything I get is a blessing". DAPPER DAN'S PARENTS / SIBLINGS Dapper Dan's father, Robert, was a civil servant and his mother Lily, was a homemaker. He grew up in Harlem with his three brothers and sisters.
DAPPER DAN EDUCATION According to Business of Fashion, Dapper Dan dropped out of school and became involved in shop-lifitng and gang activity. It was when he enrolled in an education programme sponsored by Columbia University that he took a trip to Africa and came back with a newfound interest in fashion.
HOW DID DAPPER DAN START IN FASHION? In his memoir, "Made in Harlem", he details his days as a hustler and drug dealer. During this time, he saw clothing as a way out of the harsh and tough Harlem life. "Nothing transforms a person quicker than a garment.
You put on nice clothes, no matter how poor you are or where you come from, and you go down town and dress just like them". He began by selling shoplifted clothes out of his car and opened his first shop, "Dapper Dan's Ladies & Gentlemen Boutique" in 1982.
DAPPER DAN'S INSPIRATION Anyone who's had a glimpse of Dapper Dan will agree that even at the age of 75, Dan really is dapper. He is often found donned in his signature crisp, colorful yet clean and chic suits. Dapper Dan is very aware of the importance of image and the advantage it gives one in life.
Dapper Dan used his difficult childhood and environment as an inspiration to be better. In a 2014 interview with Dazed magazine, Dapper Dan recalls that from the age of 25, he was capitalising on his reputation for always looking the part.
He stated that "If people didn't like the way I dressed, I wouldn't have had the attention or credibility. I grew up in a poor area in East Harlem—I can't think of any of my friends who didn't have holes in their shoes at any given time – so we were always attracted to clothes.
That was the catalyst to make me want to be really sharp".
THE DAPPER DAN SIGNATURE COUNTERFEIT LOOK Dapper Dan was initially known for his flamboyant and enormous fur coats. But fur coats were seasonal, so he made the transition to leather, suede and lighter goods.
He also wanted to bring luxury brands to 'normal people', so he taught himself how to print luxury logo patterns on garments. Out of these, he was able to create extravagant outfits made in patterns of Louis Vuitton, Gucci and other luxury brands.
DAPPER DAN'S FIRST CLIENTS Dapper Dan opened his first store in the early 1980's. This was the time and era of the crack epidemic in the United States which resulted in increased violence and crime in inner neighbourhoods.
It was also around this time that hip-hop music started becoming popular. The combination of these two factors gave birth to the clientele and market of Dapper Dan. His first main clients were hustlers and street people, the most popular of them being Alpo Martinez, a drug dealer from Harlem who became famous in the 1980's.
HOW DID DAPPER DAN BECOME FAMOUS? Dapper Dan became more popular when he stepped into the world of hip-hop fashion in 1985. He became known for styling LL Cool J, then a budding hip-hop artist, who famously wore a custom-made Gucci bomber jacket that Dapper Dan created specifically for him.
Other hip-hop artists followed suit and were all being styled and dressed by Dapper Dan. Some of these include Salt-N-Pepa, Bobby Brown and The Fat Boys. His clientele even reached popular sports stars like Mike Tyson and Floyd Mayweather.
Unfortunately, Mike Tyson would eventually be the reason why Dapper Dan's days of riding-on-luxury-brand-success would come to an end. THE END OF DAPPER DAN'S BOUTIQUE Dapper Dan may have enjoyed more days of illegal use of logos had it not been for Mike Tyson.
In 1988, Mike Tyson got caught in a late-night street brawl with his long-time rival Mitch "Blood" Green. The scene of the fist fight was none other than Dapper Dan's Boutique. This brought media attention to the boutique especially after Mike Tyson was photographed donning a "Fendi" jacket created by Dapper Dan.
Dapper Dan's Boutique store was then exposed and in 1992, Fendi sought legal action against Dapper Dan. In the same year, Dapper Dan's Boutique was shut down for good. IS DAPPER DAN MARRIED? WHO IS DAPPER DAN'S WIFE? Dapper Dan has been married to June Francis for 51 years.
June Francis appears to be a very private individual and despite being married to Dapper Dan for over 50 years, she very almost never appears in public or media. In 2019, June Francis gave the public a very rare appearance when the entire family of Dapper Dan was featured in W Magazine's 2019 'Friends and Family' issue.
In this article, it was revealed that out of Dapper Dan's eight children, only two are with June Francis. DOES DAPPER DAN HAVE ANY CHILDREN? Does Dapper Dan have any children? He sure does. He has 8 children, and in a W Magazine feature, Dapper Dan shares that he fathered eight kids with seven women.
Two of them are with his wife of 51 years, June Francis. His eight children are: William Day, Daniel Day, Jr, Danique Day, Aisha Day, Danielle Day, Malik Day, Tiffany White and Jelani Day. Jelani Day is the current brand manager of his dad, Dapper Dan.
HOW OLD IS DAPPER DAN? Dapper Dan was born on the 8th of August 1944, which makes him 75 years of age as of this writing. He was born under the astrological sign of Leo. WHAT IS DAPPER DAN'S REAL NAME? Dapper Dan was born Daniel Day.
He has been known as Dapper Dan since he was a teenager.
DAPPER DAN MEMOIR / BOOK In 2019, Dapper Dan wrote a memoir, "Made in Harlem", under his real name Daniel Day. The memoir has rave reviews and is rated 90% five stars on Amazon.
On GoodReads, it received 4.36 stars out of 5. The New York Times raves about the book, "…Detailed descriptions of his family's tragic journey through poverty, the changing nature of his beloved and cursed neighbourhood, and his adventures as a hustler are riveting".
DAPPER DAN MOVIES AND IMDB PROFILE Did Dapper Dan appear in movies? According to Dapper Dan's IMDB profile , he has appeared in several TV shows and documentaries. TV shows that he has appeared in and guested at include Project Runway, Conan, The Daily Show with Trevor Noah and American Style.
Though most of his TV appearances are talk shows, documentaries and reality shows, he was recently seen in Netflix's TV Series Luke Cage. Luke Cate is a Netflix TV Series about a superhero from Harlem, New York. Dapper Dan appeared as himself, where he was referred to as no ordinary tailor: "A tailor? That ain't no tailor, that's Dapper Dan himself".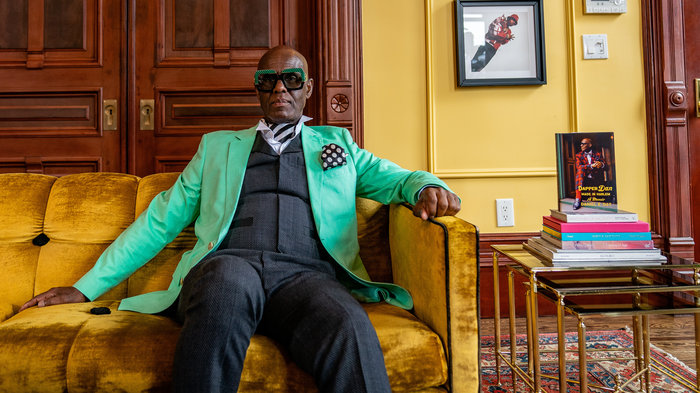 DAPPER DAN'S RESURGENCE Since his shop, "Dapper Dan's Boutique" was shut down in 1992, Dapper Dan remained quiet and continued to work "underground" as a designer and catered to private clients.
Until 2017. Gucci's creative director Alessandro Michele designed a jacket based on a design that Dapper Dan created back in 1989 using the Gucci logo. When this was uploaded on social media, many people pressured Gucci to pay homage to Dapper Dan.
DAPPER DAN X GUCCI Whether the Italian luxury brand really gave in to social pressure, or if it was just a publicity stunt (as some suspect), Gucci has now partnered with Dapper Dan in creating a collaborative collection.
Gucci describes it as a "collection of ready-to-wear accessories that takes its cue from the Dapper Dan archive created with the House's refined materials". DAPPER DAN NOW In partnership with Gucci, Dapper Dan opened "Dapper Dan of Harlem" in 2018 on Lenox Avenue.
This is the first luxury fashion store in Harlem. It may have taken 25 years, but Dapper Dan proves that a second chance at success is never too late. DAPPER DAN'S NETWORTH Dapper Dan's net worth is estimated to be at $2 Million, as of April 2020. It may be worth noting that Dapper Dan only just had another surge at success in 2017 when he collaborated with Gucci.
Gucci
Gucci Marks China's Qixi Festival with JD.com Flagship Launch
Gucci's Next CEO: The Toughest Job in Luxury
Gucci Gets Sabato De Sarno, Valentino Designer, as Creative Director to Revive Brand
Alessandro Michele left Gucci!
The beautiful Beyonce and her daughter posed for a picture in Gucci creations
Gucci Mane Net Worth- Cars Collection, Mansion and Girlfriend