Young and Restless Spoilers: Fenmore
by
CELEBTATTLER
| VIEW 145
The last episode for Young and Restless teased the return of a familiar character. It's a
Baldwin
If you caught him, then you know who he is. For those you missed the scene, don't you worry. We have you covered.
Just In Time
If you guessed Fen, you are right!
Fenmore Baldwin returns to Genoa City and back to Lauren and Michael's arms. A real Christmas gift for the two, isn't it? Faith surprised the Newmans, Ashley the Abbotts, and now it's time for The Baldwins. This holiday season became a miraculous one for the Genoa City families.
Families coming together and an overall jolly environment are what we all ask during festive seasons.
In particular, Lauren couldn't hold back tears when Fen enters the scene while the Abbotts and their closest friends sit down for a meal at Society.
However, Fen has big news to divulge to his parents. What might it be?
Fen Is Back But For How Long?
Another critical disclosure for The Baldwins as they are thrilled to hear that Fen is out of rehab, he was clean for some time, and he is ready to move onto better things and out that awkward phase of his life behind him.
Does that mean Fen will stay?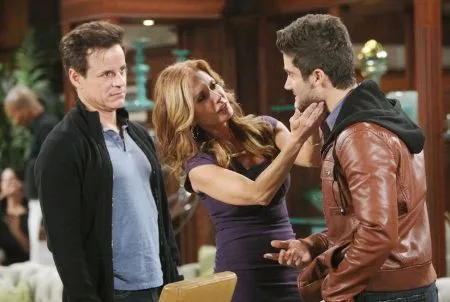 It's a family reunion as Fenmore comes back Well, not likely. It's just a visit. Fen is a musician, and the road is calling him. His rehab went smoothly, and Devon offered his place in the band, and the fans are begging for him.
Fen can't leave that, not for anyone. Most importantly, Fen has to take care of a business, and that concerns his parents.
Fen Wants A New Start
He was a bad boy and kept his parents in a state of panic and sadness for the most part.
At the same time, Fen is seeking forgiveness and wants to repent for what he did. But it's Lauren and Michael, who genuinely care for Fen. They don't hold grudges of any kind. Is this a new phase in Fen's life? How long can he keep clean, or is the past really in the past?
There's more drama to come, and everybody can probably sense it.
It's Genoa City after all, and there's only trouble here. Tune in to new episodes of Young and Restless to find out more on weekdays airing on CBS! Source: 1 2