China Anne McClain Bio, Age, Sisters, Career, Net Worth, Movies etc.
by
CELEBTATTLER
| VIEW 421
China Anne McClain, a rising American celebrity figure. This young lady just not has acting abilities but also blessed with an angelic voice. She looks young, although her professional work records in the American entertainment industry is not short.
Know everything about China Anne McClain, from her birth to her early beginning, her boyfriend to her wealth.
China Anne McClain Bio
China Anne McClain is an American singer and an actress who rose to fame by appearing in the television series Tyler Perry's House of Payne.
China Anne is also a member of McClain, an American pop and R&B girl group, whose members are her own sisters. Her sisters are Sierra McClain and Lauryn McClain. Besides, she also has a brother named Gabrel McClain. She was born on August 25, 1998, in Atlanta, Georgia, United States.
Born to Michael McClain, a music producer, and Shontell, a songwriter. She completed her high school in Los Angeles, California and graduated in 2016. China Anne McClain is 24 year-old.
China Anne McClain Career
China Anne McClain first got her chance to show her talent when a music executive heard her singing and asked director Rob Hardy to audition her for his 2005 feature film "The Gospel".
Her talent was immediately noticed by Tyler Perry and cast her as Jazmine Payne in the television series "Tyler Perry's House of Payne". China also made an appearance in the movie "Daddy's Little Girls" along with her sisters, Sierra and Lauryn, who are also actresses.
Her sisters were seen in the movie playing her elder siblings.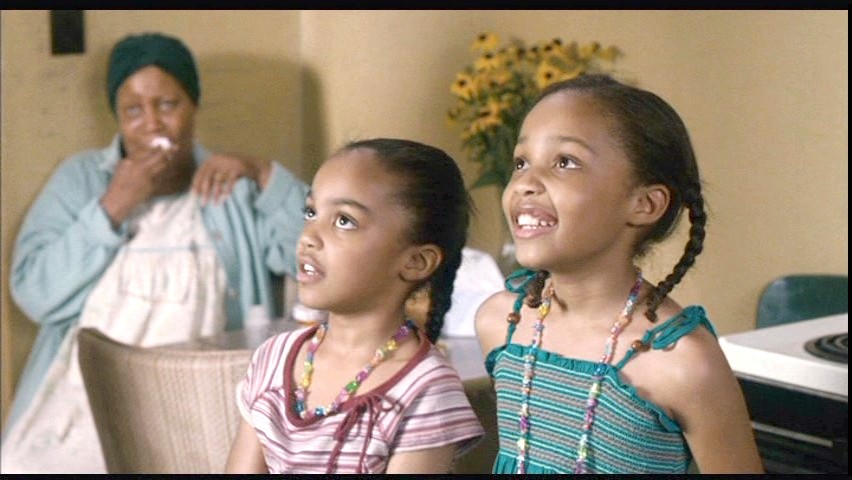 China Anne McClain from Daddy's Little Girls In addition, she was seen making a guest appearance in many shows and movies like Hannah Montana and Hurricane Season.
China was also on Disney Channel show "Jonas". In 2001, China Anne came up with two projects, a movie "Grown Ups" and a Disney Channel series "Wizards of Waverly Place". Apart from that, Disney's series "A.N.T Farm" also offered her a lead role.
Being a singer cum actress, she recorded a cover of Taio Cruz's Dynamite from the show. China Anne also sang the theme song of the series Exceptional. On July 23, 2011, her first music video for Dynamite was premiered on Disney Channel.
The song became an instant hit and reached over a million views on YouTude in less than a week. She has appeared in an episode of PrankStars. She also appeared in the Chiddy Bang "Opposite of Adults" music video. For the Disney Channel Halloween special in 2011, she performed the song, Calling All The Monster.
On June 14, 2011, China and her sisters – known as the McClain – signed a contract with Hollywood Records. The A.N.T. Farm soundtrack was released on October 11, 2011, featuring China Anne's version of Dynamite by Taio Cruz.
On September 28, 2011, China Anne released "Calling All The Monsters" in iTunes. Calling All The Monsters charted number 100 on the Billboard 100 chart. On November 24, 2011, China performed her song Unstoppable in the 85th Macy's Thanksgiving Parade.
Mcclain members In 2013, China Anne McClain co-starred sequel Grown Ups 2. On December 27, 2013, it was announced on her Twitter page that A.N.T. Farm would be ending after its 3rd season. On the very day, it was revealed that the McClain Sisters had left Hollywood Records.
In March/April 2014 issue of BYOU Magazine, China Anne said it was bittersweet that A.N.T Farm was ending, and announced plans to focus on doing music with her sisters. McClain appeared on ABC's Sing Your Face Off television show, broadcasted from May 31 till June 14, 2014, winning the show's first season.
In 2015, McClain was featured in the FOX series Bones in the episode "The Lost in the Found", playing Kathryn Walling.
China Anne McClain in Descendents She also appeared in the Netflix computer-animated series VeggieTales in the House, giving her voice for the role of Jenna Chive, a parody of herself.
Different artists contributed to making the album of an American musical fantasy television film, Descendants. And one of many artists was China Anne McClain. She performed the song "Night is Young", which was also featured in the film.
McClain also starred in the computer-animated series Descendants: Wicked World, based on the Disney Channel Original Movie Descendants. She voiced Freddie, the daughter of Dr. Facilier. And in the Descendants 2, she was seen playing the villain Uma, the daughter of Ursula.
She is also scheduled to appear in the third movie of the Descendants trilogy: Descendants 3 in the year 2019. In 2016, she recorded the action thriller film Blood Brother, co-starring with Trey Songz and Ron Killings. The film released recently on November 30, 2018 (USA).
She was also a cast of 3D computer-animated action-drama film, Bilal. The film was initially released on September 8, 2016 (United Arab Emirates) where she played a role of Ghufaira. In 2017, it was announced that she had been cast as Jennifer Pierce in the Black Lightning pilot for the CW.
China Anne McClain Awards and Nomination
In 2011, China won NAMIC Vision Awards in the category of Best Actress-Performance in Comedy for her role in Tyler Perry's House of Payne.
In the same year, she was also nominated in Teen Icon Awards in the category of Icon To Tomorrow.
In both 2012 and 2013, she got nominated in NACCP Image Awards in the category of Outstanding Performance in a Youth/Children's Program - (Series or Speical) for her role in A.N.T Farm.
In 2014, she won NAMIC Vision Awards in the category of Best Actress-Performance in Comedy for her role in A.N.T Farm and she also won NACCP Image Awards in the category of Outstanding Performance in a Youth/Children's Program - (Series or Speical) for her role in A.N.T Farm.
China Anne McClain Dating History
This beautiful and talented actress/singer is currently single.
However looking in the past, she dated Jake Short from 2012 till 2013. Her current relationship status is unrevealed.
China Anne McClain and Her Ex-boyfriend Jake Short
Net Worth
China Anne McClain earns her money as a singer and an actress.
She has been in the entertainment business since she was a child. And now that she is all grown and adult, she has also accumulated her wealth by appearing in many shows and series and movies. She is doing great in her professional career and it can be expected that her net worth will be frequently changing in the following years to come.
China Anne McClain currently has a net worth of over $700 thousand.
China Anne McClain Social Media
China Anne McClain has just passed her teens and like every teen and young adults, she is very active on social media. She has a fan following of 4.4 million on Instagram and 1.47 million followers on her Twitter account.