Son of Jordan Belfort: Carter Belfort Bio, Age, Mother Nadine Caridi, etc.
by
CELEBTATTLER
| VIEW 1108
If we hear the word "Belfort", it reminds us of the famous biopic of Jordan Belfort played by
Leonardo Dicaprio
"The Wolf of Wall Street." And You're right! But this time, it's the little wolf, Carter Belfort, the son of the infamous stockbroker from the wall streets.
We all have heard and even watched Jordan Belfort life-based movie, but how many of you know about his son? Probably very few! So here is the article about Carter Belfort, know everything about him.
Carter Belfort Bio
Carter Belfort is the son of Jordan Belfort better known as "Wolf of Wall Street" and his second wife Nadine Caridi.
Jordan Belfort married Nadine Caridi after his divorce with Denise Lombardo. Jorden Belfort seems to be a protective and cautious father as he has not let any information about his children out in public or with media. Neither, he is available on major social site.
Carter Belfort personal information like the birth date is missing but we can make a guess.
Jorden Belfort, Father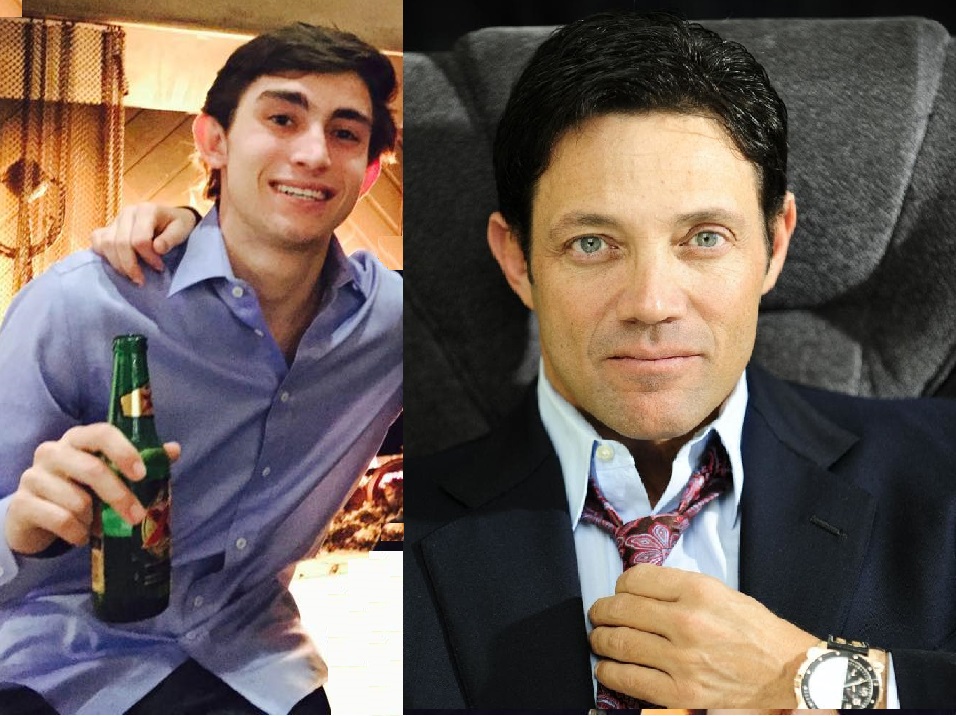 Jordan Belfort and his son Carter Belfort Jordan is an American motivational speaker, author and former stockbroker who once made almost $200 million by brokering.
Jordan came to fame after pleading guilty to fraud and associated crimes in connection with money laundering, running a boiler room and stock-market manipulation as a part of a penny-stock scam. He has also published his biography, The Wolf of Wall Street, which later was adopted into the movie.
Carter Belfort Hitting the Limelight
Carter Belfort became the public & media attention in the year 2015 when he revealed his desire to follow the path of his father and shared his willingness to choose a career as a stockbroker.
Teen Wolf Carter Belfort With Big Dreams
The young son of the real Wolf of Wall Street is currently living in Gold Coast Lair. Carter left Los Angeles and moved to the city to build a business career at Bond University in 2015 after finishing high school.
He's been helped by his father to move to the Gold Coast to pursue his dreams. He studies Bachelor of Business. Carter Belfort claimed that growing up around Jordan Belfort allowed him to experience what it would be like being a stockbroker.
He also said getting a degree in business is the first obvious step to be a stockbroker for him. According to the statement, it is assumable that the young lad is following his father's footstep. Even if in future we find Carter Belfort as a stockbroker, then we hope to see as a decent one!
Mother Nadine Caridi & Father Jorden Belfort Story
Mr. Wilzig, the former CEO, president and chairman of the Trust Company of New Jersey, was the one who introduced Nadine to Jordan Belfort. At the moment, he was married to his first wife, Denise Lombardo.
The interesting fact is that Nadine and Belfort dated for 24 months and even lived together.
Carter Belfort with his sister Chandler Belfort Soon later, Jordan got divorced with his first wife Denise Lombardo and married to Nadine in 1991 in the Caribbean.
She gave birth to two babies, son Carter Belfort, and daughter Chandler Belfort. However, Jordan failed to be a good husband, and Nadine suffered from domestic violence. At last, the couple officially abandoned their marriage and separated in 2005.
What you think of Carter Belfort, will he follow his father and become a "Stock Broker"? Or with time, will he choose some other career choices? Freely share your views with comments. Hope you enjoyed reading it! For more interesting articles about your favorite celebs keep following Celeb Tattler.