Tessa Netting Engaged to Her Boyfriend, Joe Moses. Know Her Age, Net Worth, Bio
by
CELEBTATTLER
| VIEW 446
With the mesmerizing smile and sunny face, Tessa Netting has won many fans through her harry potter videos across the USA and worldwide. American-born Tessa Netting is an actress, singer, host, and YouTuber. Tessa began her acting career before transiting to the internet.
She has amassed over 584k subscribers and more than 69 million views to date. Netting is a proud Ravenclaw who left the Broadway production to pursue a social career. She loves making videos the geeky things and uploads on her self-titled channel.
Let's figure out, how much she earns from her videos? Does she have a boyfriend or still enjoying single life? To know more about her read the whole article until the end.
Tessa Netting, a Harry Potter YouTuber
Source: Instagram
Quick Facts
| | |
| --- | --- |
| Full Name | Tessa Netting |
| Marital Status | Engaged |
| Birthplace | Pennsylvania, States |
| Birthdate | September 1, 1990 |
| Profession | Actress, Host, Singer, YouTuber |
| Net Worth | N/A |
| Hair color | Dyed Blonde |
| Fiance | Joe Mosses |
| Ethnicity | White |
| Age | 28 |
Tessa Netting: Age, Early Life, and Education
The multi-talented Tessa Netting was born on September 1, 1990, to David and Leslie Netting, in Pennsylvania, USA.
She has a sister named Kelsy, who is a dancer. Tessa has not revealed much about her childhood and educational background. Tessa grew up singing and dancing at her mother studio, Dance One Studios. While she was in high school, she discovered musical theater.
During her freshman year, she played the lead character in the school's production of Seussical. After a year, she performed at Bristol Riverside Theater production's play Mrs. Bob Cratchits's Wild Christmas Binge.
Before moving to New York City, she dropped out of high school.
Further, she is an avid fan of Starkid theatre company which has included artists like Lauren Lopez, Joe Walker, and Darren Criss.
Also, a big fan of Harry Potter.
Career
After her high school performance, Tessa landed her first Broadway production. By the time, Tessa was 17 and appeared as Susan Parks in the Broadway Billy Eillot the Musical. She has performed over 1,000 shows on Broadway within two and a half years.
Shortly after, Tessa relocated to New York City for further studies. Then in early 2013, she flew to Los Angeles to joined the mainstream entertainment music. After arriving there, she bagged her first role as Hazel, an obsessive, snobbish person on Disney's Channel's Bunk'd and worked from 2015 to 2016.
Afterward, she got the opportunity to act in numerous TV shows like
Fred: The Show, Buffering, Chapters of Horror, 1 Minute Horror,
and more. Subsequently, she appeared in commercials as well as did many voice projects.
Moreover, Tessa hosted several shows for DreamWorks TV, Crypt TV, and Awesomeness.
YouTube Career
Prior that, Tessa created her self-titled YouTube channel in late 2010 and started making and uploading Harry Potter themed videos.
The YouTube star has garnered an impressive number of followers through her online projects like Harry Potter products, beauty tutorials, quizzes, and tags, and much more. https://youtu.be/J7WZpe-2Peo Her video titled HELLO-Harry Potter Book of Mormon Parody went viral on the internet and featured in the shows and magazines like NBC, CBC, Huffington, NY Magazine and Forbes and so on. Additionally, Netting hosted the YouTube Show The Daily RHash.
Tessa Netting Engaged to Joe Moses
Tessa is engaged to actor Joe Moses on March 16, 2019. The couple has been together for more than seven years and engaged for two months now.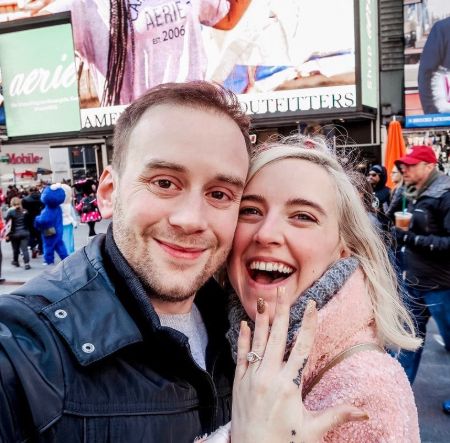 Tessa Netting engaged to Joe Moses
Source: Instagram After their engagement, they went on the trip to seven cities around Europe and spent some quality time together.
Once there was a time, Tessa and Joe both were in a long distance relationship for three years. While her fiancee was at the law school at the University of Michigan, she lived in Los Angeles. Her fiance made a perfect diamond ring with the help of his friend Quentin and Sophia which took three months.
He went down on one knee and asked her if she would spend the rest of her life with him and marry him. Without taking a second, she said and wore the ring.
She even posted the picture of her engagement on social media and announced that she was engaged. After the engagement, they left the country and travel in different countries; England, Scotland, France, Belgium, and Netherland.
https://twitter.com/thejoemoses/status/1120778802253012994
Net Worth
The social media influencer earns not less than a million from her various source, such as from her online projects and acting. However, she has not disclosed the actual amount of net worth yet.
According to Social Blade, Tessa makes monthly between $357 - $5.7K, and her estimated annual income is $4.3K - $68.5K. Additionally, Tessa earns around from $610.5 to $1,017.5 per Instagram post.
Social Media
Besides YouTube, Tessa is also accessible on social media platforms like Twitter, Facebook, and Instagram.
Netting has over 200k followers on the Instagram page, whereas, on Twitter, she has more than 47k followers and above 15k tweets. https://www.instagram.com/p/BwpYf-_ADiC/ On the other hand, Tessa appeared along with her best friends; Cadence13 and Anna Brisbin on her own podcast Fantastic Greeks.