Steve Carell: How Much Does He Earn? Married To Wife Nancy Walls, Kids, Age, Height
by
CELEBTATTLER
| VIEW 318
"Relationships shouldn't be disposable. If there's something worth saving - not always the case, some relationships are irreconcilable - but if there is something that you determine is worth saving, then try to do that." Oscar-nominated actor, Steve Carell worked in more than a dozen movies with different characters that earned a positive acclaimed from the viewers and critics for his roles.
Steve is one of the celebrities who not gained both fame and fortune for himself but also balanced his marriage life very well. Find out hilarious actor Steve Carell's net worth, age, personal life, and his upcoming movies.
Steve Carell
Quick Facts
| | |
| --- | --- |
| Full Name | Steven John Carell |
| Net Worth | $ 50 million |
| Date Of Birth | 16 August 1962 |
| Place Of Birth | Concord Massachusetts, USA |
| Age | 56 |
| Profession | Actor and Comedian |
| Spouse | Nancy Walls |
| Children | 2 |
| Residence | Los Angeles, California |
Steve Carell: Age, Early Life, and Education
Actor Steven John Carell was born on 16 August 1962, in Concord Massachusetts, USA.
He is the youngest son of Edwin and Harriet. His father changed his last name from Caroselli before Steve's birth. Steve was raised Roman Catholic and attended three schools; Nashoba Brooks School, The Fenn School, and Middlesex School before heading out to the university.
He earned a bachelor degree in history from the Denison Univerity. While studying at Denison, he was a member of the country's oldest collegiate improv group, Burpee's Seedy Theatrical Company.
Net Worth
American actor Steve Carell has a net worth of $50 million.
Considering The Office actor has been working in the entertainment industry for three decades and has achieved the level of success which is quite impressive.
He earns a hefty amount of salary form his appearances in numerous movies and television series. He appeared on The Office from 2005 to 2011 and during that period, he got paid quite a decent salary from the series. In the third season of the series, Steve earned $175,000 per episode, twice his salary for the previous two seasons.
House
The Minions actor owns a beautiful house in Los Angeles for $10 million. Steve and Nancy built their dreamed two-storey home a Cape Cod-style mansion in Toluca Lake, California. The mansion has a giant swimming pool, cabana, guest house, spa, and a private tennis court.
Besides, it has a home theater with a powder room, a recreation room that all served by an elevator.
How does Steve Carell make money?
Before Steve serious involved in the acting, his parents asked him, what he loved doing and always liked to do? He replied he liked to act which has always been fun for him.
And they said, then do it. After graduation, Steve performed at a children's theatre company. In 1991, he performed with Chicago troop 'The Second City' alongside Steven Colbert and the same year, he played a minor role in the movie Curly Sue. In 1996, he appeared in the short running 'Dance Carvey Show,' and from 1999 to 2005, he was a correspondent of The Daily Show.
By spring 2005, he signed a contract with NBC to star in The Office, playing the lead character, Michael Scott. For this role, he won a Golden Globe Award in 2006 and also earned two Emmy nominations in 2006 and 2007.
Films and Televisions
Carell also made his appearance in several movies and televisions in his career. He made his first debut role as weatherman Brick Tamland in the 2004 hit comedy Anchorman: The Legend of Ron Burgundy
.
Following that year, he played the title character in the movie The 40-Year-Old Virgin and also earned Carell an MTV Movie Award for Best Comedic Performance. The film grossed over $177 million at the Box Office worldwide and established himself as a leading man.
That year, he played the supporting role as Uncle Arthur in the film Bewitched, starring with Will Ferrall and Nicole Kidman. His position on The Office has taken a steady stream of film that includes Little Miss Sunshine, Dan in Real Life, Horton Hears a Who
, Get Smart and Date Night.
Steve appeared as murderer John du Pont in 2014 movie Foxcatcher for which the character received Oscar, Gloden, and SAG nominations. Moreover, he appeared in several TV series such as The Simpsons
, Life's Too Short, Fillmore!, Just Shoot Me!, Web Therapy, Come to Papa, and more.
Steve on Despicable Me Apart from that, he voiced the character of Gru in an animated comedy movie Despicable Me
franchise and in 2015 the prequel movie Minions as Young Gru. Peter Sollet's directed movie Freeheld movie, Steve played as a Steven Goldstein, a gay rights activist helping a lesbian couple denied their pension and featured as a volatile hedge fund manager in 2015 movie The Big Short. For his role as Mark Baum, he earned a Golden Globe Award nomination along with Christian Bale.
Carell will be returning to televisions for an upcoming American comedy-drama web television series Top of the Morning, starring opposite Resse Witherspoon and Jennifer Aniston as well as Netflix's series Space Force. His other movie Irresistible is set to be released in April 2019.
Wife and Children
Actor Steve Carell is married to an actress, Nancy Carell. Steve and Nancy are one of the couples who has stood the test of time and their marriage has not survived but thrived. The duo shared a sense of humor and also worked together on and off the screen.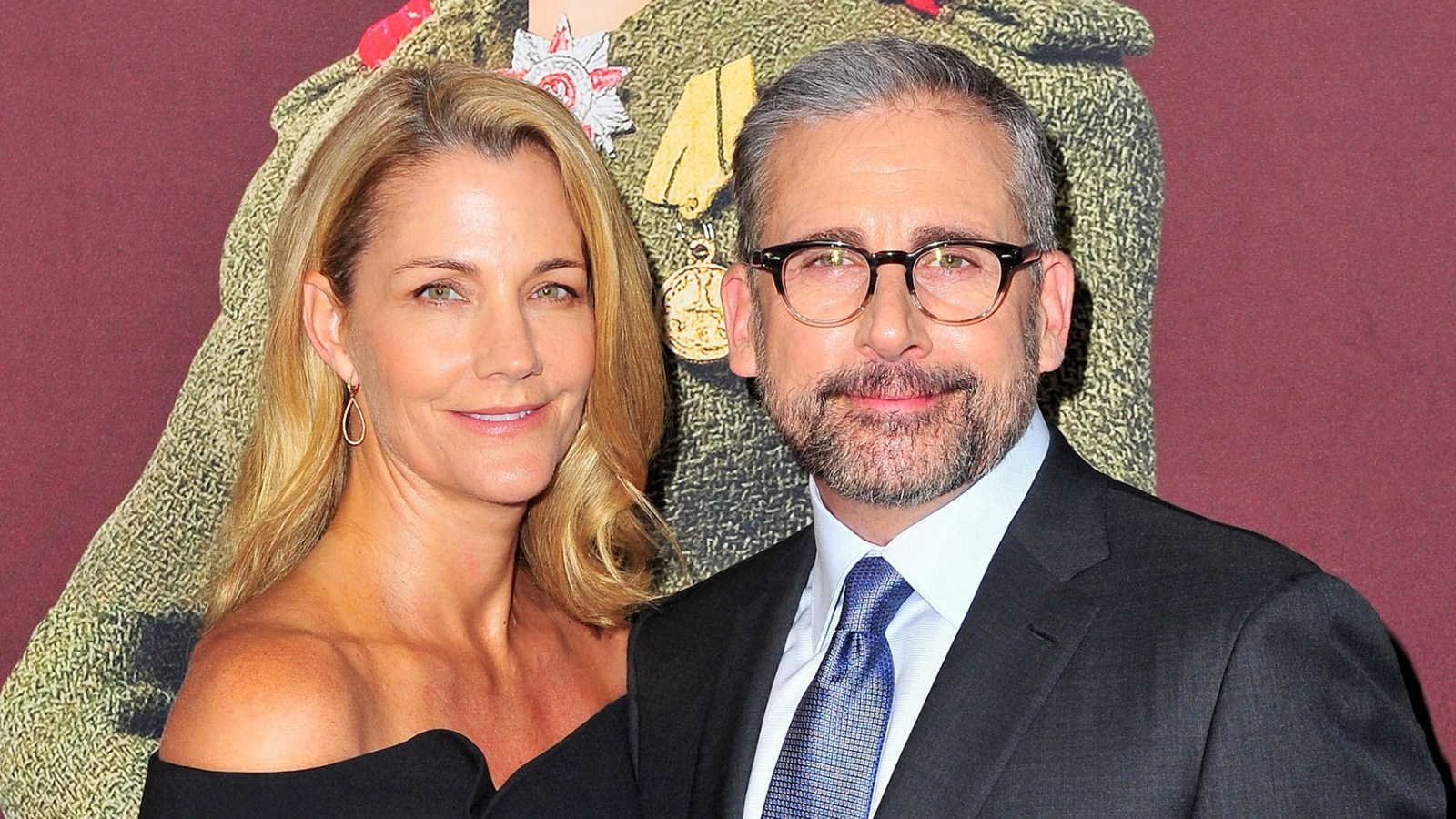 Steve and Nancy Carell His wife Nancy Ellen Carell is an actress and writer. She played the recurring role on The Office as Carol Stills in season 2 and also appeared as a cast member on Saturday Night Live from 1995-96 season.
Let's discuss how and when the two met for the first time and how their love story began?
Steve and Nancy Carell worked together in The Office Steve first t Nancy when she was a student in an improvisation class he was teaching at Second City comedy troupe in Chicago.
At the time, his wife worked at a bar across the street. Steve and Nancy even worked together in several big and small screen as well. At some point, the couple was interested in each other and keep their contact and also chit chat when they got free time.
Steve and Nancy got married on August 5, 1995. In one of the interviews, Steve told that when he met her, he knew that she was the one with whom he can spend his whole life. In January 2016, Carell and his wife launched the police-themed comedy series Angie Tribeca on TBS.
The pair welcomed their first child, a daughter, Elisabeth Anne in May 2001. She gave to their second child named John in June 2004. Currently, the family resides in Los Angeles, California, USA.
Social Media
Steve Carell loves being in front of the camera; that's why he choose the acting profession.
He is active on social media platforms like Twitter, Instagram, and Facebook. Is Steve Carell's mansion magic? Let us know. Leave your comments below.