Ysabel Jordan - 7 Facts about the Daughter of Michael Jordan
by
CELEBTATTLER
| VIEW 4226
In the world of celebrity, there are the ordinary ones who work hard extra-ordinarily, then get success and recognition And there are others who are born celebrity. And same is with Ysabel Jordan, a toddler who is a born celebrity.
She receives attention from media and millions of fans of her dad, Michael Jordan. She is a daughter of Micheal Jorden and Yvette Prieto. Micheal Jorden is the most dominant basket player of mid-1980s till late 1990s. In fact, he is also considered as the best basketball player of all time.
The couple welcomed Ysabel Jordan in the world in 2014. Since then, she has been the world to Micheal Jorden and his wife. Here are seven facts about Ysabel that you would love to know.
Ysabel Jordan has a twin sister
Ysabel was not born alone; she was born with her twin sister Victoria.
The Jordans publicly announced that they were expecting in November of 2013. However, they never revealed that they were expecting twins.
Ysabel Jordan with her identical twins The twins were born together on the night of 11th February 2014.
And the twin sisters are not just twins, but they are identical twins. That means they are very similar to each other and it is hard to recognize them.
The meaning of her name
Ysabel is a unique name, and it has a very beautiful meaning too.
The pronunciation of Ysabel is similar to Isabel and the meaning Ysabel is "Gift for God". In Spanish reference, the meaning of Ysabel is "God is plenty". It is also similar to the Italian version, which means "Consecrated to God".
Ysabel belongs to Cuban ethnicity
There is no secret that the mother of twins, Yvette Prieto, belongs to Cuba. In this way, Ysabel Jordan and her twins do have a bit of Cuban ethnicity.
She also has three adult siblings
Victoria Jordan is not the only sibling Ysabel Jordan; she also has three elder siblings too.
The twins have two brothers, Jeffrey Jordan (28 years old) and Marcus Jordan along with sister Jasmine Mikael Jordan (24 years old). They are actually Ysabel's step-siblings from the previous marriage of Michael Jordan with Juanita Vanoy.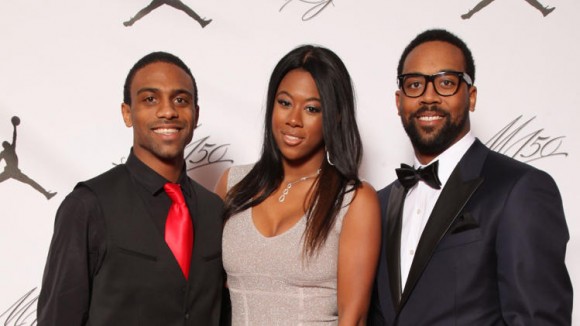 She had been hidden from the limelight
Ysabel has been a big interest for media along with her twin sister Victoria. However, Michael and his wife Yvette have done a remarkable job to keep the childhood life of Ysabel and Victoria away from media and public attention.
Being a child of celebrity may be a duty in itself to give time and attention to the media and fans but definitely not at the cost of ruining their childhood quality moments. Therefore, the couple might have decided to keep them out of sight from media and public.
She is already four Years old
As we don't know much about the twins, so we might think they were just born yesterday. But they are already four years old, born in 11th of February 2014.
Parents of Ysabel Jordan
Her father Michael Jordan is one of the most famous Basketball players of all time.
He had played 15 seasons in the National Basketball Association for the Washington Wizards and Chicago Bulls. In another hand, her mother, Yvette Prieto is a beautiful model originally from Cuba. They met each other at a club in 2008 and dated for a long time.
They married in Palm Beach, Florida in April 2013. Yvette Prieto is 20 years younger than her husband, Michael Jordan. They have been together for more than ten years and living a happy married life.
Michael Jordan
Michael Jordan's Chicago Mansion Still Unsold After a Decade: A Look Inside
Larsa Pippen Responds to Michael Jordan's Disapproval of Relationship with His Son
Michael Jordan Adds a 3-Million-Euro Speed Demon to His Car Collection
Ben Affleck's Revealing Interview on the Absence of Michael Jordan in 'Air'
"AIR": The Upcoming Biopic on the Iconic Partnership between Michael Jordan and Nike
Michael Jordan's Wife-Yvette Jordan: Bio, Net Worth, Kids, Married Life