Robert Kraft: Age, Height, Wife, Net Worth, Properties, Etc
by
CELEBTATTLER
| VIEW 663
Multi-billionaire Robert Kraft had to face a situation when two misdemeanor charges for soliciting to commit prostitution was charged to him. This American businessman, as well the owner to
New England Patriots
among others is no new to the controversies.
Back in 2017 as well, he was speculated for fathering a child of an actress, which he denied later. In accounts of the recent situation, Kraft has pleaded not guilty to two counts of misdemeanor solicitation of prostitution.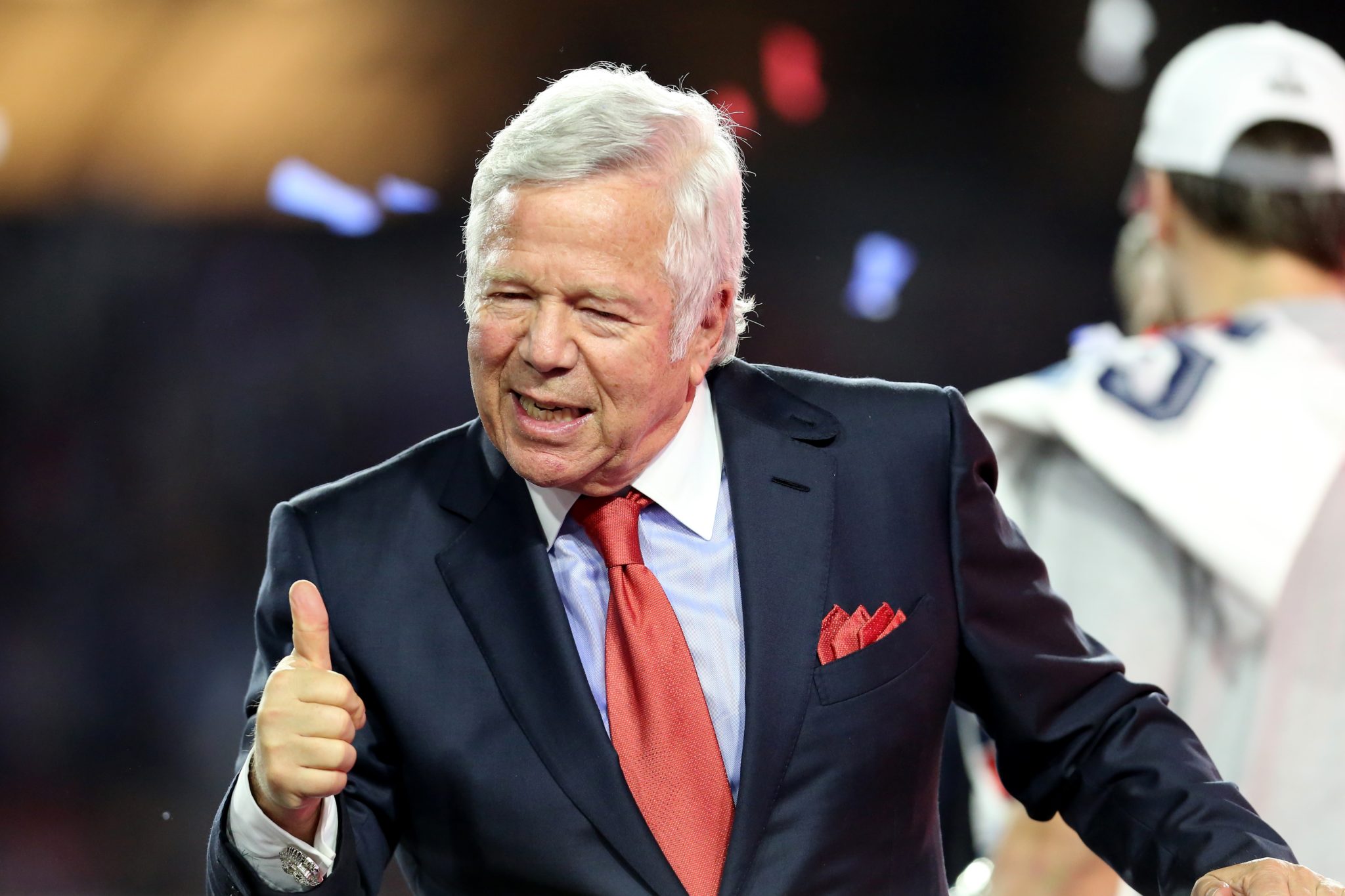 Robert Kraft Let us see what is the matter on this prostitution charge and more about Robert Kraft's life.
Quick Facts about Robert Kraft
| | |
| --- | --- |
| Full Name: | Robert Kenneth Kraft |
| Parent's name: | Harry Kraft and Sarah Bryna |
| Age: | 81 |
| Date of Birth: | June 5, 1941 |
| Birthplace: | Brookline, Massachusetts |
| Years Active: | 1994-present |
| Profession: | Businessman |
| Marital Status: | Unmarried |
| Wife: | Myra Nathalie Hiatt (died in 2011) |
| Partner: | Ricki Noel Lander |
| Children: | Four |
| Children Name: | Jonathan, Joshua, Daniel, and David |
| Net Worth: | $6.6 billion |
| Height: | 1.7 meters |
| Hair: | Blonde |
| Eyes: | Blue |
| Zodiac: | Gemini |
Wiki/Bio Of Robert Kraft
Robert Kenneth Kraft, whom we better know as Robert Kraft was born on June 5, 1941, in Brookline, Massachusetts to Harry Kraft and Sarah Bryna.
Born in a conservative Jewish family, Robert grew up in Brookline attending Edward Devotion School. Then in 1959, he graduated from Brookline High School, where he remained as a class president. For his further education, he went to Columbia University.
There he was quite an athlete and played lightweight football teams. In 1962, Robert graduated from Columbia University and in 1965, he received an MBA from Harvard Business School.
The Journey Of Robert Kraft As A Businessman
Today Robert Kraft is one of the richest men in the worth with fortune that goes for billions.
However, this didn't come easy. So let us know the story of Robert's success and his business empire. After graduating with an MBA, Robert went to work at Rand-Whitney, a manufacturing paper packaging, controlled by his father-in-law, Jacob Hiatt.
In 1968, Robert brought half of it, and in 1972 he took complete control. To expand the horizon of his business, he founded International Forest Products in 1972 and 1998, he created Kraft Group
as a holding company for Rand-Whitney International Forest Products and his family's other ventures as well, especially in the sports field.
Apart from business, Robert Kraft has also established quite an influence in the sports field. Robert is the owner of National Football League's New England Patriots
, Major League Soccer
's New England Revolution and Gillette Stadium as well.
Robert Kraft Properties: House
This multi-billionaire certainly lives with comfort and luxury with that amount of fortune. Robert Kraft owned a luxurious mansion in Cape Code which they sold to their eldest son, Jonathan for $3.8 million in late 2010.
The estate was built in 7,500 sq feet with seven bedrooms and six bathrooms. Another known property of Robert Kraft is a mansion in Palm Beach which he bought in 2009 for around $29.5 million. However, the house is currently in the process of building a 17,000 sq feet British Colonial styled housed designed by Peter Zimmerman.
Robert Kraft Pleads Not Guilty To Prostitution Charges
On February 22, 2019, it was announced that Rober Kraft would face two misdemeanor charges for soliciting another to commit prostitution. As per Florida police court documents, Kraft went to the Orchids of Asia Day Spa on the evening of 19 January; where investigators say they videotaped him engaging in a s*x act and then hading over an undetermined amount of cash.
Robert returned to the spa 17 hours later again in a chauffeured car as per the documents. Robert Kraft has plealed not guilty to two counts of misdemeanor solicitation of prostitution. Well, we will have to see what happens to Robert Kraft in coming hearings.
However, if he gets convicted, he would have to complete 100 hours of community service; attend a class on the dangers of prostitution and human trafficking. Also, he will have to pay a $5,000 amount of fine. However, it is implausible that he would end up in jail.
Wife And Children Of Robert Kraft
Robert Kraft married before earning his MBA on June 1963 to Myra Nathalie Hiatt, daughter of a late businessman and philanthropist Jacob Hiatt. However, Myra couldn't fight ovarian cancer, and she demised on June 20, 2011, at the age of 68.
Together they had four children, all of the sons, Jonathan, Joshua, Daniel, and David. Jonathan Kraft serves as the President of the Kraft Group. Joshua is the President of the New England Patriots Foundation, and Daniel Kraft is the President - International for the Kraft Group and also serves as the President and Chief Executive Officer of International Forest Producrs LLC.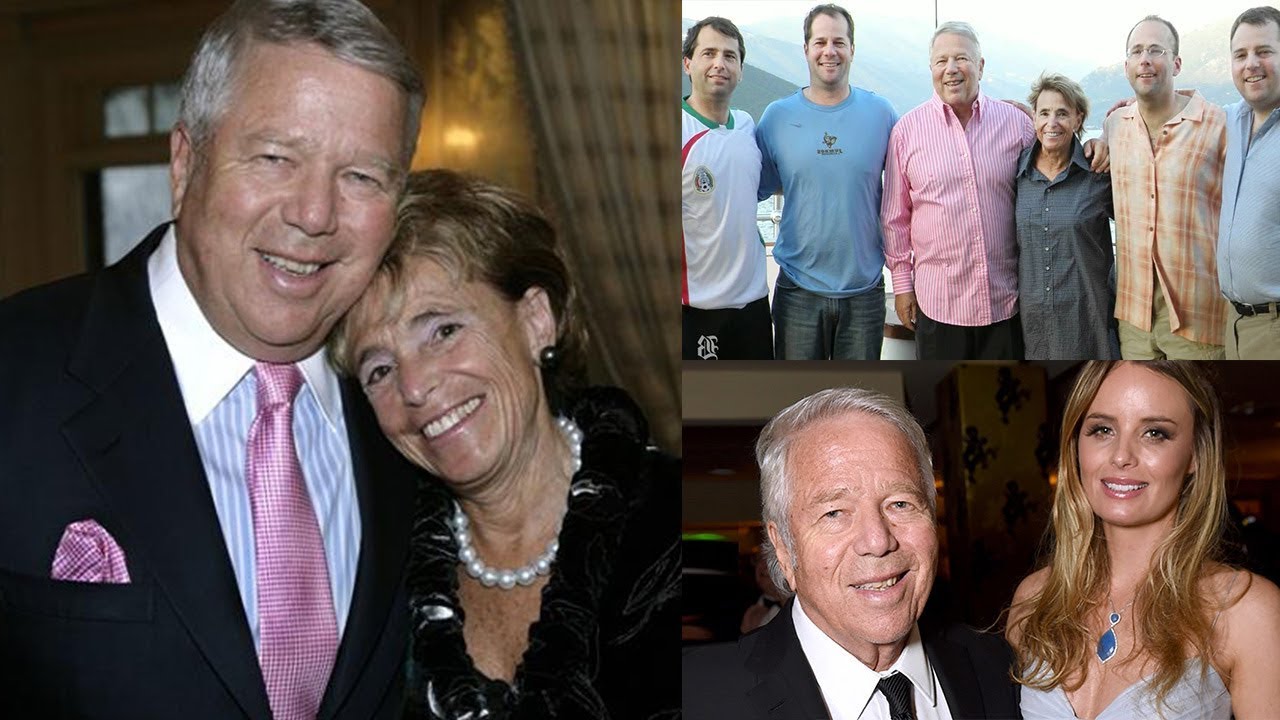 Is Robert Kraft With Another Lady?
After the sad demise of his wife in 2011, Robert Kraft started dating Ricki Noel Lander in 2012. Ricki is an American actress and model who is 38 years junior to Robert Kraft. However, their relationship caught headlines when it was revealed that Ricki gave birth to her first child in the fall of 2017.
As Ricki was seeing Robert, it was normal for the public to raise speculation towards Robert.
However, Robert Kraft denied paternity of the child when the birth was announced in May 2018.
Robert Kraft and Ricki Noel Lander
Net Worth
Robert Kraft is in 79th position of Forbes 400, a list by Forbes of wealthiest Americans.
Likewise, Robert sits at the 281st position on the list of wealthiest people in the world. Well, this is the list by Forbes at the end of 2018. We can't wait to see the increment of Roberts fortune by the end of 2019.
As per Forbes, Robert Kraft net worth is $6.6 billion.
Moreover,
Kraft Group
of Robert Kraft is one of the largest and most successful private holding companies in America operating in over 90 countries.
As per Forbes Kraft Group's worth is $4.6 billion alone. No wonder it was in the 92nd position of America's Largest Private Holding in 2018 with at least 5,000 employees. Likewise, Robert Kraft real estate arm has developed over $1 billion worth of properties.
The real estate development includes Patriot Place, a $350 million outdoor lifestyle and entertainment center around the Gilette Stadium.
Robert Kraft after the victory of New England Patriots Later, in 1995, Robert bought New England Patriots
, a football club for $172 million and now it is worth more than $2.6 billion.
Not to forget Robert owns other sports team as well.
Trivia/Facts Of Robert Kraft
His mother was from Canada and his father from Brookline.
During his school, he was unable to participate in sports because it interfered with his after-school Hebrew studies.
Robert is the CEO and Chairman of the Kraft Group.
Also, he is the owner of the National Football League, New England Patriots.
Also, don't forget to follow us on
Facebook
and
Instagram
for new updates and details.