Morgan Beasley, A real Mountain Man - Wiki-Bio, Net Worth,Wife, Family
by
CELEBTATTLER
| VIEW 14651
Living off the grid isn't for everyone. Morgan Beasley, an American reality TV star, and wanderer, known for his appearance in the reality TV series, "Mountain Men" as one of the new cast members in season 4 aired on History Channel in 2015.
Living a life of a Nomad
Morgan Beasley is living a life of a nomad and currently residing in Alaska. No one can believe a well-educated man like Morgan Beasley lives in isolation, in the complete absence of human being in the jungle.
If he wants he can make a fortune but he chooses to live a nomad life in a minimalistic manner. Before settling down in Alaska, he has been living and traveling for 10 years in different countries. Nobody knows how he survived in those 10 years.
Morgan has built a small portable home in the northwest, Alaska for himself. He struggled but completed the house with limited resources. Here is the video of his house ? https://youtu.be/sfv3iUI-150?t=9 Morgan Beasley enjoys hunting, reading, rock climbing, spending time in the saddle, and a cold beer.
Morgan is the first person to explore Alaska by walking 250 miles away alone, and he knows how to grow garlic in such a bizarre land. Beasley hunts for survival. He fell in love with Alaska natural beauty and uncanny landscapes after going on an Alaskan mountain trip.
Alaska is the most untouched and remote state in America. He went twice to Alaska. https://youtu.be/VgtT_xHJhH0?list=PLOr_gScIysaeUwWEEDtKIBf6YE1stM7x4&t=22
Short Bio
Morgan was born in the United States of America. Morgan Beasley never talked about his early life and parents, not even his birth date to the public.
But Morgan has strong support from his sister, Jill Beasley who is a Medical Sales Recruiter. Morgan pursued a degree in Environment Science from the University of Idaho. He has an interest in nature, environment and living outdoors since his childhood.
After graduation, Beasley worked in several places such as construction, cabinetry, fish processing, for trail crews and as a guide. Besides, he has also learned how to pack horses which he continues till to date. He owned two dogs.
https://www.youtube.com/watch?v=QX4GckY-b_U
Is the mountain man married or still single?
Morgan Beasley is living a single life and isn't involved in any romantic relationship. Morgan has a deep interest in nature.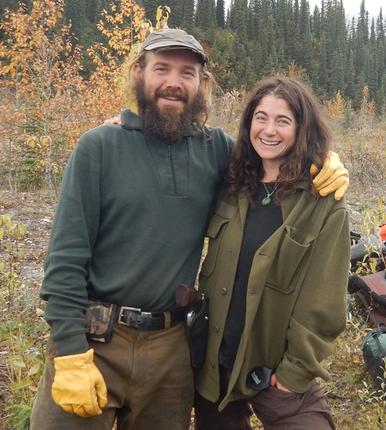 Morgan Beasley Margaret Stern There was a rumor about Morgan Beasley that he was dating a Texas lady, Margaret Stern who is a botanist. But, Margaret and Morgan have nothing to say about there relation. Maybe they are just friends.
Margaret Stern and Morgan have worked side by side in Alaska. He shares all his journey to the public but is very secretive about his private life. However, Beasley hasn't found a perfect match for him yet. His fans want him to start his new journey into the wild.
Morgan is known as the mountain man who has worked on Mountain Men in season 4 and season 5. Morgan has earned handsome money through the reality TV show. Most of his worth is accumulated from the series. No further information has been updated on any social media.
Morgan Beasley Age and Body Measurement
Morgan is 5 feet 10 inches tall and has brown hair and eyes. He loves his beard very much. However, his real birth date has not been revealed yet, so his exact age is still unknown. Morgan is not active in any of these social accounts; Twitter, Facebook, and Instagram. Mountain Men: Trapline Tragedy https://youtu.be/V51YImfiWgM?t=15