Bathing Suits That Ruled The Web This Summer
by
NIKIYA BIGGS
| VIEW 568
Did this past summer become a fashion fiesta? The catwalk spilled onto the beach, and we're here for it! But what do you get when you mix sunshine, beach vibes, and an unquenchable thirst for style? International B**ini Day, July 5th, a date that sounds like a beach party waiting to happen.
Kinky Cloth, an online store for alternative fashion offering a wide range of products that cater to every taste and style, decided to go all Sherlock Holmes and investigate Google search data from the three months prior to July.
Why? Because they wanted to know which swimwear styles were making waves among American women this summer.
They discovered a one-piece bathing suit, which soared right to the top of the list! In addition, a single piece of swimwear managed to outshine all the two pieces, tankinis, and whatever-inis out there.
The search rankings for the most Googled bathing suits this past summer are about to divulge some interesting tea. We live in a world where swimwear choices are not just a matter of personal preference but of Google searches.
Bathing suits have become celebrities, and we're all trying to keep up!
Beachwear In The Limelight
A one-piece bathing suit rose from the depths of fashion history like a stylish monstrous fish with over 1,522,480 searches.
The beachwear is capable of making anyone look effortlessly chic and modest, even after a beachside buffet.
And what's the deal with plus-size bathing suits, coming in second with 743,740 searches? Do they represent a siren voice calling for acceptance of all body types, or is the fashion industry finally realizing that not everyone desires to wear a tiny two-piece?
And then we have the Tankini, third place with 669,020 searches.
Is it the lovechild of a one-piece and a bathing suit, offering the best of both worlds, or the ultimate fashion adapter that can switch between humbleness and style faster than a mermaid changes her tail? Swimwear sure has a way of keeping us guessing!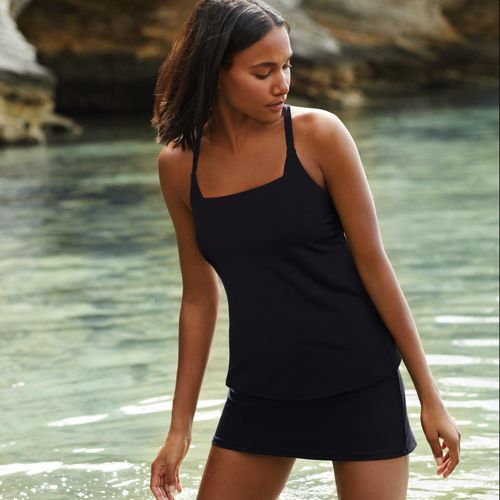 The Sport swimwear stands out with a 590,000 search volume! Surely people are wearing these to the gym pool. It's the latest in high-intensity aqua aerobics fashion. Nah, it's probably just the latest trend for people who want to flash their tan lines in all their glory!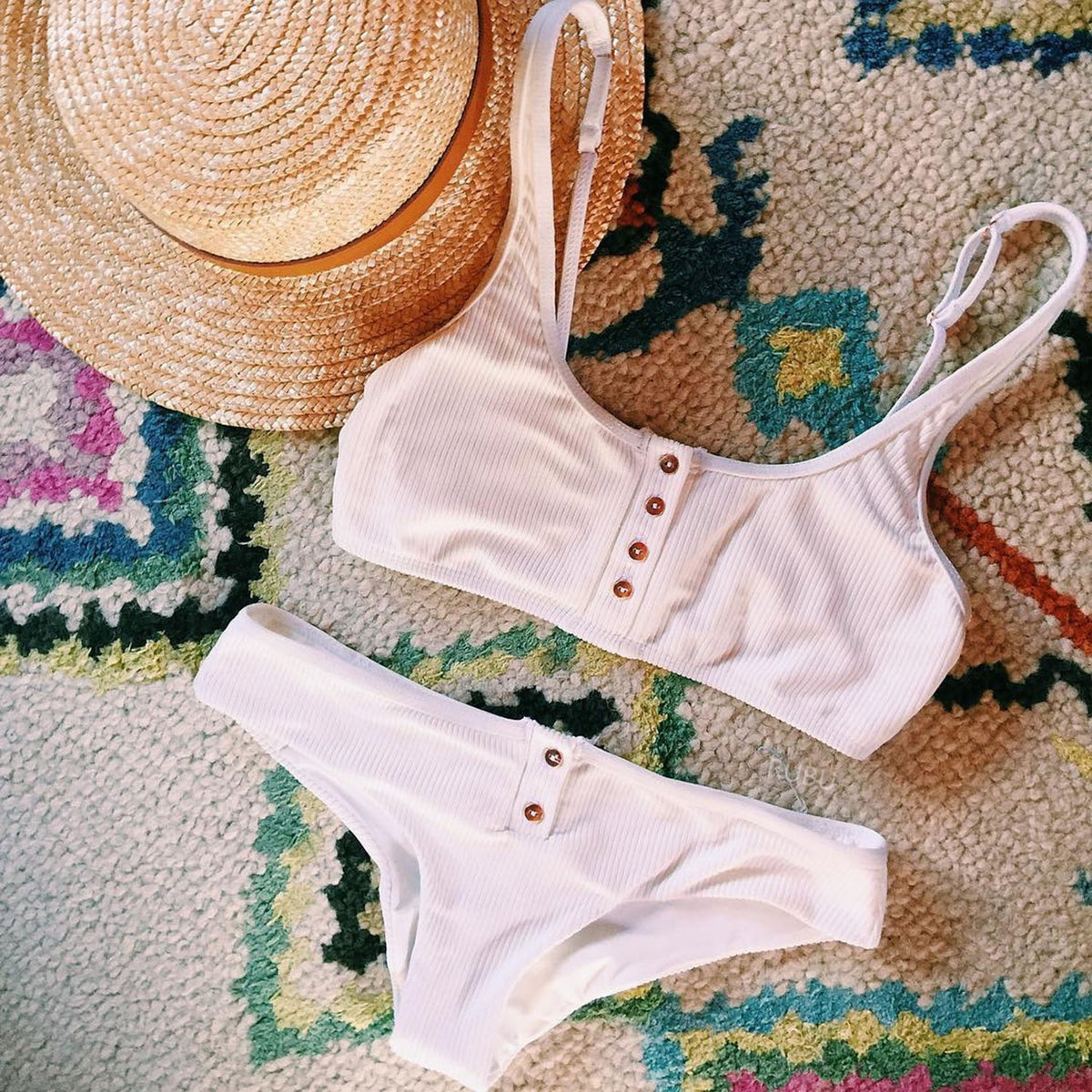 Next in line is the String bathing suit, with searches of 414,020. Who knew strings could be so popular? They're secretly holding up the entire swimwear industry with their minimalist aesthetic!
The Micro bathing suit is here to steal the show with 367,210 searches!
Is this what people mean when they say they're ready to "bare it all"? Are they actually trying to break the internet with their daring fashion choices? Well, at least now we know why the internet is so slow - all the sites are too busy trying to load all the pictures of micro swimwear!
And we have the High-waisted bathing suit making a splash with 343,280 searches. People are time-traveling to the '50s for swimwear inspiration. Do they secretly wish they were sipping cocktails by a vintage poolside? Maybe they're just trying to get away from the sweltering heat of the summer sun!
The Surprise MVP Of The Top 10
So, down the list, we stumble upon the most popular Triangle bathing suit, ringing in with a search volume of 162,550. Apparently, triangles are fashionable!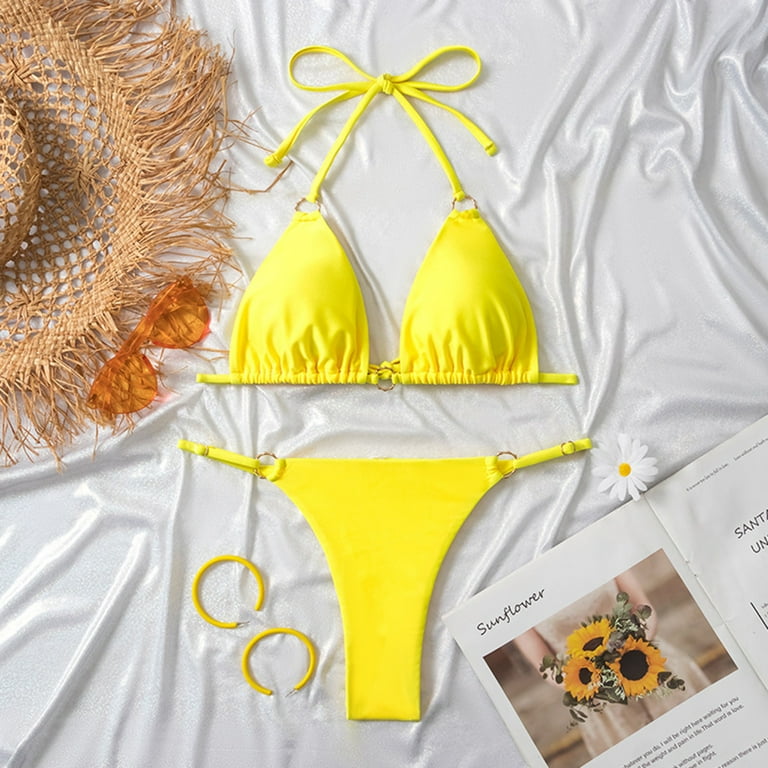 And then, making its entrance with all the pomp and circumstance of a grand opera, the Push-up bathing suit enters, boasting a total number of 100,870 searches.
Don't pack your beach bag just yet! We've got the Halter top Summer suit, bringing up the rear on our top 10 list with a search volume of 61,670. Is it just us, or does the halter top sound like the MVP of poolside fashion? It's so sizzling, you could grill a steak in it!
Kinky Cloth Discusses Summer's Popular Google Searches
Harmony Lane, founder of Kinky Cloth commented on the findings:
"The rankings of the most Googled b**inis this summer demonstrate a diverse range of swimwear preferences.
From the enduring appeal of classics like the one-piece sw**suit and string b**ini to the rise of inclusive options like the plus-size b**ini, these rankings reflect a desire for fashion-forward designs that cater to various body types and personal styles.
As Women prepare for International B**ini Day, these trends provide inspiration and guidance for those seeking the perfect swimwear ensemble to embrace the summer season" In order to find the most searched b**inis, we looked at Google searches for the last 3 months.
B**inis were entered in both their standard format e.g 'Tankini' as well as their other related keywords such as 'Tankini sets."