Rolex Goes Bold with Emoticons-Featuring Timepiece
by
FARUK IMAMOVIC
| VIEW 428
The Swiss luxury watch manufacturer, Rolex, has made a daring move by presenting something completely unconventional at the recent Watches and Wonders fair in Geneva. The company, well-known for its iconic Oyster Perpetual Day-Date 36 watch, unveiled three new models, each with its own unique features and vibrant dials.
A Timepiece with Emotions
However, one model in particular caught the attention of the audience – a Rolex timepiece that doesn't display the time or date, but instead, showcases emoticons. In place of the date, 31 emoticons change daily, including a peace sign, heart, panda, four-leaf clover, kiss face, and the Rolex logo.
The numbers have been replaced with seven inspirational words: happiness, eternity, gratitude, peace, faith, love, and hope. According to Rolex, the new model brings "an element of spontaneity to its owner's daily life and allows him to invest his changing mood in reading the time".
The watch is crafted in 18-carat yellow, white, or everose gold, and features the latest perpetual movement 3255 and the President bracelet, exclusive to the Day-Date models.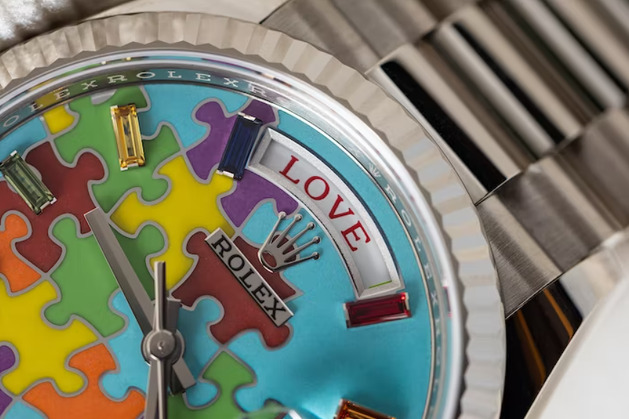 Controversial or Courageous?
Although the price has not been revealed, it is assumed to cost over $30,000, which is the starting price for the Oyster Perpetual Day-Date 36 gold models.
The Day-Date was first introduced in 1956 and was a major innovation as the first wristwatch with a full calendar, including the day of the week, written in an arc-shaped window on the dial. This latest model, partly due to its emoticon feature, has sparked public attention and divided opinions.
While some see it as a bold move by Rolex, others view it as a questionable decision. Some fans speculate that the company created the model to support the fight for people with autism, given that World Autism Awareness Day is celebrated on April 2nd.
A Unique Piece for Collectors
For traditional elegance and luxury lovers, this watch may not be to their taste. But for those who appreciate unique and rare models, it is sure to be a hit. Whether it's a controversial or courageous move, one thing is for certain – Rolex has stepped out of its comfort zone and presented the world with something truly different.
Rolex
Cruz Beckham's 18th Birthday Celebration: Flaunting a £32,000 Rolex
The Rolex Shortage: Even the Wealthiest Can't Get Their Hands on the Latest Models