Audemars Piguet's new collection celebrates its rich heritage
by
FARUK IMAMOVIC
| VIEW 141
Following the release of the Code 11.59 collection three years ago, Audemars Piguet has expanded its product line with a new, intriguing watch that represents the revival of one of the favorite complications of the 1990s...
The new Audemars Piguet Starwheel Code 11.59 is the spiritual successor to the original Audemars Piguet Star Wheel from 1991, which used a wandering clock system. The genesis of the wandering clock dates back to the 17th century, so it is important to examine the details of this new model first.
As a result of Pope Alexander VII's insomnia exacerbated by the ticking of the clock, the Campani brothers devised this complication during the 1600s. A wandering clock system was invented because the Pope wanted a clock that would be quiet and easy to read at night.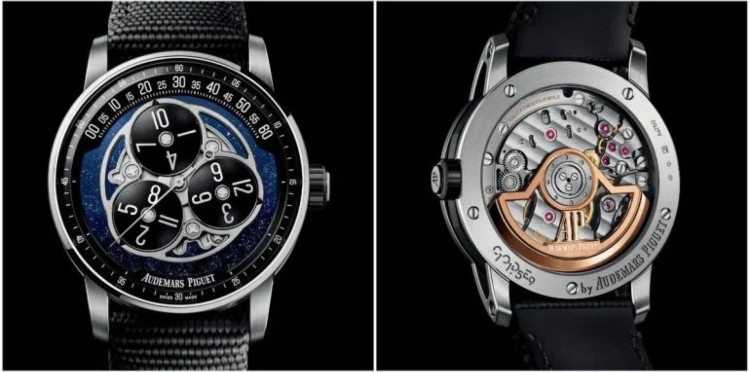 After reading an article in the Swiss Journal of Horology in the late 1980s, a watchmaker from Audemars Piguet helped revive the system in the 1991 AP Star Wheel model. The Swiss brand introduced around 30 Star Wheel models over the next 12 years, but this complication slowly lost its luster, leading to the discontinuation of its production.
Almost two decades later, AP brings it back to life, presenting it in a modern and daring avatar, namely the Code 11.59 by Audemars Piguet Starwheel.
Star Wheel model follows the Code 11.59 design
With a diameter of 41 mm, the new Star Wheel model perfectly follows the Code 11.59 design language.
The watch's design incorporates a black ceramic case, crown, lugs, and case back with white gold materials. This watch has a dual-rounded sapphire crystal that protects the dial, which is adorned with blue aventurine, as well as discs that rotate on their own axes as well as on a central axis.
This particular trio is made from aluminum and has been PVD treated to give it a black finish, while each disc has been sandblasted with an opaline finish for a sandblasted effect. They "roam" across the dial, with the current hour located next to the current minute, along with a 120-minute bar located at the top of the dial.
The refined system is truly mesmerizing to behold. The Star Wheel model is powered by the automatic Caliber 4310, which offers a power reserve of 70 hours. When it comes to price, the Code 11.59 by Audemars Piguet Starwheel will set you back $58,000.