Kylie Jenner's $72.8million private jet menu is mind-blowing
by
FARUK IMAMOVIC
| VIEW 227
Kylie Jenner, who was previously named the youngest billionaire, bought her own private jet in January 2020. The 25-year-old's airline 'Kylie Air' comes complete with her signature pink branding, private crew and luxury catering service fit for royalty.
If you've ever faced the struggle of deciding between "chicken or fish?" while dining en route to your destination, you'll seriously envy Kylie Jenner's decadent in-flight menu. From Baked Tomato Biscuits to Cheese Spinach Ravioli with Sage Butter Pesto, Kylie Air is an airline we'd love to fly with!
In keeping with the star's healthy lifestyle, the favorite Chinese Chicken Salad is also part of the tempting menu, as is Seared Mahi Mahi with Mango Pineapple Salsa, Sautéed Spinach, Grilled Vegetables, and Pomme Mash.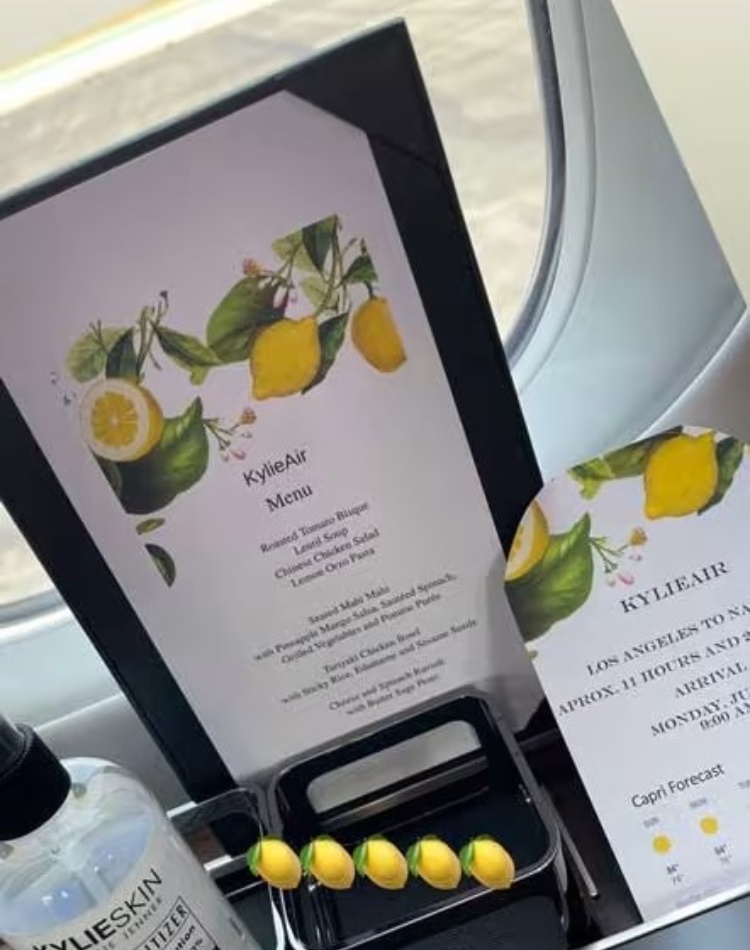 It wasn't just the menu that left us speechless. Kylie Jenner's personalized jet also boasts a fully equipped entertainment suite, a master bedroom for extended relaxation, two bathrooms, a gallery, a crew rest area, a walk-in closet and plenty of storage space for luggage.
A typical example of this criticism came earlier this year when Kylie took it for a 17-minute flight from Camarillo, in the same state, to Van Nuys, California, in the same month. "Can't wait to see Kylie Jenner post environmentally conscious photos on her stories as if she alone isn't doing more damage to the environment than most of us with her 3 minute flights," tweeted one critic in July.
Paul Charles, CEO of travel consultancy The PC Agency said per DailyMail:
"Private jets certainly have their place, especially with so many delays and cancellations for consumers using airports globally at the moment. But the focus should be on responsible travel, for example taking private jets and using carbon offset schemes, or taking jets which are powered by sustainable aviation fuel (SAF).
Taking one for 12 minutes when the car journey would have been more appropriate is the height of irresponsibility." Travelers have been known to receive Kylie Skin branded silk pillows and eye masks for a blissful sleep, as well as Kylie Skin cosmetics.
However, some striking accessories remain unchanged, in this particular case, Hermes blankets draped over each seat to keep passengers cozy and comfortable.
Kylie Jenner
The Battle of Instagram: Kylie Jenner, Hailey Bieber, and Selena Gomez
Selena Gomez Tops Kylie Jenner as the Most Followed Woman on Instagram
Celebrating Aire's First Birthday: Kylie Jenner Shares Touching Video Montage
PETA Praises Kylie Jenner's Innovative Lion Head Dress at Schiaparelli Show
Kylie Jenner Reveals New Name for Son with Travis Scott
On-Again, Off-Again Couple Kylie Jenner and Travis Scott End Relationship