How did Travis Kelce gain the Spotlight after a Gift from Swiftie?
by
ZAIN UL ABEDIN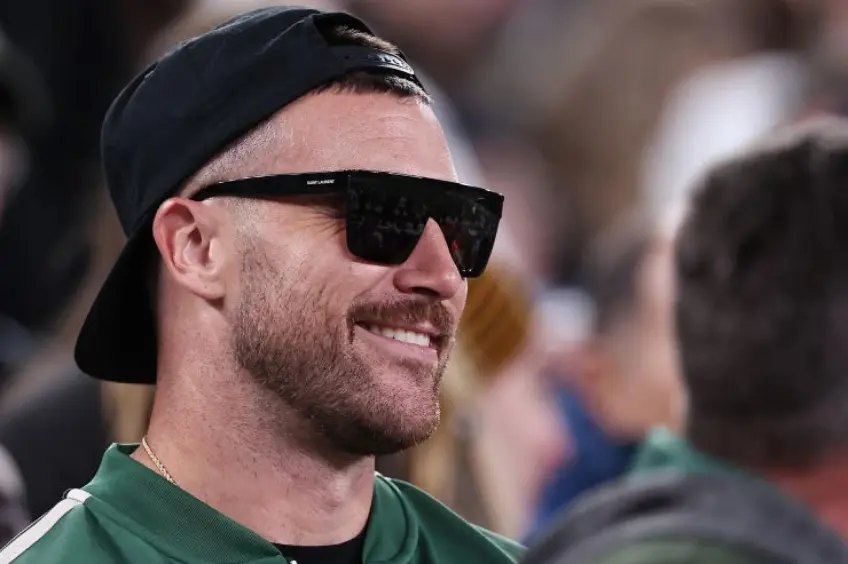 In recent events, Travis Kelce, primarily known for his prowess on the football field, has made headlines in the entertainment world thanks to his budding relationship with pop sensation Taylor Swift. This newfound fame was underscored when a dedicated Swiftie presented him with a unique token of appreciation during the recent Philadelphia Eagles vs.
New York Jets game at MetLife Stadium in New Jersey. Travis, who attended the game to support his brother Jason Kelce, was gifted a homemade "friendship bracelet" by the fan. This wasn't just any bracelet; it bore the significant phrase "On the Map." The gesture has since become a h*t topic on social media platforms, leading many to wonder about the dynamics of his newfound prominence compared to the multi-Grammy-winning artist, Taylor Swift.
Travis Kelce's Viral TikTok Bracelet Exchange
A heartwarming moment was captured for posterity when Travis, with a chuckle, acknowledged the handcrafted jewelry in a viral TikTok video. In the clip, the NFL star is warmly fist-bumping the dedicated fan, Krissy Lasance.
Krissy, evidently pleased, captioned the video, "When you sweet talk your way through security to deliver a friendship bracelet," giving a nod to the lengths she went to for this personal exchange. In a subsequent video, she elaborated on her adventure: "I proceeded to converse with nearly 10 security guards, trying to locate Travis, and requested them to allow me to hand over the bracelet.
To my surprise, they were all remarkably accommodating. It was truly an unforgettable experience!"
Interestingly, this isn't the first time bracelets have played a role in the narrative of Travis Kelce and Taylor Swift.
In a twist of events, the NFL sensation once revealed on his and Jason's podcast, "New Heights," that he had crafted a bracelet for Taylor. He intended to pass along his number to the songstress. He expressed a hint of disappointment, saying, "I was eager to hand Taylor one of the bracelets I made for her.
However, understanding she preserves her voice for her extensive performances, I was slightly disheartened I couldn't present it". As the worlds of music and sports intertwine, fans eagerly await to see what the future holds for this high-profile duo.
Travis Kelce