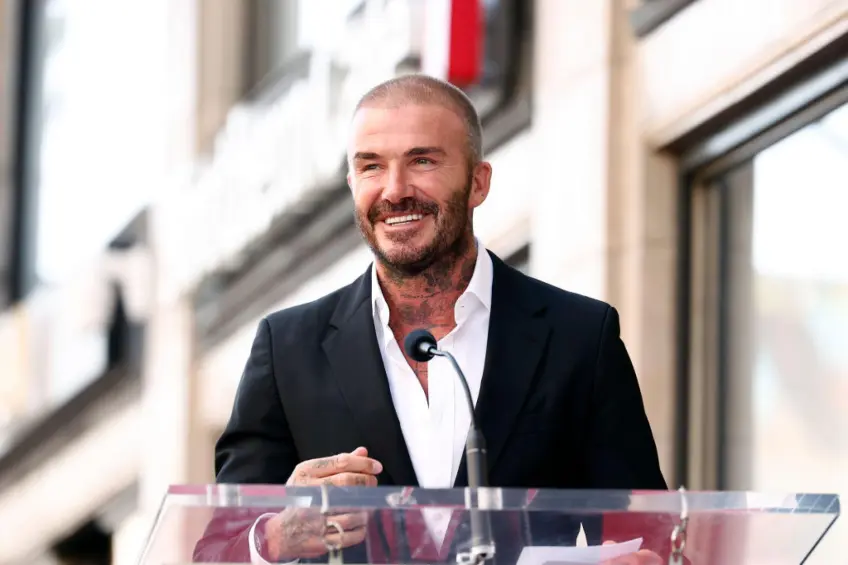 David Beckham, the legendary soccer star celebrated for both his athletic prowess and his penchant for body art, recently added another meaningful tattoo to his already impressive collection. This touching ink, strategically etched onto his delicate little finger, carries a profound message of love and unwavering commitment to his wife, the esteemed fashion icon Victoria Beckham.
The hallowed grounds of Mark Mahoney's World Famous Shamrock Social Club in the heart of Hollywood bore witness to this poignant moment. Mark Mahoney, a celebrated tattoo artist with an awe-inspiring 40-year career spanning generations of ink enthusiasts, was entrusted with the delicate task of bringing this sentimental design to life.
With his steady hand and unwavering dedication to his craft, Mahoney embarked on crafting this exquisite tribute to the enduring love story of the Beckhams. While fans and tattoo connoisseurs alike eagerly awaited a glimpse of the finished masterpiece, David Beckham tantalizingly teased the world via his Instagram account.
In a behind-the-scenes snapshot, the image showcased the skilled hands of Mark Mahoney diligently at work. The accompanying caption, a cryptic yet intriguing "They don't make them like this anymore," added an air of mystique to the unveiling.
Symbolic '99' Tattoo Tribute
What renders this tattoo especially poignant is its heartfelt tribute to the Beckhams' remarkable love story. David's choice of '99' as the centerpiece holds profound symbolism. It serves as a nod to the year 1999 when he exchanged vows with Victoria, sealing their commitment to a lifetime together.
Notably, it was also the year their firstborn son, Brooklyn, came into the world. This touching gesture not only commemorates their enduring union but also celebrates the beautiful family they have nurtured together over the years.
The '99' tattoo joins an impressive array of inked artworks that adorn David Beckham's chiseled physique. Each tattoo tells a unique story, transforming his body into a canvas of cherished memories and profound emotions. His love for tattoos is well-documented, with each piece representing a facet of his remarkable journey through life.
As fans and admirers the world over eagerly await the grand unveiling of the completed tattoo, David Beckham's latest ink stands as a profound testament to the enduring power of love and the artistry that goes into expressing it.
Whether on the soccer field or within the intimate confines of a tattoo studio, Beckham continues to captivate and inspire with his boundless dedication and passion. The world watches in anticipation for the big reveal of this touching tribute to his extraordinary love story with Victoria, an enduring narrative that resonates deeply with romantics and fans alike.
David Beckham