From The Met Gala To Fashion's Mainstream: Tweed And Pearl Dresses Rock Search Trends
by
NIKIYA BIGGS
| VIEW 571
Fashion appears to be buzzing with excitement and curiosity! Get ready to be taken aback by some stunning fashion stats.
Embracing Classic Elegance: The Enchantment Of Pearl And Tweed Dresses
According to the latest analysis of Google search data, there was an absolute explosion of interest in two breathtaking dress styles: the exquisite pearl dress and the timeless tweed dress.
On May 2, right after the dazzling Met Gala 2023, where celebrities graced the red carpet in awe-inspiring pearl and tweed dresses as a tribute to the legendary Karl Lagerfeld, something extraordinary happened. The online searches for 'pearl dress' went up by an astounding 267%, like a fashion supernova of interest!
But the enchantment continued! Searches for 'tweed dress' experienced a phenomenal surge of 233%! It's as if fashion aficionados couldn't resist the allure of these classic yet glamorous garments.
Fashion experts Karen Millen revealed that online interest in pearl and tweed dresses tripled the day after celebrities walked the Met Gala red carpet.
But what exactly caused this frenzy? Well, it's all thanks to our favorite fashion stars who attended the Met Gala. Anne Hathaway, Dua Lipa, and Kim Kardashian lit up the red carpet with their mesmerizing pearl and tweed dresses.
The public was captivated by their extraordinary style choices. These celebrities honored the iconic Karl Lagerfeld and set off a firestorm of fashion inspiration that spread across the internet. Think about the excitement that must have filled the hearts of fashion enthusiasts worldwide.
It's like witnessing a style revolution, a moment where ordinary people became fashion connoisseurs themselves.
Classic Meets Contemporary: Tweed's Resurgence In The Glamorous World Of Celebrities
The recent star-studded event was a tweed-tastic extravaganza!
Anne Hathaway, the queen of elegance, donned a stunning white tweed gown by Versace. And oh my pearls, she added a touch of glamour with a matching jacket adorned with lustrous orbs. Who knew tweed could be so chic?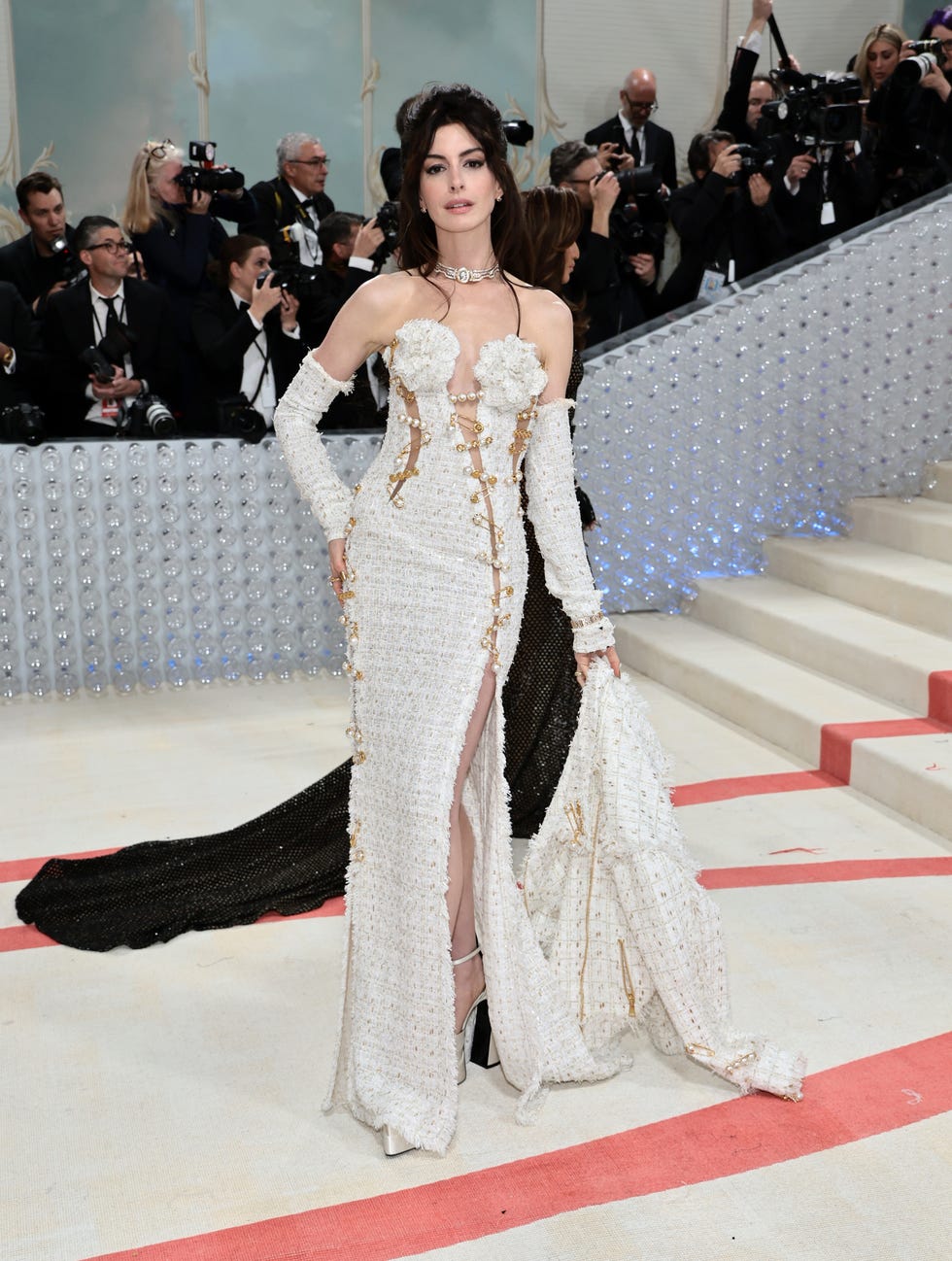 In addition, Dua Lipa, the epitome of vintage coolness, turned heads in a jaw-dropping 1992 Chanel tweed wedding gown.
Claudia Schiffer initially wore this beautiful creation. Talk about a fashionable blast from the past!
Sora Choi, the embodiment of avant-garde style, took the stage in a billowing Thom Browne tweed coat dress. In motion, it looked like a dreamy masterpiece swaying with every step she took.
The combination of structure and grace was mesmerizing. Think about the level of confidence and allure she radiated.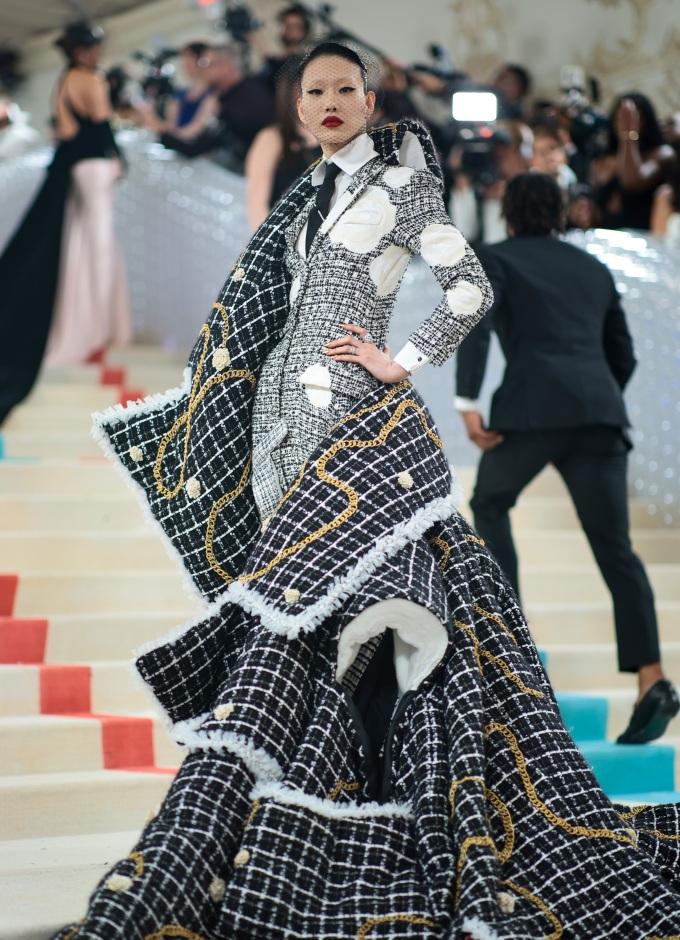 The Timeless Elegance That Stole The Show At The Met Gala
The Met Gala was overflowing with pearls this year!
The event was a pearl extravaganza on the red carpet, with all the stars rocking this timeless gemstone in their own unique ways. You'll want to hold your breath because I'm going to share some jaw-dropping moments. The one and only Kim Kardashian, fashion maven extraordinaire, strutted her stuff in an eye-popping bare dress dripping with pearls.
Effortless glamor exuded from her!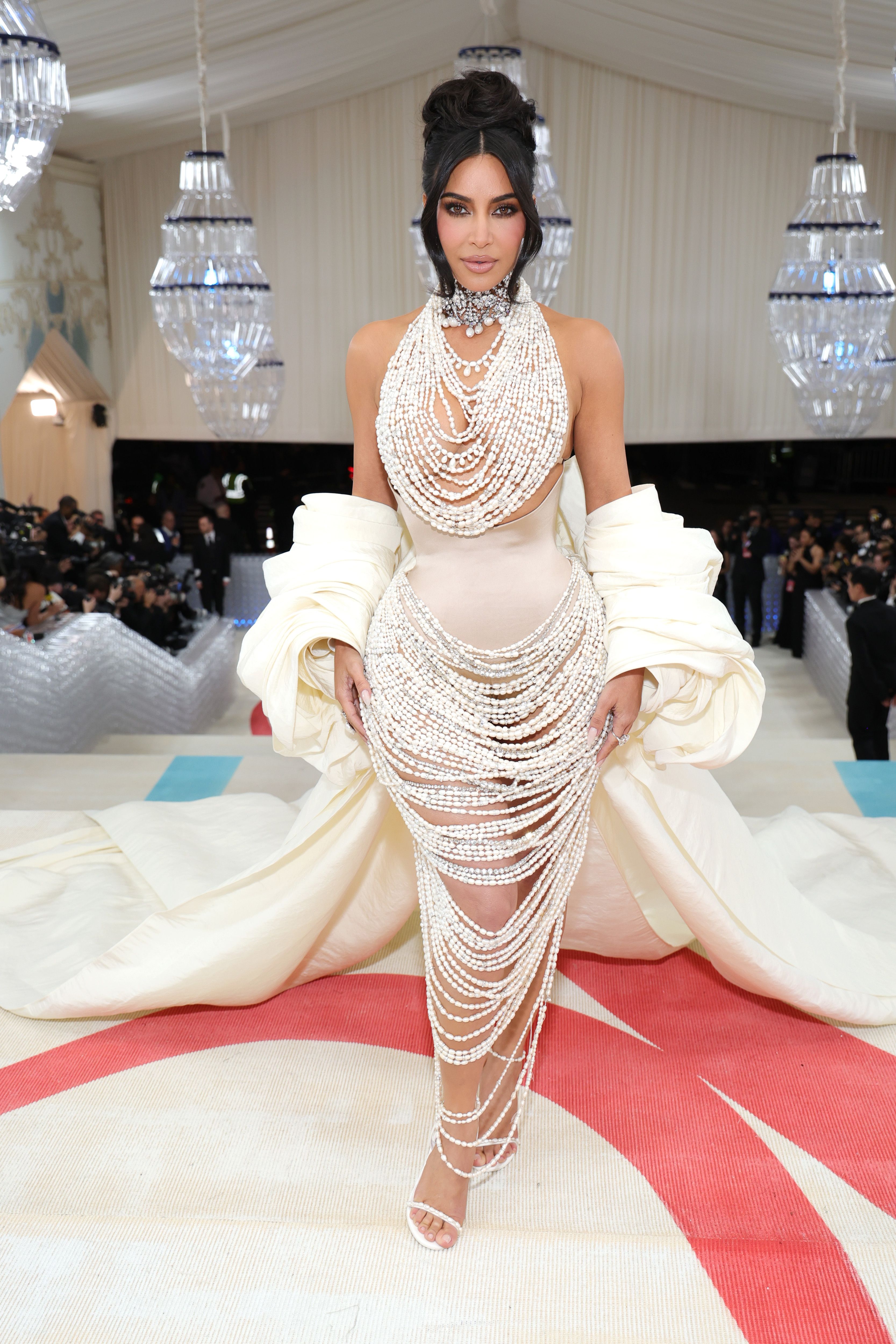 The sensational Lizzo, known for her fierce attitude and killer style, wowed everyone in a black Chanel gown that hugged her curves like a dream. And what made it even more fabulous? A pearl bodice that added elegance and sophistication to her look.
She was the epitome of glamour!
And let's not forget about the lovely Alia Bhatt and the talented Ava Max, who both embrace the angelic side of fashion.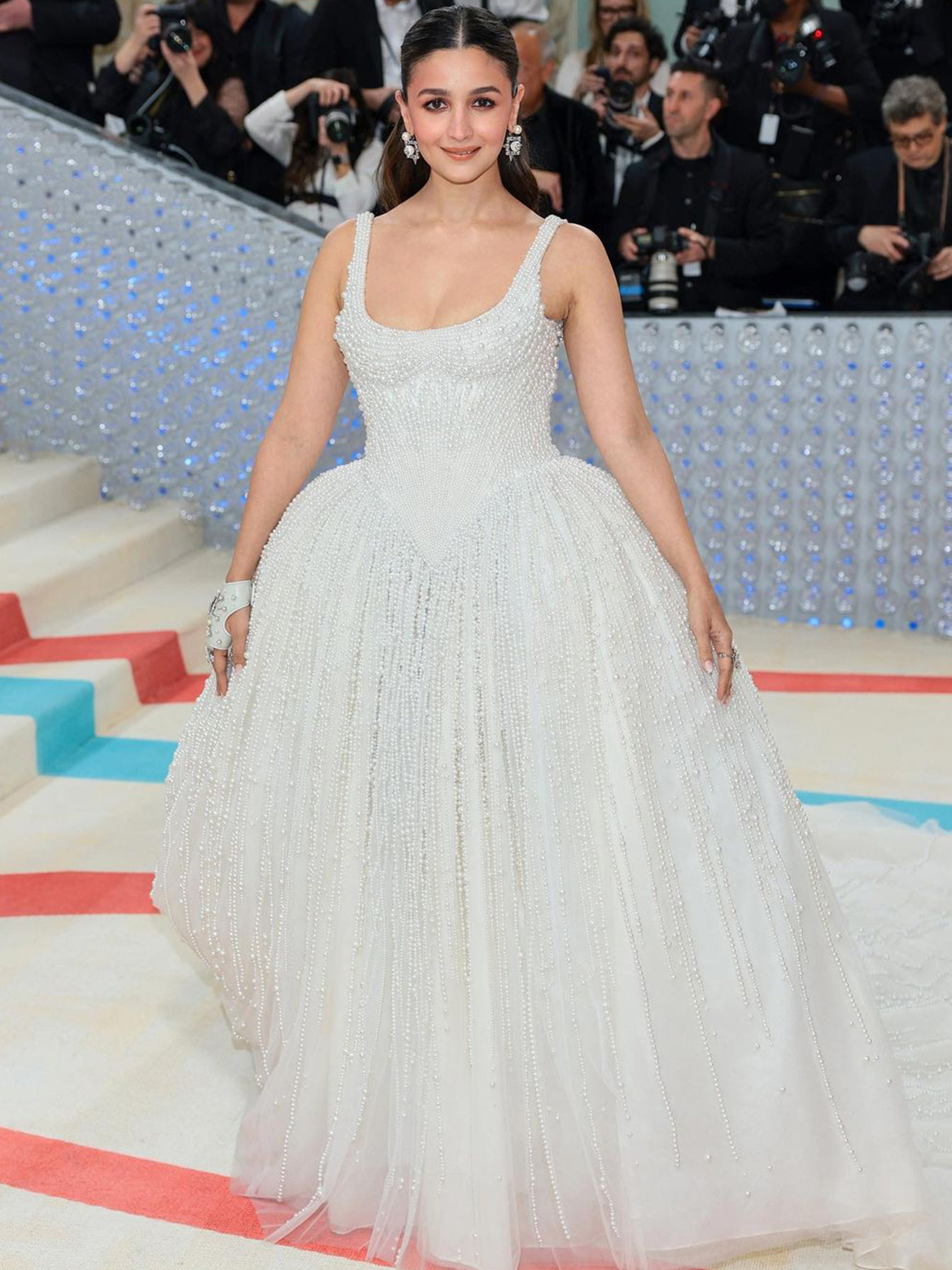 They graced the Met Gala in beautiful white dresses decorated with delicate pearl embellishments from top to bottom.
It was as if they were walking embodiments of purity and beauty. Simply divine!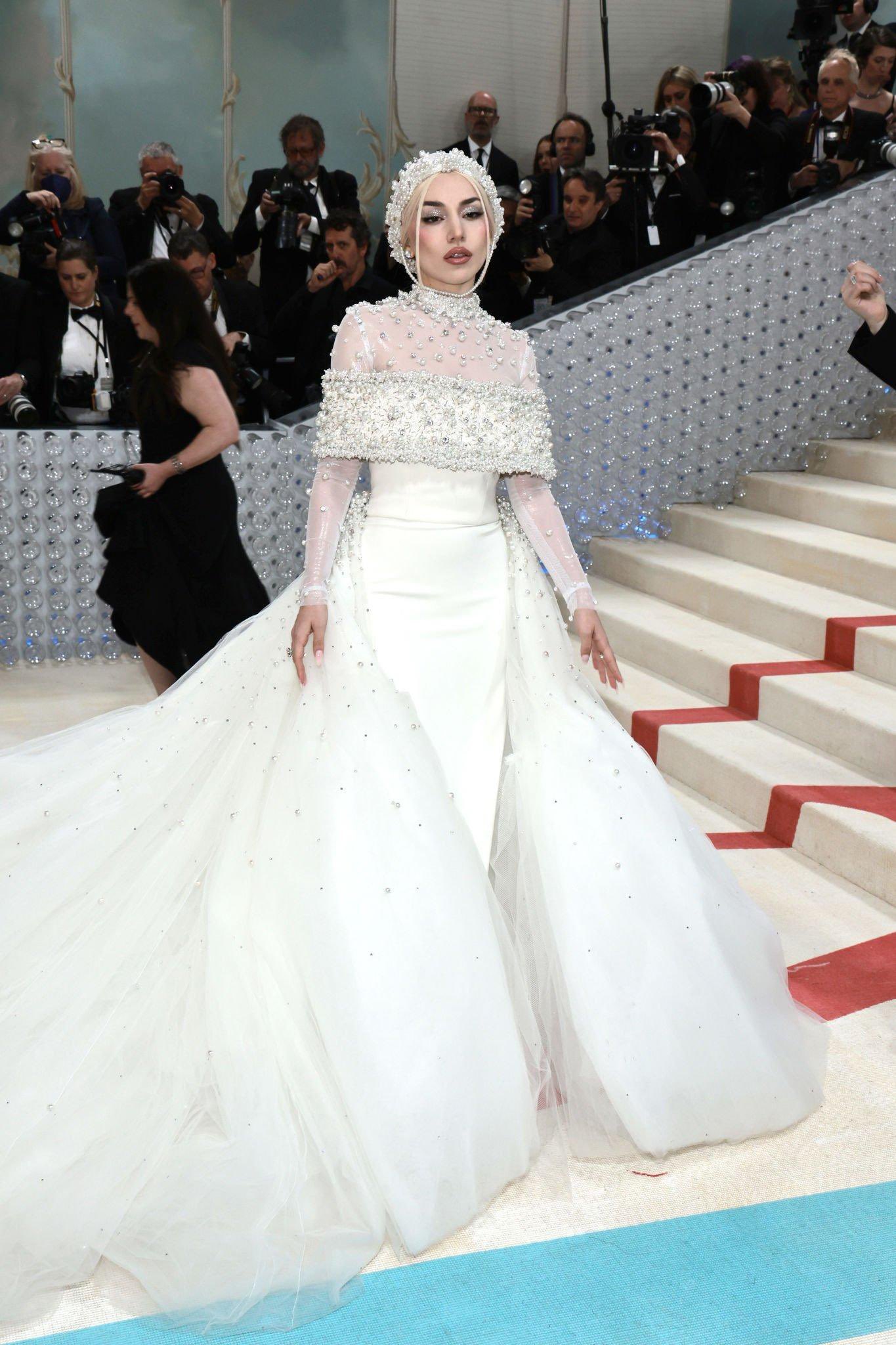 Bridalwear Takes Center Stage At The Met Gala
Another exciting part of this year's Met Gala was the bridalwear, baby! The red carpet was a dazzling parade of white dresses as if the stars auditioned for their fairy tale weddings.
I mean, who needs a prince charming when you can rock a stunning
But the internet went bonkers over these bridal-inspired looks. Online searches for 'white dress' shot up 75%, reaching a five-year high. People couldn't get enough of that pristine, heavenly vibe.
Searches for 'white gown' skyrocketed by 99%, smashing all previous records. It's like everyone suddenly decided to walk down the aisle in style!
But hold on to the bouquet because we're not done yet. The Met Gala effect was real!
Folks couldn't resist the allure of Chanel because searches for 'Chanel wedding dress' went through the roof with a surge of 1,110%. That's right, over a thousand percent increase! Karl Lagerfeld's influence lives on, making brides-to-be dream of that iconic interlocking-C magic on their big day.
Plus, the desire for dresses with trains has reached new heights. Searches for 'dress with train' rose 271%, leaving us wondering if it's time to bring back that regal style of yesteryear. After all, who doesn't want to make a grand entrance and watch their train elegantly glide across the floor?
Karen Millen's Spokesperson Discusses The Met Gala Effect
A spokesperson for Karen Millen commented on the findings: "This year's theme naturally inspired guests to embrace Lagerfeld's bridal designs into their looks, and white was clearly the biggest trend.
These findings show how influential the Met Gala is on fashion trends worldwide, with searches for bridalwear, white, tweed, and pearls soaring during fashion's biggest night".
Met Gala
Serena Williams Radiantly Announces Pregnancy at the Met Gala
Doja Cat Meows Her Way to the Top at the 2023 Met Gala
Blake Lively Says She Will Not Attend the 2023 Met Gala
The Met Gala 2023 will honor Karl Lagerfeld
Kim Kardashian: the best look was at 3 years ago Met Gala?
When Lady Gaga changed 4 Dress on the red carpet Met Gala 3 years ago