Georgina Rodriguez Steals the Show at Cannes
by
FARUK IMAMOVIC
| VIEW 600
Dazzling onlookers and stealing the limelight, Georgina Rodriguez, the celebrated Spanish influencer and partner to Cristiano Ronaldo, took the Cannes Film Festival by storm. A regular attendee of this revered cinematic event, Rodriguez once again made a grand entrance, this time at the premiere of the French drama, "Last Summer" ("L'Été dernier").

She cut an unforgettable figure in the creations of esteemed Tunisian designer Ali Karoui, with her outfit choices expertly accentuating her renowned silhouette
.
A Vision in Purple and Gold
As Rodriguez arrived at the Martinez Hotel for the Cannes Film Festival, she turned heads in a stunning purple dress that flawlessly traced her body line.
The Spanish influencer's selection for the event's formal appearance and the accompanying amfAR Gala leaned towards a more elegant aesthetic. For the star-studded event, Rodriguez slipped into a golden dress that shimmered under the spotlight, owing to hundreds of sequins embellishing the fabric.
This dazzling piece, designed by the talented Karoui, was perfectly complemented by a high ponytail, adding a touch of sophistication to her glamorous ensemble. The dress's train gently billowed behind her, emphasizing her distinct curves, while her sparkling earrings and a selection of bracelets lent an extra dose of glitter to her outfit.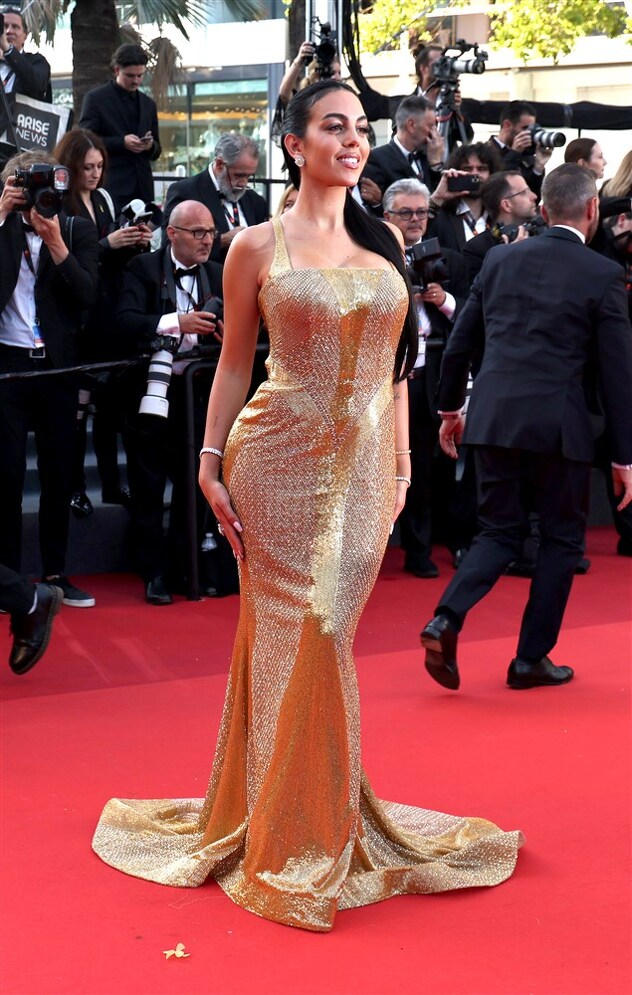 The amfAR Gala: A Sequin Spectacle
The amfAR Gala, a prestigious event organized by the AIDS Research Foundation, attracted Rodriguez's further support. Renowned as one of the world's leading non-profit organizations in AIDS research and prevention, the foundation was the perfect platform for Rodriguez to display another of Karoui's designs.
Donning an off-the-shoulder black midi dress studded with sequins, Rodriguez turned the heads of fellow attendees. The cocktail dress, adorned with a daring thigh-high slit, was paired with chic black heeled pumps from Le Silla.
A diamond and purple gemstone necklace, diamond ring, and bracelet by Chopard completed the ensemble, offering the perfect blend of glamour and style.
A Repeating Collaboration
This is far from the first time that Rodriguez has collaborated with designer Ali Karoui.
In January, she graced the 2023 Joy Awards in Saudi Arabia, donning a unique blue hooded dress and long gloves, courtesy of Karoui's inventive style. The Cannes Film Festival is just another addition to a growing list of high-profile events that Rodriguez has dazzled, each time reaffirming her status as a fashion icon and the power of her ongoing collaboration with Karoui.
Georgina Rodriguez
Cristiano Ronaldo