Speculations Surrounding Meghan Markle's 3rd Pregnancy
by
FARUK IMAMOVIC
| VIEW 500
A captivating narrative continues to unfold around the rumored pregnancy of Meghan Markle, the Duchess of Sussex, fueling speculation that she may be expecting her third child with Prince Harry. Captured in a series of photographs, Prince Harry and Meghan were sighted together for the first time following the coronation of Charles III, marking the prince's return to their residence in California.
According to reports from international media outlets, the couple was observed strolling in front of the esteemed Sushi Bar restaurant located in Santa Barbara, a picturesque city along California's sun-kissed coast. This seemingly ordinary occurrence, however, quickly ignited a fervor among numerous American media outlets, igniting a discourse surrounding Meghan's potential pregnancy.
Drawing from photos obtained by TMZ, purportedly showcasing the Duchess of Sussex, pundits assert that a discernible prominence of her belly suggests the possibility of an impending addition to the family. As speculation continues to mount, media outlets are increasingly vocal in their anticipation of a new chapter in Meghan and Harry's familial journey.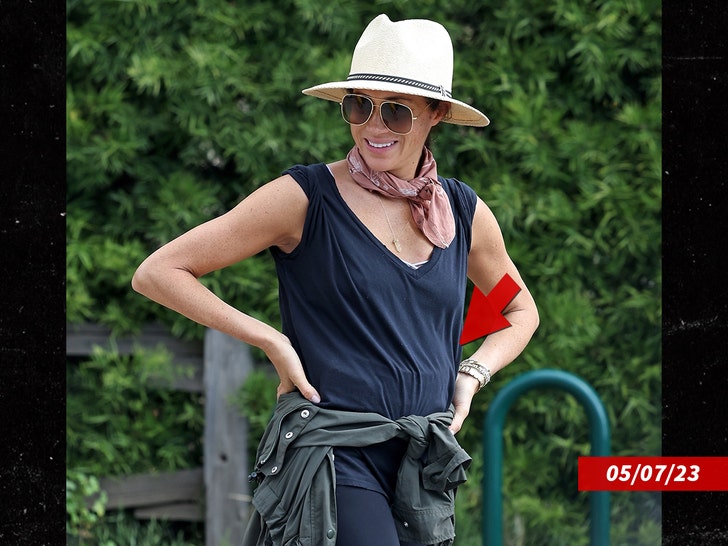 The presence of this news has propagated across various social media platforms, creating a ripple effect of conversation and conjecture. Amidst this burgeoning discourse, the couple has not yet released an official statement regarding the veracity of these claims.
A Journey of Family Expansions
Reflecting upon Meghan and Harry's previous experiences with parenthood, it is worth noting that they welcomed their first child in 2019. Their baby boy, Archie, arrived just 13 days shy of their inaugural wedding anniversary, infusing their lives with immeasurable joy and forging a profound connection as a family.
Fast forward two years to June 2021, and the couple found themselves embarking on yet another transformative chapter of their lives. It was during this time that Meghan and Harry joyfully celebrated the arrival of their second child, a beautiful daughter named Lilibeth.
With this context in mind, the possibility of a third child would signify a continuation of the couple's journey into parenthood, further enriching their familial tapestry with the promise of new life and boundless love.
Meghan Markle
Prince Harry and Meghan Markle's Marriage Faces 'Dramatic Shift' Threat
Russell Brand Playfully Accuses Prince Harry of Sharing a Kiss with Meghan Markle
Prince William's Candid Reaction to Prince Harry's Meghan Markle Introduction
Prince Harry's Birthday Surprise with Meghan Markle
Prince Harry Anticipates Meghan Markle's Arrival at Invictus Games
Prince Harry Invites Meghan Markle as Chief Guest for Invictus Games