"Be Kinder: A Call to Consider Others' Mental Health" - A Selena Gomez Statement
by
FARUK IMAMOVIC
The pop star, Selena Gomez, has recently taken to social media to address the drama that has been circulating online. After her fans called out Hailey Bieber on social media, Selena posted a video about her eyebrows, and soon after, Hailey and Kylie Jenner made fun of her in their own posts.
The negative comments that followed were numerous and screenshots showed that Selena did not hold anything against them.
A Gracious Response
In response to the drama, Selena took to the comment section of her post to express her gratitude for her fans.
She thanked them for their support and love and stated that she loves her fans "so much". She added: "I'm deeply grateful for each and every one of you humans. You make me unbelievably happy". In a second comment, Selena called for kindness and consideration of others' mental health.
She stated that her heart has been heavy and that she only wants good for everyone. She concluded her statement with: "All my love".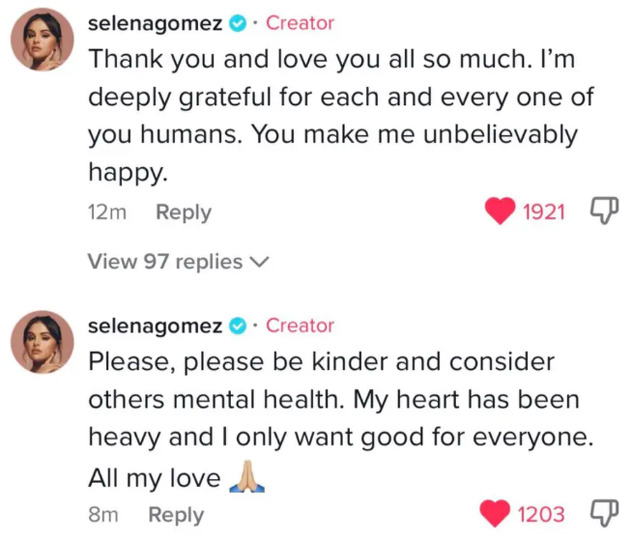 The Background
It is worth mentioning that Selena has a history with Justin Bieber, with whom she had a long-standing relationship that ended in May 2018.
Just three months later, Justin proposed to Hailey Bieber, a move that disappointed many of Selena's fans.
The Aftermath
The recent drama has had a significant impact on Selena's online presence. In just a few days, she gained 10 million new followers and is now the most followed female on the platform with 390 million followers.
Hailey, on the other hand, has received a significant amount of backlash from the public. Negative comments flood her posts, with people calling her "mean" and questioning her identity and fame. Many have taken Selena's side in this drama, with some citing her continued fame and popularity, and others remembering her from her Disney Channel days and her starring roles in various series and movies.
Hailey, on the other hand, has been criticized for being "nobody and nothing" until she married Justin Bieber.
Selena Gomez