Kris Jenner's Million-Dollar Diamond Sparkles with Rumors of Engagement
by
FARUK IMAMOVIC
Reality star and businesswoman, Kris Jenner, took to Instagram to share a series of photos documenting her romantic Valentine's Day celebration with her partner, Corey Gamble. However, it was not the bouquet of flowers or the flute of champagne that caught the attention of her followers, but rather the glimmering diamond ring on her finger.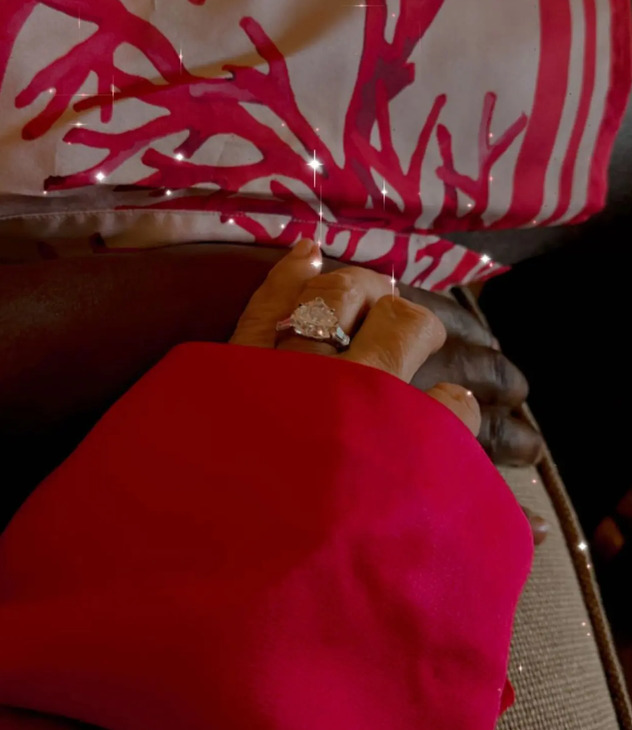 The Heart-Shaped Diamond: A Symbol of Endless Love
With speculation running rampant on social media about the possibility of an engagement, Page Six Style reached out to Mike Fried, CEO of The Diamond Pro, for his expert analysis.
Fried revealed that Jenner's "enormous" ring is "close to 10 carats" and is an incredibly rare find in the world of diamonds. Fried went on to say, "What stands out the most, though, is the unique cut and carefully designed ring.
Most celebrities choose a round-cut or an oval-cut stone. This ring is a true nod to Kris as a trendsetter and someone who doesn't mind standing out from the crowd. Heart-shaped diamonds also represent endless love and dedication in a relationship."
The Duo's Relationship: A Timeline of Rumors and Denials
Jenner and Gamble have been dating since 2014 and were last year rumored to have secretly tied the knot after Jenner's daughter, Khloé Kardashian, noticed her mother wearing a diamond ring on that finger. In an episode of Hulu's "The Kardashians," Khloé confronted Jenner about the rumors, to which she replied with a giggle, "No, I'm not secretly married.
I swear to God, on all my kids and daddy." Despite the denial, speculation still surrounds the couple's relationship, particularly after Jenner's recent Instagram post with the sparkling diamond ring. However, the reality star has yet to confirm or deny the rumors of an engagement.
While the truth behind Jenner's diamond ring remains shrouded in mystery, one thing is for certain – it is a breathtaking and incredibly rare piece of jewelry that is worth more than a million dollars. Whether or not she is engaged, Jenner and Gamble continue to live together in a mansion in Calabasas, California, and their love story continues to captivate the world.
Instagram
• Sophie Turner's First Instagram Appearance Post-Breakup
• 'Friends' Instagram Honors Matthew Perry with Heartfelt Post
• Final Instagram Post Overshadows Matthew Perry's Passing
• Justin Timberlake Disables Instagram Comments Amid Britney Spears Saga
• Gigi Hadid Faces Israel's Ire over Instagram Post on Israel-Hamas Tensions
• Reported Meghan Markle Instagram Relaunch: $1 Million per Post Potential