North Korean First Lady's Necklace Sparks Controversy
by
FARUK IMAMOVIC
The wife of North Korean President, Kim Jong-un, Ri Sol-ju, has recently come under scrutiny on social media after a photo of her wearing a peculiar piece of jewelry was published. At a ceremony marking the 75th anniversary of the Korean People's Army in Pyongyang, Ri was seen wearing a necklace that resembled the Hwasong-17 ballistic missile, causing a stir among social media users.
"This woman has lost her mind," wrote one Twitter user. "What a sick ideology," commented another.
North Korea's Future Leader Takes the Stage
While Ri's unusual accessory sparked criticism, it was North Korean dictator's daughter, Kim Ju Ae, who was the center of attention at the event.
Believed to be nine or ten years old, Ju Ae made her fifth known public appearance at the military parade, leading many to speculate about her potential as the nation's future leader.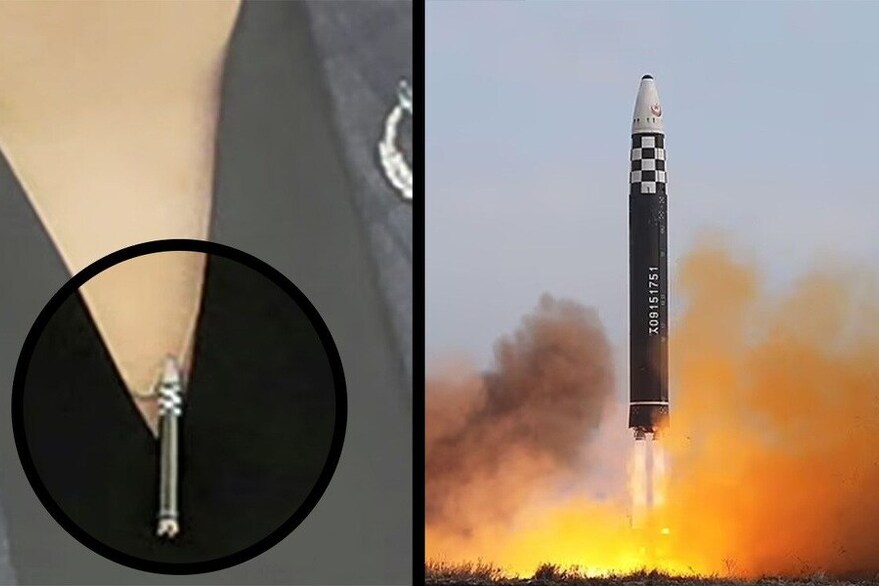 State media has referred to the young girl as the "beloved daughter," while experts suggest that she is being strategically utilized to improve Kim's image as a "family man." The parade showcased the latest weapons in North Korea's nuclear arsenal, including the Hwasong-17 missile and a supposedly brand new, solid-fuel intercontinental ballistic missile (ICBM).
Prior to the parade, rumors swirled about the North Korean leader's health after he was missing from public view for over a month and skipped a politburo meeting for the third time. Nevertheless, the parade marked a show of strength for the nation, putting speculation about Kim's health to rest.
Analysts said that the scale and scope of the weaponry on display showed advances which represented a challenge to the United States. "They've shown more ICBMs in the latest parade than they've ever shown before, consistent with a longstanding directive from Kim Jong Un on mass producing nuclear weapons and delivery systems," said US-based analyst Ankit Panda.
It wasn't until 2021 that Ri Sol-ju was officially recognized as the wife of Kim Jong-un, with South Korean intelligence reporting that the couple has three children.