Emma Hemming Shares Intimate Moment with Bruce Willis, Diagnosed with Aphasia
by
FARUK IMAMOVIC
| VIEW 266
The wife of the legendary Hollywood actor, Bruce Willis, Emma Hemming, recently took to social media to share a heartwarming photo of her and her husband. The photo, which depicts the couple in a tender embrace, brought comfort to fans who were recently made aware of Willis' recent diagnosis with aphasia
.
A Family United in Adversity
In a joint statement released on social media, Hemming, Willis' daughters, and his ex-wife, Demi Moore, informed fans of the actor's health issues. The statement read: "To Bruce's amazing supporters, as a family we wanted to share that our beloved Bruce has been experiencing some health issues and has recently been diagnosed with aphasia, which is impacting his cognitive abilities.
As a result of this and with much consideration, Bruce is stepping away from the career that has meant so much to him." The family went on to express their gratitude for the love and support they have received and emphasized their strong bond, stating: "This is a really challenging time for our family and we are so appreciative of your continued love, compassion, and support.
We are moving through this as a strong family unit, and wanted to bring his fans in because we know how much he means to you, as you do to him... As Bruce always says, 'Live it up' and together we plan to do just that."
Emma Hemming: Sharing the Journey
Hemming has been an integral part of Willis' life and has been sharing her and her husband's journey with fans through social media.
In a recent post, she shared an intimate photo of Willis holding her hand while singing "Adore You" by Harry Styles. Hemming has also shared photos from their past, including a sweet snapshot of the couple on a walk in the forest.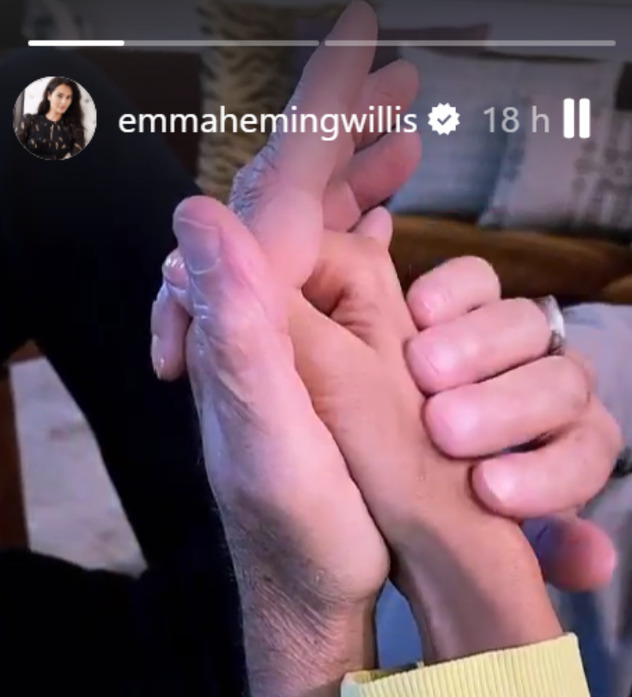 The couple, who have been married since 2009, have two daughters together, Mabel and Evelyn, and Willis has three daughters, Tallulah, Scout, and Rumer, with ex-wife Demi Moore.
Despite the challenges Willis and his family are facing, they remain united and continue to live life to the fullest.
Bruce Willis
Hollywood