Heidi Klum's Daring Outfit at "Avatar: The Way of Water" Premiere
by
FARUK IMAMOVIC
| VIEW 720
Heidi Klum
is no stranger to turning heads on the red carpet, and she did just that at the recent premiere of "Avatar: The Way of Water" in Los Angeles. The supermodel and television host chose a daring outfit for the occasion, wearing an almost transparent dress that showed off her incredible figure.
She completed the look with diamond earrings and high heels and opted for simple makeup and a slicked-back hairstyle. Klum's husband, Tom Kaulitz, was also in attendance at the premiere. The couple recently faced criticism on social media after Klum posed in underwear with her 18-year-old daughter Leni for a campaign with the Initmissimi brand.
Some accused Klum of exploiting her teenage daughter, but others came to her defense, saying that many other famous women have done the same and there was nothing wrong with it. Leni, for her part, has decided to ignore the backlash and focus on the positive aspects of the shoot.
"I honestly didn't look at a lot of the reactions," she admitted. "I am overall happy with the campaign and I had an amazing day with my mom." Despite the controversy, Klum remains focused on her career and continues to be a major force in the fashion and entertainment industries.
She has been a regular on the red carpet for years, and her fashion choices always generate a lot of buzz. Her latest outfit at the "Avatar: The Way of Water" premiere was no exception, and she once again proved that she is a true style icon.
Heidi Klum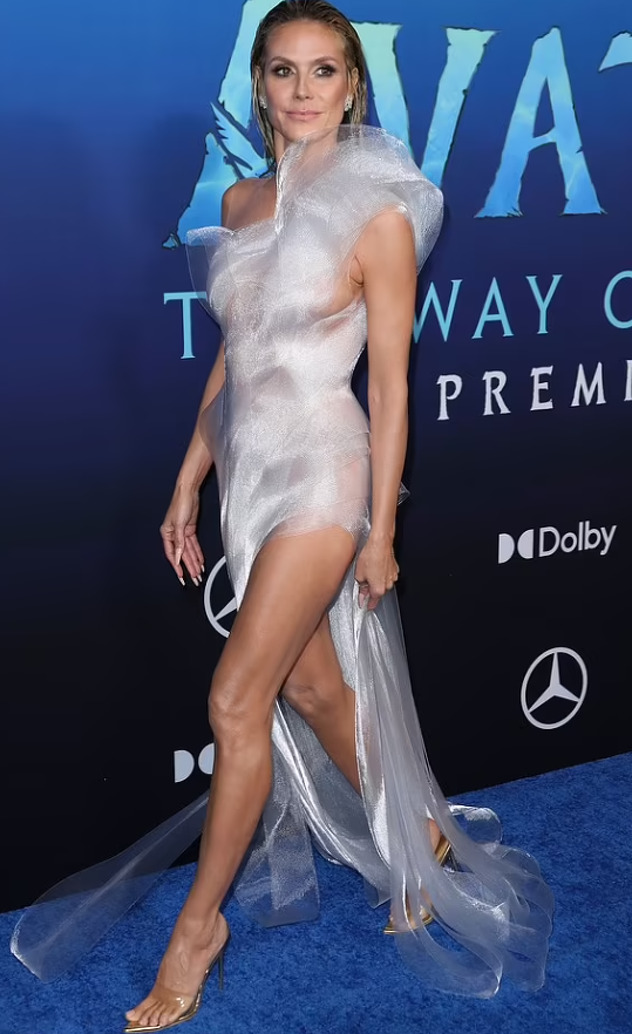 Despite the criticism she has faced in recent weeks, Klum seems unruffled and is continuing to live her life with confidence and grace. She is a role model for many, and her dedication to her work and family is an inspiration to us all.
In addition to her successful modeling and television careers, Klum is also a successful entrepreneur and businesswoman. She has launched several successful clothing and accessory lines, and has even ventured into the world of interior design.
Klum has also been involved in a number of charitable initiatives over the years, and is known for her work with organizations that support children and families in need. She is a true multi-talented individual, and her many achievements are a testament to her hard work and dedication.
Heidi Klum