Jennifer Lopez shares a picture of her son Max lying on her husband Ben Affleck
by
FARUK IMAMOVIC
| VIEW 142
It seems that Jennifer Lopez's children from her previous marriage have found a common language with Ben Affleck. Early Sunday morning, the 53-year-old singer shared a few Thanksgiving photos. A touching photo of her 14-year-old son Max, who fell asleep on Ben Affleck's strong shoulder during the trip, caught the attention of fans.
"This Is … Thanksgiving Holiday ??," Lopez wrote, with a few hashtags, including "#ThisIsMeNow" and "#Family."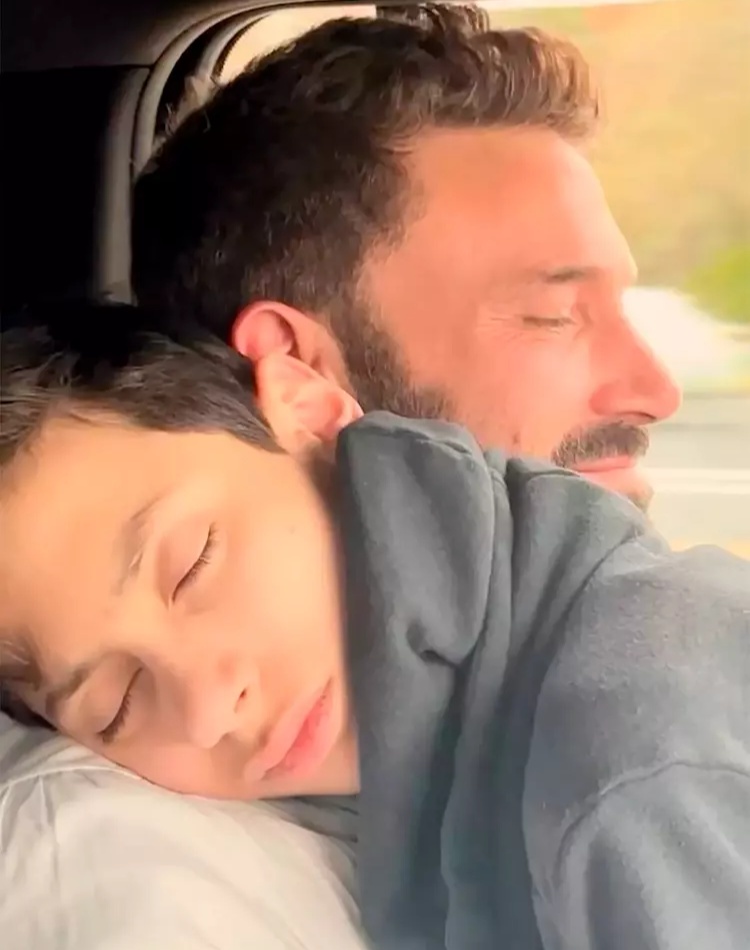 As for Affleck himself, he has a happy smile on his face as the boy hugs him lovingly. In other photos, Jen makes seasonal cakes while the video's soundtrack was The One from her 2002 album This Is Me...
Then.
New album
The singer posted a video on her social network announcing her new album "This Is Me...Now", which is the follow-up to her 2002 album "This Is Me...Then". "This Is Me...Now" will be her next project and reportedly "chronicles the emotional, spiritual and psychological journey that she has taken over the past two decades." "Featuring confessional songs, reflections on the trials of her past, upbeat celebrations of love with her signature powerhouse vocals, This Is Me...Now shines a spotlight on her tough childhood, unsuccessful relationships and the incredible emotional journey she has been on," according to Rolling Stone, citing a press release.
The video, which is currently the only post on her Instagram profile, begins with a video of Jennifer from 2002, which slowly transitions into a new video of the singer, and it's surprising how little she has changed in 20 years.
"This is epic", "Thank you for this wonderful surprise", "We've been waiting for this", and "We love you", are some of the many comments from fans who are excited about the new album, and at the same time relieved because of her return to the social network.
On her Instagram profile, she also published a list of songs that will be on the album that fans are eagerly waiting for. "This Is Me… Now"
"To Be Yours"
"Mad in Love"
"Can't Get Enough"
"Rebound"
"Not. Going. Anywhere."
"Dear Ben pt.
ll"
"Hummingbird"
"Hearts and Flowers"
"Broken Like Me"
"This Time Around"
"Midnight Trip to Vegas"
"Greatest Love Story Never Told"
Both of Jennifer's albums have a link to her husband Ben Affleck.
The track list from the new album that she released alongside the video includes a song called "Dear Ben pt.
ll" which is a follow-up to "Dear Ben" from the album from 20 years ago, both of which are dedicated to Affleck. The singer and the actor were engaged in 2002 and were supposed to get married in September 2003, but they postponed the wedding just a few days before the ceremony and finally called off the engagement in January 2004 and broke up.
Two decades later, Jennifer and Ben reunited after both ended their relationships with other people, and finally tied the knot in July of this year.