Hailey Bieber insists she isn't pregnant as she discloses ovarian cyst
by
FARUK IMAMOVIC
| VIEW 158
Fans have been waiting for Justin and Hailey Bieber to become parents for a long time. Thus, the latest photos of the model attracted the attention of the audience, especially her noticeably rounded stomach. But, as it turned out, the reason for a few extra centimeters on the stomach is not pregnancy, but a serious gynecological disease.
The star decided to respond to the wave of comments from fans with another picture on social networks. She captioned the photo with her jacket up, making it clear that there is no child in her belly. "I have a cyst on my ovary the size of an apple," she wrote.
"I don't have endometriosis or PCOS [polycystic ovary syndrome] but I have gotten an ovarian cyst a few times and it's never fun". "Not a baby". She continued: "It's painful and achy and makes me feel nauseous and bloated and crampy and emotional.
"Anyways... I'm sure a lot of you can overly relate and understand. We got this".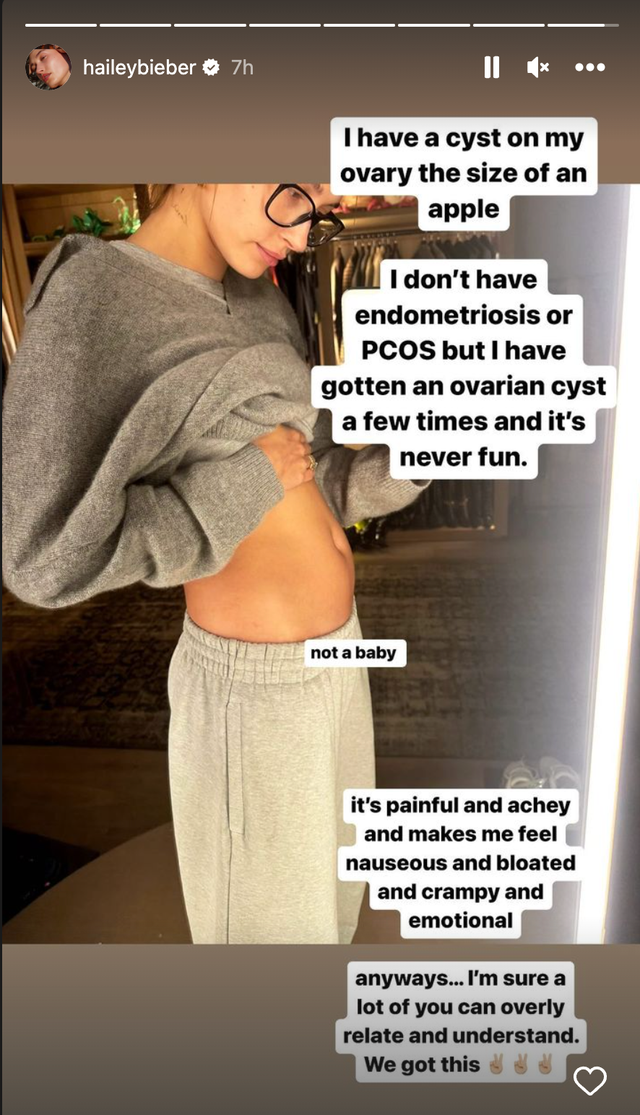 She was rushed to the hospital in March of this year with what was described as "stroke-like symptoms" as a result of a blood clot on Hailey's brain.
"Although this was definitely one of the scariest moments I've ever been through, I'm home now and doing well, and I'm so grateful and thankful to all the amazing doctors and nurses who took care of me!" she wrote in a subsequent Instagram post.
The condition resulted in Justin postponing his tour.
He said: "My body's telling me I've got to slow down. I hope you guys understand. "I'll be using this time to just rest and relax and get back to a hundred percent, so that I can do what I was born to do," he added.
The wife of a popular musician should definitely be thanked for her utmost honesty. Haley doesn't try to be better than she really is, because no girl is immune to such problems. The main thing is that her beloved husband supports her in everything and does not pay attention to the comments of numerous fans.