Baxter Neal Helson: Ex-Husband of Tish Cyrus and Step Dad of Miley Cyrus
by
CELEBTATTLER
| VIEW 89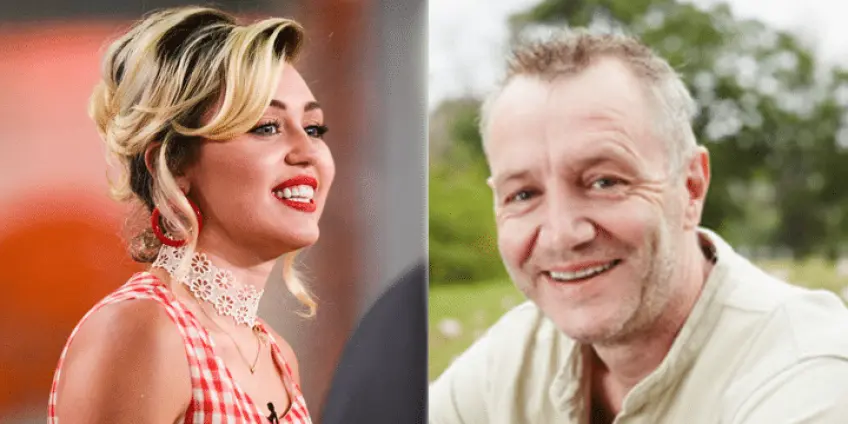 If you know Miley Cyrus, Billy Rae Cyrus, and Tish Cyrus, then I suppose you must know the far-fetched relation of the Cyrus family with Baxter Neal Helson too. Baxter Neal Helson is the stepdad of pop sensation celebrity Miley Cyrus.
He is the ex-husband of Tish Cyrus, the current wife of country singer Billy Rae Cyrus. Let's know some more about Baxter Neal Helson, his marriage with Tish, divorce and his children.
Baxter Neal Helson is the ex-husband of Tish Cyrus
Baxter Neal Helson is not an established name in Hollywood or the music industry.
Nowadays, his name is resurfacing on the internet, all because he is somehow tied to the Cyrus family name. How you wonder, Baxter is the teenage love of Miley Cyrus's mother, Tish Cyrus. You might ask how did it happen, when did it happen and so on.
Well, Baxter Neal Helson and Laticia Jean Finley (Tish Cyrus) met in their local town at a party. They fell in love, dated for a couple of years and married in 1986. As young lovers, they just decided to live together and got married in 1986.
At the age of 19, Tish was pregnant with Baxter's child. There are rumors that the couple married after knowing that they were expecting a child together.
Marriage and Children of Baxter Neal Helson
Baxter and Tish married young.
Tish was 19 and Baxter was around 21 at the time of marriage. Tish gave birth to their first child, Brandi Glenn at the age of 19. Baxter and Tish had their second child in 1988. The second child was a boy, and they named the boy Trace Dempsey.
The young couple had their differences and decided to separate in 1989, after just three years of marriage. Rumors tell that Baxter wanted to name his second child Neal, while Tish preferred Trace Dempsey. In meanwhile, Baxter came to know of Tish's secret boyfriend and lover, Billy Rae Cyrus and problems between the married couple escalated quickly.
The divorce of Baxter Neal Helson with Tish Cyrus
After Baxter knew about Tish's relation with Billy Cyrus, the couple decided to part ways and followed their separate life. Baxter and Tish officially divorced in 1989.
Even after the divorce, the couple didn't come to terms. There were several cases regarding the custody of children, the visiting time and other issues.
Tish Happy after leaving Baxter for Billy
https://www.instagram.com/p/BkI0SAkFD7j/?taken-by=tishcyrus In the custodial case, Tish got custody of both children while all Baxter got was permission to visit his children and have called on the telephone.
Later Tish filed a lawsuit stating her children desire to not attend with Baxter and so on. The couple didn't end their relationship in happy terms, and we believe they are not in contact any further. Later on, Tish married Billy Ray Cyrus.
Billy even adopted Tish's children Brandi and Trace and also gave them the Cyrus surname. Billy Ray is a good father, and the children consider Billy as an inspiration.
The Happy Cyrus Family
https://www.instagram.com/p/BYbTSvJFwLB/?hl=en&taken-by=tishcyrus Their mother, Tish Cyrus, also supports Brandi and Trace in every way she can.
The siblings, Brandi Glenn, and Trace Dempsey are very close to each other and even to Miley Cyrus. Brandi and Trace prefer to stay with their step-father Billy than their biological father, Baxter Neal Helson.
Career and Current life of Baxter Neal Helson
Baxter Neal Helson is a local drummer with dashing looks and style.
No surprise there, making a beautiful girl Tish Tish fall in love with mere glances. Baxter has decided not to follow stardom like his ex-wife and has opted to stay low, quietly enjoying his life in his way.
The Beautiful Tish Cyrus
https://www.instagram.com/p/BjVBPQplVYN/?hl=en&taken-by=tishcyrus We believe he still plays drums in local bars and restaurants and makes his living of it.
We do not know much about his dating life, his wife and current children as he is not active in social media like Facebook and Instagram. However, we think in his 50's he must be married and living a peaceful life with his family.
Baxter Neal Helson Wiki Bio and Net Worth
Baxter Neal Helson was born in 1966 in the United States of America. His birth date and the exact place is unknown. He has an interest in music and has played drums since his teenage.
He is a good drummer and is a bit famous after his work in Ashland Kentucky. Baxter still plays drums and how much he earns is unknown. We do not know where he works and how much he makes annually. So his net worth is a mystery.
His ex-wife, however, is a successful actress and a producer and manager of Miley Cyrus and has a huge net worth.