Sarah "Bogi" Lateiner Wiki-Bio: Husband, Boyfriend, Age, Net Worth
by
CELEBTATTLER
| VIEW 1280
Sarah
Bogi
Lateiner is an ASE certified Master Technician, American television celebrity, poet, and an artist. Bogi is best known as a TV host of Velocity Network's TV show
All Girls Garage
. It is the show which has proven that repairing cars and motorcycles is not limited up to men only.
Sarah is popular by her nickname "Bogi" alongside Cristy Lee, and Rachel De Barros, three women team of All Girls Garage. She is also the owner of 180 Degrees Automotive and recognized as a supporter of arts by educating people about its importance.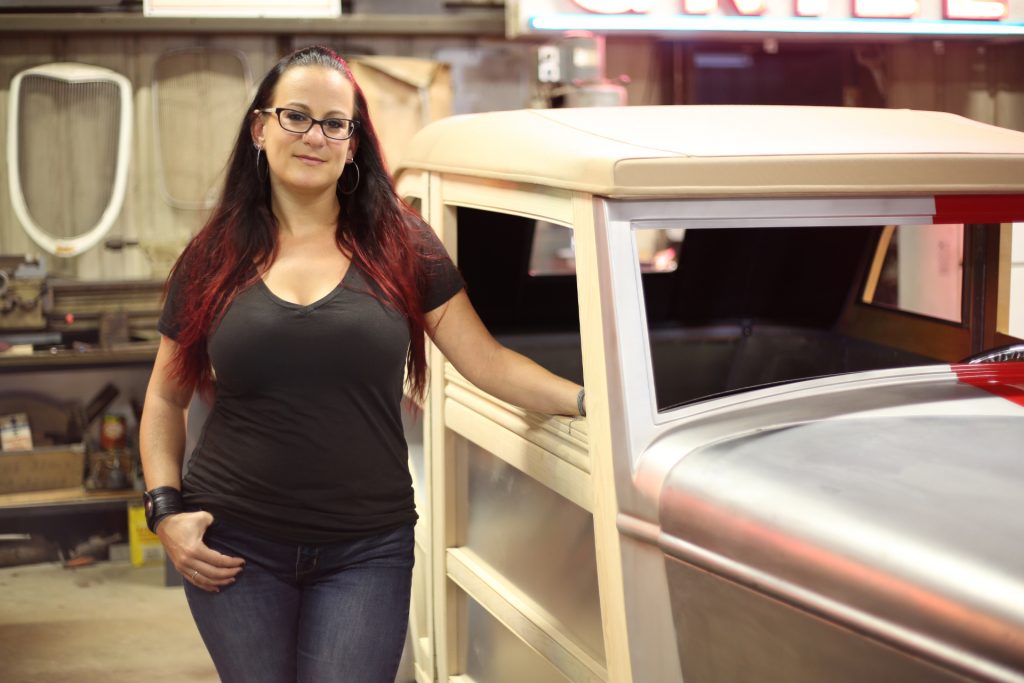 Sarah "Bogi" Lateiner Let's take a detailed look on wiki-bio of Sarah Bogi Lateiner now and learn how did she get a passion for the cars as well as what is the meaning of her nickname "Bogi".
Sarah Bogi Lateiner short bio
Bogi is born as Sarah Lateiner on 15 December 1977 in Flushing, Queens.
Bogi had spent most of her childhood with her only sister Jenny in a small town called Montclair in North Jersey. Moreover, she had grown up in a middle-class family, and her parents struggled to ensure that both of their daughters never lacked anything.
Her education
Sarah's parents wanted to make her a lawyer. Therefore, at first, she went to Oberlin College to get a degree in Pre-Law and Women's Studies. After graduation, Sarah also had thought to join Harvard Law School and became a lawyer.
However, her passion for vehicles never got out of mind, and she decided to attend Universal Technical Institute in Phoenix and graduate as a mechanic from there.
Her Career and Achievements
Bogi graduated in mechanic but being a woman in this field; it was hard to find a job.
After several attempts of job seeking, she had landed at BMW STEP program and worked there as a dealer technician for six years. Then, she ventured into a personal business where she did remarkably well.
Sarah, Cristy and Rachel - All Girl Garage Team While she is working BMW STEP program as a technician, she had felt that she was missing customer interaction and got the vision for an auto shop.
Then, Bogi started 180 Degrees Automobiles in 2006. Similarly, in 2012 she becomes part of the TV show "All Girls Garage," which is a great breakthrough in her career. Talking about her achievement, Bogi has won Female Service Shop Owner of the Year in 2014 and has also won WP Carey School of Business-Impact Award.
How did Bogi get a passion for a cars
Bogi's passion for cars started at the age of sixteen, ever since she bought her first car an old VW Bug. That car needed lots of things to repair, and she had a terrible experience repairing it at the auto shops.
Therefore, she decided to take that car in her high school's auto shop where she had restored her beloved first car completely.
How Sarah got her nickname Bogi
If you are thinking about how she got her nickname Bogi, then we also have an answer for you.
During her study, she got the chance to become part of a student exchange program that let her resides in Hungary. There, Sarah's friends gave her the nickname Bogi which means Leader in Hungarian.
Is Sarah AKA Bogi is still Single or Married
The gorgeous TV host is still single even at the age of 45 as of 2022.
It may look strange to many of her fans, but it's true that Sarah neither yet married and nor dating anyone. Similarly, she is a straight woman and does not have any lesbian relationship with anyone. The reason behind her single status is the busy work schedule as she spent most of the time in traveling.
Therefore, we can say that she is enjoying her life as a world-class car mechanic now. However, sooner or later Sarah will definitely meet her Mr. Right someday.
Her hobbies and personal interest
In her free time, Sarah Bogi Lateiner likes writing, traveling, enjoying the arts and supporting the community of artists.
Exploring Arizona with her bike, enjoying great food and spending quality time with her friends are some of her other hobbies. https://www.instagram.com/p/BopAOJ3HwPy/?taken-by=bogisgarage Bogi isn't only passionate for cars but also wants to transfer her passion to more and more woman in the world.
So, she also teaches people, especially women, about vehicles in monthly car care classes as well as gives training in her automotive shop.
Sarah "Bogi" Lateiner Net Worth
All Girl Garage star Sarah Bogi Lateiner had a successful TV career and earned much money from the show.
However, her salary for the show is not revealed yet. Bogi has also earned attractive money from 180 Degrees Automotive. Similarly, she has also made extra cash from others ventures.
Sarah Bogi Lateiner net worth She has she earned $1 million by fixing cars in a driveway for two years.
Similarly, in 2011, her business made another $1 million in sales. As of 2018, Bogi accumulated a net worth of $5 million. There's no doubt that in the upcoming year she will increase more net worth. You can follow a master mechanic on Instagram and Twitter.