David Bromstad: Partner, Boyfriend, Net Worth, Bio, Tattoos, Height
by
CELEBTATTLER
| VIEW 671
Even today people are hesitant of accepting their se*uality to themselves - opening up to the public is next level thing. It takes a great deal of courage to accept and announce who you are to the whole world. In that list of brave and audacious people, Davis Bromstad is one.
David Bromstad is open about his se*uality and a successful television personality and designer. In the present, he does three shows, which are running smoothly. Why compromise to yourself when you can taste the triumph by being just yourself? You can learn that life lesson from David Bromstad.
David Reed Bromstad, better known as David Bromstad was born on August 17, 1973, in Cokata, Minnesota, United States. He was born as the youngest of four children of Diane Marlys Brostad (Krueger) and Richard Harold David Bromstad.
His three older siblings are Dean Richard Bromstad, Dynelle Renee Bromstad, and Dyonne Rachael Bromstad. David Bromstad is of mix descent as his father is of Norwegian and mother is of Swedish and German origin. It was as if David was meant to be in the art field, as he always had a deep interest in art and design since his childhood.
When he was only in high school, Wayzata High School, he already decided to pursue his career as a Disney
animator. Later he attended Ringling College of Art and Design in Sarasota, Florida, which is known as a starting point for those who are interested in pursuing a career in Disney.
David Bromstad's Height, Age, and Weight
The handsomeness of David is undeniable, and he definitely knows how to keep that up with a perfect physique. He has a very attractive athletic body
. It is very unbelievable that he is about to be of five decades after a few years, he is 48 years old as of 2022.
https://www.instagram.com/p/Bn1SKhQHC5T/
Career Kick of David Bromstad
With a passion brewing from his childhood, David was determined by what he wants to be in the future. After joining and graduating from the college of his dream, he started working as a Disney
illustrator.
But there was something else on a plan of David's fate; he got laid off from his job on Disney. It was a difficult time for David to lose the job he always wanted. However, David didn't let his courage compromise and started his own company, Bromstad Studio, designing fantasy bedrooms for children.
Then at the urging of one of his friend, David moved to Miami Beach and tried out for HGTV's Design Star, a reality competition show to pick a host for a new show on HGTV cable network. There were nine other talented and potential designers but leaving them behind David Bromstad won the grand prize which included a car and a chance to host his own show on HGTV.
David Bromstad then started hosting his own show called Colour Splash with David Bromstad, which debuted in March 2007 on HGTV and Colour Splash Miami on HGTV which debuted in 2010. He also appeared as a guest-guest in the first episode of the second season of HGTV Design Star
.
David also contributes a weekly blog at HGTV. He also became a spokesman for Mythic Paint in 2008. Currently, he is involved in three shows: HGTV Design Star
, HGTV's Beach Flip and HGTV's My Lottery Dream Home.
Tattoos of David Bromstad
As an artist himself, David loves getting inked as tattoos
are also an expression of art.
Altogether he has three tattoos and the one on his shoulders; a dragonfly is his first one. His next tattoo is in his chest which is a Chinese symbol along with a cross in a tribal pattern. His most talked about tattoo is one in his chest that says "Limited Edition." When he first inked that tattoo, he only had words, but later he added a gorgeous design
and a heart in the middle.
Who is David Bromstad Partner?
David Bromstad is mostly reluctant to speak about his personal matter to media. So far he has kept his celebrity
profile low-key. However, about his partners, Jeffery Glasko is the most known.
David and Jeffery stayed together for more than a decade, from 2004 to 2014 before calling it quits. Before they started dating each other, both David and Jeffery had seen each other on different occasions but never talked.
It was in the bar at Firestone in Orlando, on valentine's day single party, where they met and started a new romance
.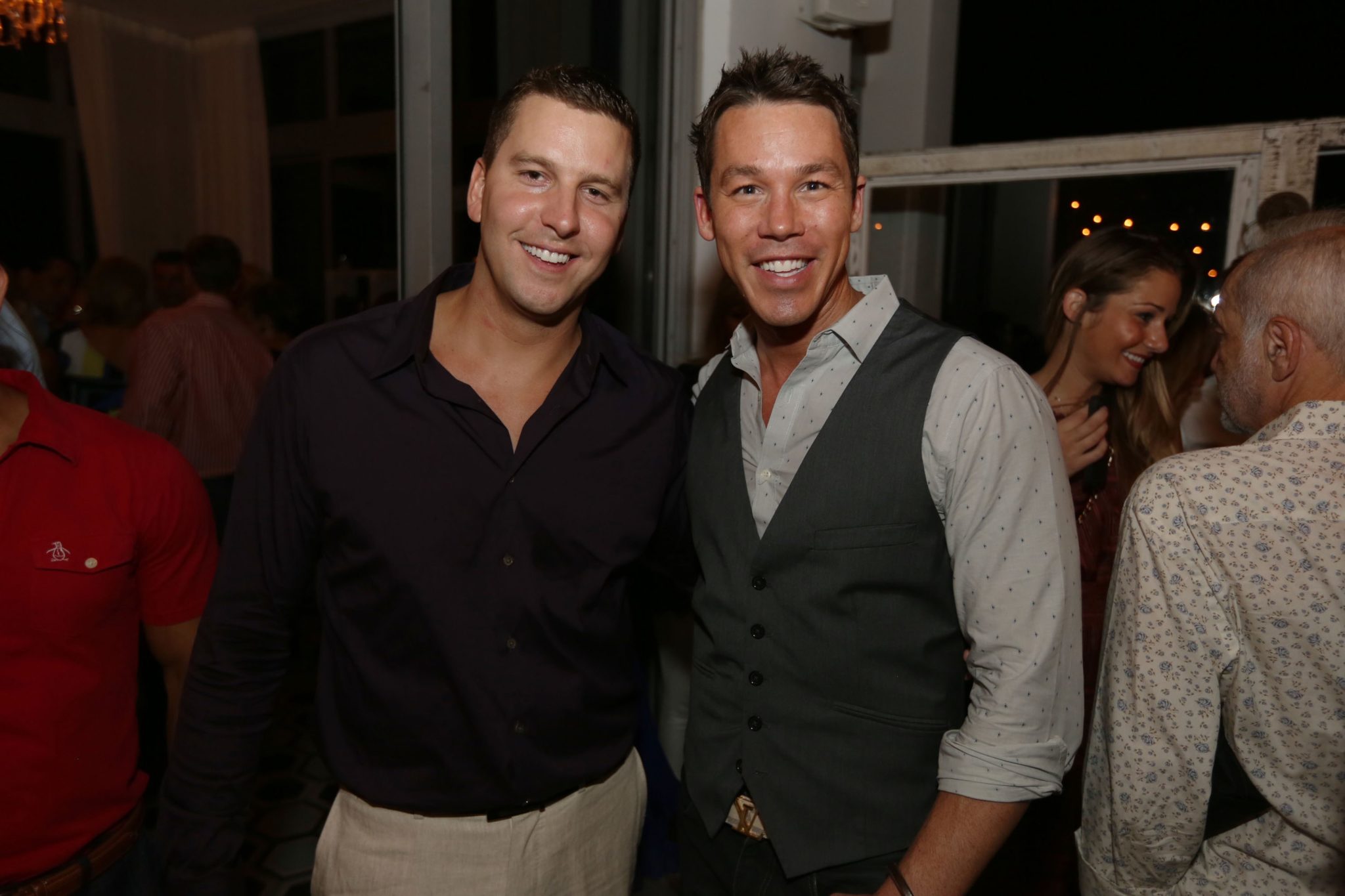 David Bromstad and Jeffery Glasko Although they shared a very long relationship, it didn't end well. As per Jeffery, the reason to call it end was David's drugs and a drinking problem.
Things got messier when Jeffery filed a lawsuit against David claiming he left him emotionally and financially devastated. Jeffery also added that David was caught up in a drug and se* world. However, David won the case after a judge ruled against Jeffery's claims and dismissed all accusations against David.
After enduring so much, David wanted to put everything behind and have some good times. He also posted pictures of partying at Miami gay beach pride party
on February 2017. Few rumors were picked on David dating again, but with no solid proof, we can't say.
Let's hope David will find someone very soon. David life isn't so lonely even without any partners, as he has two adorable pet dogs, miss lady Godiva Bondon and Dozer Bubbas to keep him company. https://www.instagram.com/p/Bk6BmTRH2ud/
David Bromstad Net Worth
Talking about his salary, he earns an annual salary of over $500 thousand from his television show, My Lottery Dream Home.
While from other television shows he accumulates $30 k. With such money, David Bromstad knows how to spend them. He lives a very lavish and comfortable
life in Florida. David is a brand enthusiast for the Miele home appliance
. He also has a line of home furniture and accessories available through Gardin Road, which is owned by HSNi
(Home Shopping Network).
David Bromstad in Social Media
David is very active in social media, where he posts pictures of himself, his friends and family and his pictures of vacationing. He is followed by millions of people from around the world in both Twitter and Instagram. https://www.instagram.com/p/BjnW6ihnAOg/