The Mercedes-AMG One: Limited Edition, Hand-Built And Electrified
by
FARUK IMAMOVIC
| VIEW 185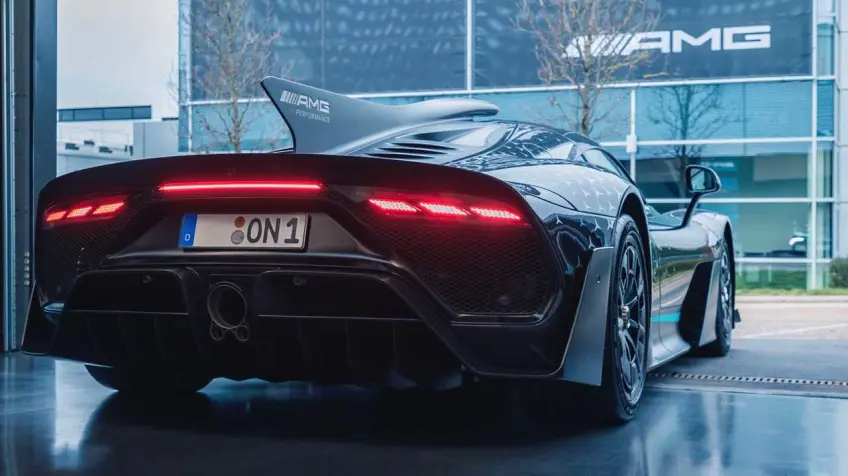 After more than five years of anticipation, Mercedes-AMG has finally unveiled the production version of its highly-anticipated hypercar, the Mercedes-AMG One. The car, which was originally presented as the Project One concept at the Frankfurt Motor Show in 2017, has finally been completed, with the team from Affalterbach confirming the news on social media by publishing photos of the car on the road.
The Mercedes-AMG One is a true racing car for the road and is being hailed as the fastest road-legal production vehicle at the Nurburgring, Hockenheim, and Red Bull Ring. The car features a German license plate with "ON1" written on it, and is predominantly black with Petronas green details, numerous white three-pointed stars on the rear, a red-painted roof vent, and a prominent white AMG badge on the front grille.
The Mercedes-AMG One is a limited-edition vehicle, with only 275 examples being produced. The identities of the owners of the first examples have not been revealed, but it is known that famous F1 drivers Lewis Hamilton, Nico Rosberg, and David Coulthard have ordered the car, with Hamilton rumored to have even ordered two – one for himself and one for his father Anthony.
Actor Mark Wahlberg is also said to be on the list of buyers waiting for the car.
Powertrain and Production
The Mercedes-AMG One features a complex hybrid powertrain, which comprises a turbocharged 1.6-liter V6 engine and four electric motors.
The powertrain originates from the Mercedes-AMG High Performance Powertrains division in Brixworth, and the car is assembled at AMG's Coventry plant in the UK. A dedicated production facility was opened with the help of Multimatic, and each One must pass through 16 assembly and test stations.
The biggest challenge faced by the team in developing the Mercedes-AMG One was making the internal combustion engine, which develops 566 horsepower, meet Euro 6 emissions regulations. The engine idles at 1,200 rpm instead of 5,000 rpm as is the case with F1 cars, and the SUS engine "spins" up to 11,000 rpm and must be adjusted again after 50,000 kilometers driven.
However, it is hard to believe that hypercars will be used so intensively. Production of the Mercedes-AMG One began in August 2022, and the car is expected to be delivered to buyers in the coming months.