Rimac Nevera, 2 million dollars of reasons to choose it
by
LORENZO CIOTTI
| VIEW 193
Rimac Nevera
, of Croatian nationality, costs 2 million dollars. Nevera can count on four permanent magnet motors connected to each wheel to discharge a power of 1,408 kW (1,914 hp) and 2,360 Nm of torque to the ground. The battery consists of a pack of 6,960 liquid-cooled cylindrical cells with a capacity of 120 kWh.
Nevera is capable of reaching a peak speed of 412 km / h and 0-100 acceleration in just 1.97 seconds (9.3 for 0-300). The declared autonomy is 550 km. Unveiled at the 2018 Geneva Motor Show, the Nevera is the manufacturer's second car, after the Rimac Concept One.
The bodywork was designed by the Croatian Adriano Mudri.
Rimac has foreseen the production of 150 units and is committed to the homologation act for the world market. It was initially planned that the first cars would be delivered to owners in 2020.
The company said that all 150 units were reserved 3 weeks after the official presentation. Nevera features 4 liquid-cooled electric motors, one for each wheel, combined with two different transmissions: two single-speed gearboxes on the front and two gearboxes on the rear equipped with two gears.
The estimated maximum speed is 415 km / h thanks to a power of 1408 kW (1914 hp; 1888 hp) and a torque of 2300 N⋅m; the car will be able to accelerate from 0 to 100 km / h in 1.97 seconds, making it one of the fastest cars in the world.
According to the manufacturer, the Nevera has a range of 647 kilometers, based on the NEDC cycle and will be able to cover two laps of the Nürburgring without suffering a deterioration in performance. The car will be compatible with autonomous driving on the fourth level which implies an almost total degree of automation.
This will be possible thanks to 8 cameras, a lidar system, 6 radars and 12 ultrasonic sensors.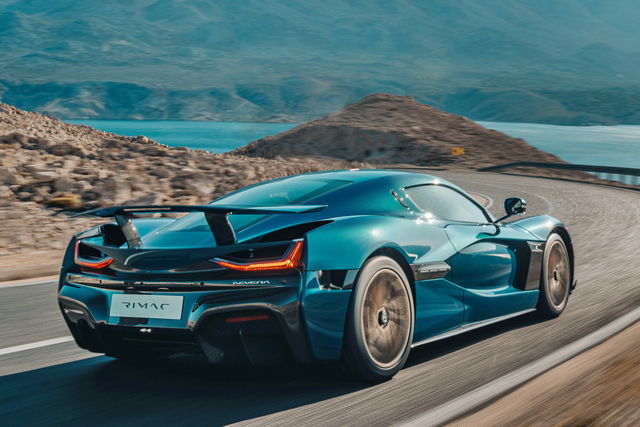 Thanks to the 250 kW charging system, the car takes 30 minutes to recharge the 120 kWh batteries by 80%. The conventional doors on the preceding car are replaced by doors with "butterfly" opening. The weight of 1975 kg guarantees a power to weight ratio of 0.97 HP / kg and the Cx is 0.28.