Gerard Pique and Clara Chia Spotted for the First Time in Public
by
FARUK IMAMOVIC
| VIEW 357
Soccer star Gerard Pique and girlfriend Clara Chia Marti have decided to go public with their love affair, ending months of speculation and rumors. Paparazzi captured the couple leaving Pique's home in a car, while he also recently posted a photo of the two of them together on his Instagram page, which garnered over four million likes
.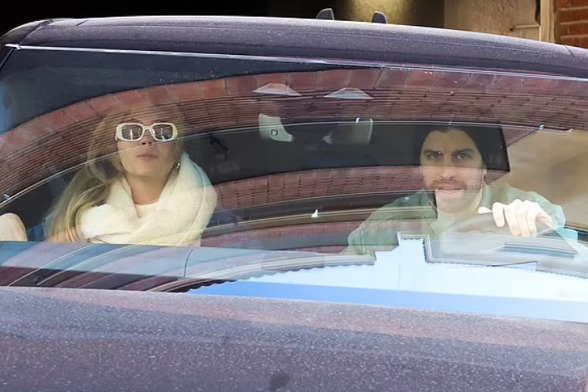 From Shakira to Clara: A Love Story Unfolds
Pique began his romantic relationship with Clara and has since separated from former partner, singer Shakira. On her 46th birthday, the beautiful Colombian was greeted by a crowd of enthusiastic fans who brought her to tears with their outpouring of love.
Celebrity Breakups & New Beginnings
As the public is aware, Pique and Shakira separated in June 2022 and the singer's latest track leaves little doubt as to who she is referring to in her lyrics. Despite the negative attention, Pique and Clara seem to be going strong and are unapologetic about their love affair.
With more and more celebrities embracing new beginnings and fresh starts, this couple is not alone in their pursuit of love and happiness.
Recent Controversy and Song About Infidelity
Shakira recently made headlines after the release of a song in which she speaks about the infidelity of her partner, soccer player Gerard Pique.
In the song, which was recorded with Argentine DJ Bizarrap, Shakira sings about feeling undervalued in the relationship. The lyrics, which include the lines "I'm worth two 22s... You traded a Rolex for a Casio," have caused a stir and numerous reactions from fans.
Pique, for his part, has responded to the song in good humor, explaining his sponsorship deal with Casio during a live stream of the Kings League. He even went as far as to hand out free Casio watches to his guests, causing laughter and good-natured ribbing from his friends.
Shakira's 46th birthday celebration was a heartwarming and joyous event, filled with emotion and laughter. Despite recent controversy, the singer continues to inspire love and affection from her fans, who gathered to celebrate her special day.
Gerard Pique