As a rising star, American Internet personality Nash Grier has made his career in the social media who is also an actor. The social media influencer grabbed the public attention after he started dating actress Nikki Giavasis' daughter.
Nash Grier who rose to stardom through his Vine videos in early 2013. Recently, he announced via Instagram on March 26, 2019, that he is now engaged to his girlfriend. This announcement broke the heart of many of his girls' fan.
But who is he, what are the couple's wedding plans and where and when the two met for the first time?
Quick Facts
| | |
| --- | --- |
| Born Name | Hamilton Nash Grier |
| Birth Place | North Carolina, USA |
| Birth Date | December 28, 1997 |
| Education | Davidson Day School |
| Age | 21 |
| Nationality | American |
| Profession | YouTube star |
| Net Worth | $3 million |
| Height | 6 feet 0 inches (1.83m) |
| Social Media | Instagram, Twitter, Snapchat, Facebook |
| Engaged | Taylor Giavasis |
| Parents | Chad Grier and Elizabeth Floyd |
Who is Nash Grier?
Hamilton Nash Grier was born on December 28, 1997, to Chad Grier and Elizabeth Floyd in North Carolina. He is the second eldest child and his older brother, Will Grier serve as a football quarterback for West Virginia University.
His younger brother named Hayes who is a social media influencer and a younger half-sister, Skylynn, born from his mother and her current husband John Floyd. His stepfather often featured on his videos.
Nash was a freshman at Davidson Day School when the six seconds videos app 'Vine' was released. Then he started creating and uploading videos on the Vine app and quickly rose to fame. As of May 2016, Nash has over 12.7 million followers on Vine.
Career: Internet Celebrity
Nash Grier is a famous internet celebrity who began his career as a Viner. As a rising star, Nash joined the touring group Magcon where fans could meet and greet with their favorite internet celebrities. At the time, Nash along with Taylor Caniff, Shawn Mendes, Jacob Whitesides, Cameron Dallas, and few more celebrities was in the group.
Then he created his self-titled YouTube channel in December 2012 and posts several comic videos, challenges, prank, travel and personal vlog. Some of his most viewed videos include WISDOM TEETH, TRIVIA GONE WRONG, MEET MY SISTER, ASKNASH FT. SKYLYNN and PROTEIN SPOOF.
Then in the year 2014, the YouTuber moved to Los Angeles where he purchased his first apartment with Cameron Dallas. Then he started taking online schooling to complete his high school education. As of April 2019, Nash has more than 4.6 million subscribers and 84 million views on his YouTube channel.
Apart from YouTube, Nash appeared in a couple of movies; The Outfield 
co-starred with Cameron Dallas and on Netflix's film You Get Me. Besides, he made a guest appearance in the number of television shows such as Good Morning America, Fox News, and The View.
Furthermore, Nash Grier has also featured in numerous music videos. In 2014, he appeared in Austin Mahone's music video titled 'Mmm Yeah' and Poo Bear's 'Work For It.' The same year, the YouTube star appeared on Bart Baker's video 'Blank Space Parody.'
How much does Nash Grier earn?
An American social media personality, Nash Grier who has a net worth of $3 million.
Nash makes a quite decent amount of money from his videos and his appearance on movies, TV series and music videos. At the age of 16, Nash bought his first home and currently, he lives in Beverly Hills.
Speaking about his further income, he earns extra wealth from his merchandise 'Nash Grier
' where he sells t-shirts, hoodies, sweatshirt and more.
 Who is Nash Grier's Girlfriend?
Well, while talking about Nash Grier's dating life and current relationship status, everyone might be familiar with the fact that he is not single. It's true that Nash is unmarried but he is engaged to his long term girlfriend, Taylor Giavasis who is also a social media influencer.
Nash and Taylor first met at the Paris Fashion Week when he was seventeen years old and it didn't take a longer time for the couple to fall in love with each other. The two began dating back in 2015 and still living happily together.
Many of his fans eager to know that is he engaged to his girlfriend or not? The answer is Yes, he put on a diamond ring on her finger after saying yes to him. Grier shared a photo on his Instagram in which Taylor wore a big diamond ring with a caption.
He wrote,
"She said yes."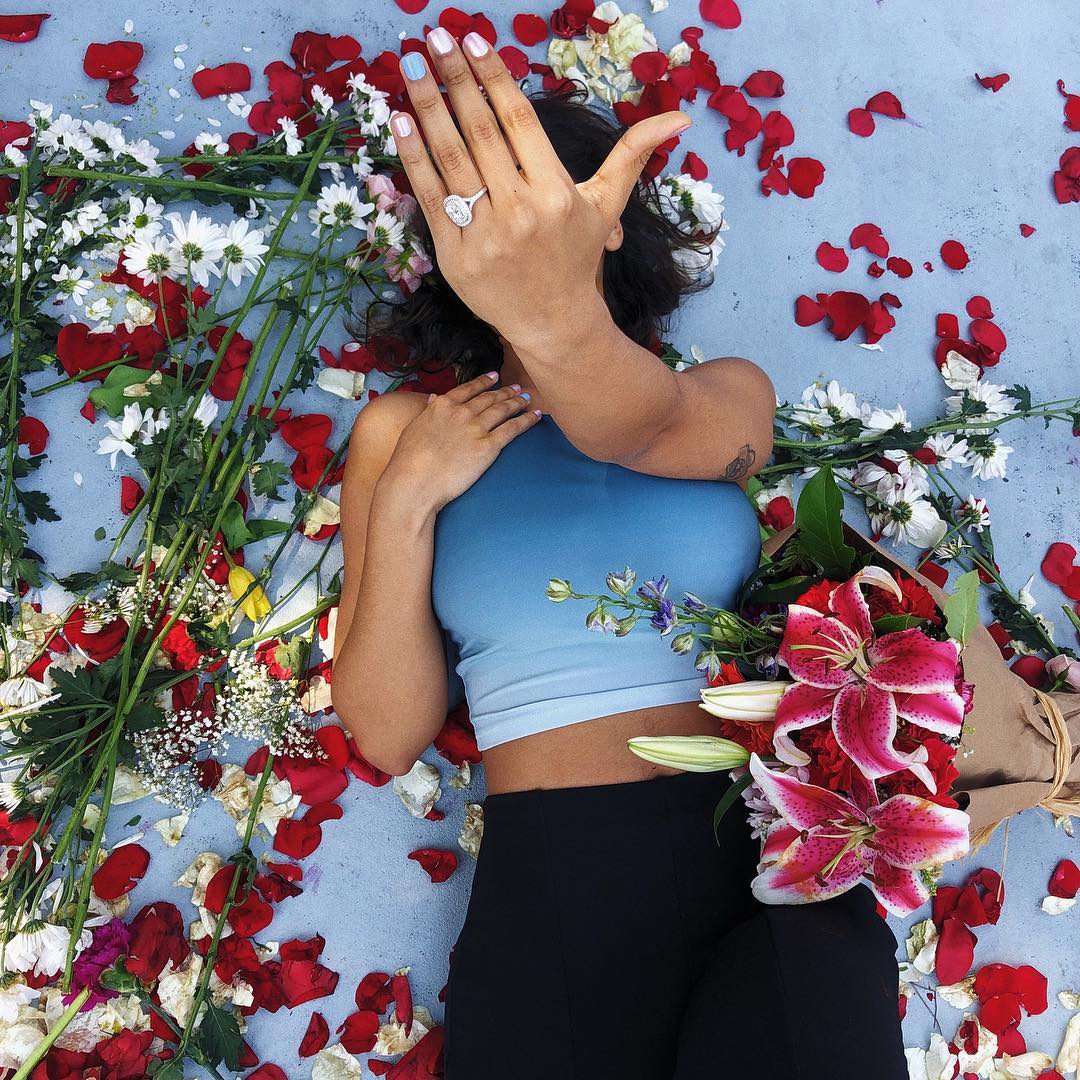 But there is no doubt that the pair will marry in the nearby future!
Social Media
Nash Grier is an internet sensation who has millions of fan followers on all over social media platforms such as Twitter, Facebook, Instagram, and YouTube. In addition, he is also active on Snapchat.
Nash Grier was named the 30 Most Influential People on the Internet by TIME Magazine in 2015 and 2016. He was nominated for Choice Web Star: Comedy for Favorite Social Media Star at the 2015 Teen Choice Awards.
Follow us on Instagram and  Facebook for recent updates about your favorite celebrity.