Having released 12 studio albums and 44 singles since 1992, Billy Ray Cyrus is best known for his number one single "Achy Breaky Heart," which became the first single ever to achieve triple Platinum status in Australia.
It was also the best-selling single in the same country in 1992. Due to the video of this song, the line dance gained in popularity
Many people already know about Billy Ray Cyrus. However, we have summed up all the information about him in this article, keep scrolling down.
Billy Ray Cyrus's Bio
William Ray Cyrus was born on August 25, 1961, in Flatwoods, Kentucky to Ron Cyrus and Ruth Ann Casto. His father was a politician, and a former steelworker and his grandfather was a Pentecostal preacher. His parents divorced in 1966.
Since he was a little, he learned to sing and play music. His grandfather introduced him to bluegrass music and gospel. At the age of four, she began singing, His father and grandfather played guitar, and his mother played the piano.
He received a baseball scholarship and study at Georgetown College, but never completed his graduation.
Billy dropped out his college to pursue his dream as a musician.
Billy Ray Cyrus's Career
He formed a band 'Sly Dog' with his brother in the early 1980s, and soon Billy and his brother were hired as a house band for a club in Ohio. In 1984, a club fired down where Cyrus performed, and all his music equipment was on fire.
Later, he moved on to Los Angles. While he was playing in one of the clubs, counter singer Del Reeve, and Mercury Records signed Cyrus in 1990.
In 1992, he released his first debut album, 'Some Gave All' which was certified 9× Multi-Platinum in the United States and sold more than twenty million copies over the world.
Later, in 1993, he released his second album 'It Won't Be the Last' including four singles, among four only three singles, made the top 40.
Platinum certified the album by the RIAA, and the album debuted at number 1 on County charts and peaked at number 3 on the Billboard 200.
A year later he released his next album 'Storm in the Heartland' which did not earn much success. In 1996 and 1998 he released his fourth and fifth album "Trail of Tears" and 'Shot Full of Love'which did not do well commercially and he ended up his association with Mercury Records.
He signed a deal with Monument Records in 1999. He debuted his album 'Southern Rain' which released in 2000. The album debuted at No. 13 on County Albums charts and N. 102 on Billboard 200.
His popular singles include  You Won't Be Lonely Now, Busy Man, Somebody New, In the Heart of a Woman, Achy Breaky Heart, Could've Been Me and She's Not Cryin' Anymore.
In 2009, Billy Ray Cyrus, John Waite, Phil Vassar, and Jeffrey Steele formed a new group called 'Brother Clyde.' They released their first single 'Lately' from their debut album in 2010.  He left the band in late 2010 and released his new solo patriotic album, titled "I'm American."
Billy Ray Cyrus Changed His Name To Cyrus
Back in August 2017, Billy Ray Cyrus changed his name to Cyrus and re-recorded his 1992 single 'Achy Breaky Heart.'
Cryus told RollingStone that he was changing his name – dropping the 'Billy Ray' to release his music only under his surname. He said,
"After August 25th, I will be the artist formerly known as Billy Ray. I'm just going by my last name Cyrus. I always went by Cyrus, and I begged Mercury Records to call me Cyrus in the beginning because that's what I was comfortable with it. I'm going to the hospital where I was born in Bellefonte, Kentucky, and legally changing my name."
Apart from a music career, Billy Ray Cyrus made his acting career in a big screen television. He starred in a minor role in the film, 'Radical Jack' in 1999.
Back in 2001, he played a lead role in comedy-drama, "Doc" on PAX (now ION Television) which ran for five seasons. The series was the highest-rated show which has gained massive popularity with the viewers.
He has appeared in different television series including The Nanny, Diagnosis Murder, Love Boat, The Next Wave, TNN's 18 Wheels Of Justice,  Degrassi: The Next Generation,  Billy Ray Cyrus: A Year on the Road and Billy Ray Cyrus: Dreams Come True.
In January 2010, he starred in Jackie Chan's movie 'The Spy Next Door.' He also played his son, Trace Cyrus in a reality series titled UFO: Unbelievably Freakin' Obvious.
Teaming Up With Daughter, Miley Cyrus
Billy Ray Cyrus and daughter, Miley Cyrus performed together in the comedy television series, "Hannah Montana" in which his daughter played a lead role as Miley Stewart.
The television series aired on March 24, 2006, on Disney Channel. The father-daughter recorded the song 'I Learned For You' for the show's soundtrack. Cyrus and Miley also recorded a song together for his 2006 album; Wanna Be Your Joe.
In 2007, Billy and daughter Miley Cyrus performed a duet version of the song on Dancing with the Stars which ranked at number 27 on the County charts and eventually peaked at top 4 in 2008.
Billy Ray Cyrus's Married Life
Country Ray Cyrus was in multiple relationships in his past.  Billy Ray married his first wife, Cindy Smith in 1986 and then got divorced in 1991.
Billy and his first wife co-wrote the songs 'Wher'm I Gonna Live?' and 'Some Gave All' which both from the debut album 'Some Gave All.'
After divorced from Cindy, Cyrus married for the second time with an actress and producer, Leticia Cyrus, known as Tish on December 1993. His present wife, Tish Cyrus's first husband, was Baxter Neral Helson in 1986 and they divorced in 1984.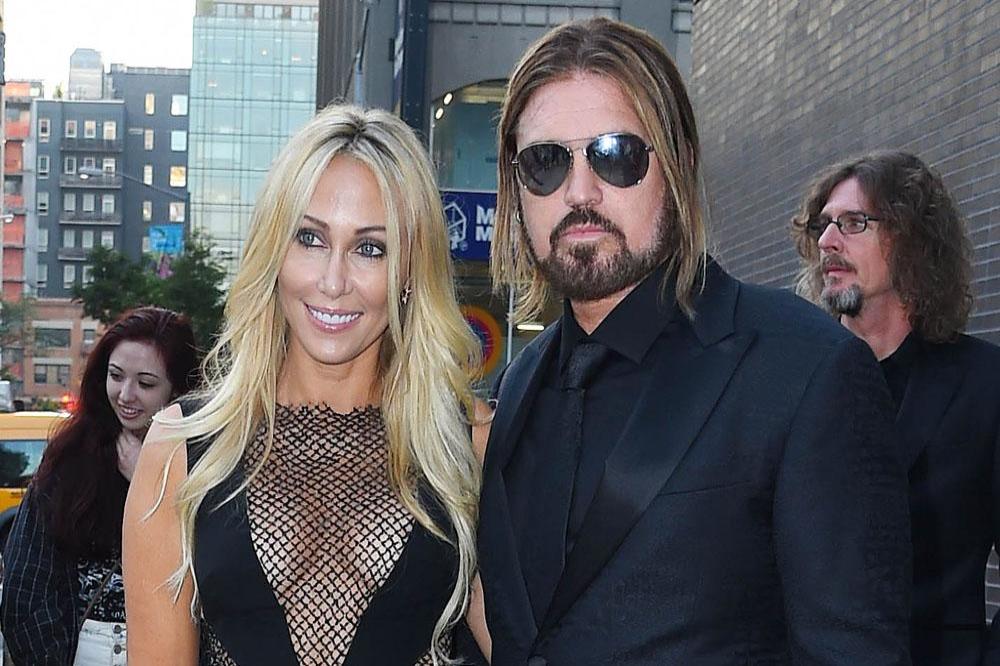 Billy filed for divorce from Tish in Tennessee, citing irreconcilable differences on 26 October 2010. At the time, the couple said, "We are trying to work through some personal matters.
We appreciate your thoughts and prayers."However, on 18 March 2011, Cyrus announced that he had dropped the divorce.
After 19 years of marriage, Tish filed for divorce from Billy Ray on June 2013.
According to TMZ,
She also asked for full physical and legal custody of their third child and seeking spousal support and attorneys' fees.
In 2017, Billy and Tish's divorced case had dismissed. Their argument was out after they failed to show up a scheduled hearing to move forward with the petition.
Billy Ray Cyrus's Children
Tish and Billy have three children, Miley Cyrus, Braison Chance, and Noah Lindsay. Billy is also the father of two step-children, Brandi Glenn Helson and Trace Cyrus. He adopted Brandi and Trace when they were young.
Billy and Tish welcomed their first baby girl on 23 November 1992. Miley was the third child of Tish. Miley Cyrus is an Ameican singer and actress.
Braison Chance Cyrus born on May 9, 1994, and the fifth child of Tish and third child of Billy, Noah Lindsey Cyrus was born on 8 January 2000.
His step-children, Brandi and Trace, were born in 1987 and 1989 respectively. Trace is a singer and guitarist.
Moreover, Cyrus also has a son named Christopher Cody Cyrus, born in April 1992 from his previous relationship with Kristen Luckey. His son stays with his grandmother in South California.
Billy Ray Cyrus's Net Worth
He made most of his wealth through his music. His first album 'Some Gave All' was the best selling album of 1992 in the United States and sold over 4.7 million copies worldwide.
The album debuted at number on the US Billboard 200 and US Billboard County Albums chart.
Country Singer and Actor, Billy Ray Cyrus has a net worth of $20 million in 2019.
Besides this, he also earns additional money from acting and brand endorsements. He is also a philanthropist and involved in many charities.
Billy has supported many charity and foundation like Celebrity Fight Night Foundation, YMC, Feeding America and so on, and, also has his self-titled foundation, 'Billy Ray Cyrus Charities Foundation Inc.'
Also, don't forget to like us on Facebook and Instagram.