Normally, most of us start our career after the twenties but living in the limelight since childhood without being the celeb child is hard but not for those who chase their passion.
Bow Wow AKA Shad Moss, a multi-faceted who is a rapper, actor, and host. Shad released his first debut studio album "Beware ofDog" at the age of 13 which went double platinum Top Ten hit. Let's discover his relationship with Kiyomi Leslie, exes, net worth and much more.
Early Life
Bow Wow is the son of Alfonso Preston Moss and Teresa  Rena Caldwell, born as Shad Gregory Moss on 9 March 1987 in Columbus, Ohio, United States. After his father abandoned the family, his mother remarried to Rodney Caldwell.
Bow Wos was raised by his mother and stepfather and has two half-siblings, Erica and Jasarah. His mother is a hair stylist and step-father is a lawyer.
At the age of six, he began performing as a rapper under the name "Kid Gangsta."
Bow Wow Journey as a Rapper
Bow Wow's life changed when he performed at a concert in Los Angeles where eminent rapper noticed him who eventually gave him a stage name "Lil' Bow Wow."
Snoop also help him to meet the music producer Jermaine Dupri and immediately signed Lil Bow Wow.  At the age of 13, in 2000, Lil Bow Wow released his debut album titled 'Beware of Dog' which became a massive hit. The record sales of more than 3 million copies till to dates and went double platinum by RIAA.
The album included hit singles like Puppy Love, Ghetto Girls, Bounce With Me, and The Dog in Me. The album debuted at number 8 on Billboard.
Doggy Bag and Wanted
After his first album became hit, he came with another album Doggy Bag in 2002 which peaked at No. 11 on the Billboard 200 and sold 1.5 million in the USA. It consists of hit songs like Thank You, Take Ya Home and Off the Glass featuring with Xscape.
The rapper released his fourth album Wanted in 2005 and good fortune resulted. It landed on the top three on the Billboard 200 and No. 1 on Top Rap Albums.
The album was certified platinum by RIAA and sold 956,000 copies by October 2006. It spawned three lead singles, Let Me Hold You, Like You, and Fresh Azimiz.
The Prince of Fame and New Jack City II
His Fifth album The Prince of Fame peaked at number 6 on the US Billboard 200 and was certified Platinum by RIAA and sold 1 million units. The album included songs like Outta My System, I'm a Flirt, and Shortie Like Mine.
His sixth studio album 
New Jack City II 
released in 2009, featuring the famous rappers and singers like Swizz Beatz, Jermaine Dupri, Nelly, Trey Songz, T-Pain, Ron Browz, Dondria, and T.I. It peaked at No. 16 on the Billboard 200 and 5 on the  
Top R&B/Hip-Hop Albums. 
Face Off
Bow Wow and singer Omarion released their collaborative album titled Face Off in 2007. It received gold certification, peaking at 11 on Billboard 200 and sold over 107k copies in its first week.
Girlfriend was the first single which peaked at number 33 on the US Billboard Hot 100.
Bow Wow changed his name to Shad Moss
At 16, Shad dropped his 'Lil' stage name. He told
MTV
;
"I changed my name because I'm getting older now and it's too many Lil's."
The Girlfriend rapper continued,
"All these Lil' rappers, I'm just kind of getting real irritated by it. I said, 'You know what? Drop the Lil'. Forget it. I'm Bow Wow.' Besides, I'm growing up, I'm not little anymore. [I just decided] two weeks ago. I really got irritable. It's all these Lil' cats, forget it. I'm Bow Wow now. Everything is just 'Bow Wow,' no 'Lil' Bow Wow.' "
After two years, Bow Wow
again changed
his to Shad Moss. He wanted his fans to call him "Shad Moss" after June 29 from 2014. He even posted a video on his IG account where he revealed that he is no longer Bow Wow.
He stated:
"After BET awards i will no longer go by Bow Wow! Im going by my real name "Shad Moss" we made alot of history as bow wow."
Net Worth
Bow Wow aka Shad Moss has a net worth fo $2.5 million, as of 2019.
Back in 2017, he had a worth of $1.5 million. Most of his worth comes from by selling his albums and mixtapes. He is the one who has been in this music industry since at age six. Moreover, he has his own clothing line which added to his net worth.
Apart from that, Bow Wow is an actor and has done different roles in numerous films and television shows. He made his first appearance on Brandy's TV sitcom Moesha in 2001. In that same year, he appeared as a supporting role in the movie Carmen: A Hip Hopera.
He also made a cameo in All About The Benjamins and was cast in HBO's Entourage. Also, played in numerous Hollywood movies like Roll Bounce, The Fast and the Furious: Tokyo Drift and Hurricane Season.

Bow Wow is a host and co-host for BET's 106 & Park in October 2013 and also co-hosted the Grammys. From 2016, Bow Wow started hosting Hit Network's radio show RnB Friday Nights.
"Bow Wow" radio every Friday night on @rnbfridayslive @FoxFM 10pm-11pm or Stream live here https://t.co/dkOCaeZskw pic.twitter.com/ZNueyn0zUE

— Bow Wow (@smoss) September 23, 2016
Bow Wow's and Kiyomi Leslie Separated
If you tuned into to the Growing Up Hip Hop: Atlanta reality television on WE TV which premiered on 25 May 2017. The show is about the chronicles lives of the children of hip-hop legends in Atlanta.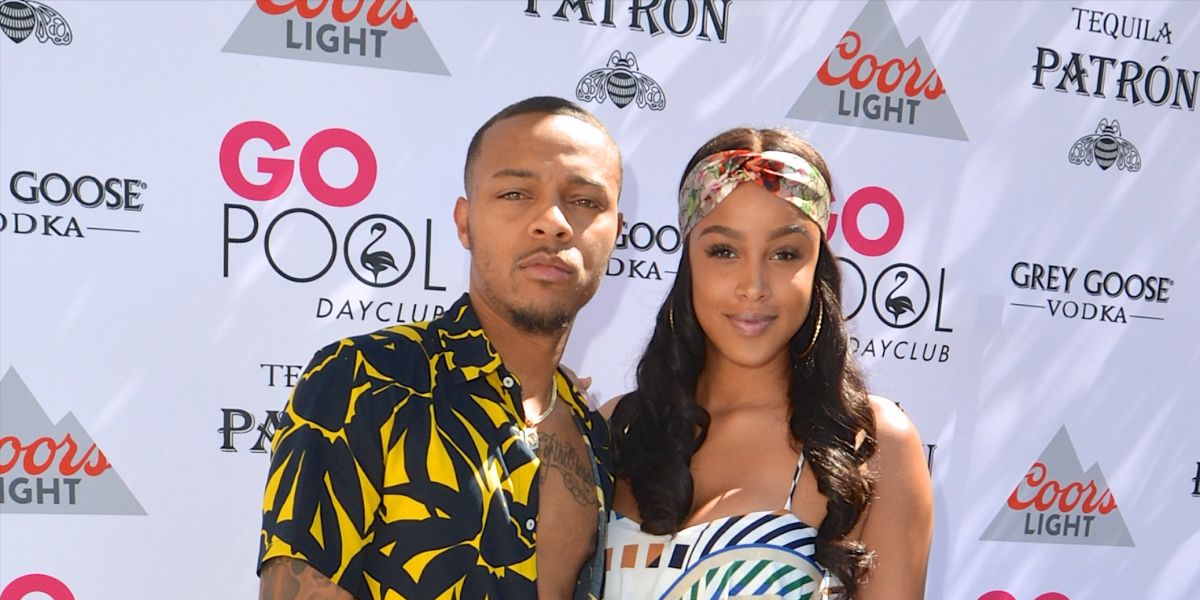 Bow Wow is the main cast of the show where he introduces Kiyomi Leslie. This is the platform where he found his love but the sad news is the two lovebirds couldn't make it forever.
Reality star and rapper, Bow Wow and model, Kiyomi Leslie split up back in 2018. His then-girlfriend, Kiyomi confirmed that she left Bow Wow for Young MA who is a female rapper.
Young Ma trolled Bow Wow on social media, by posting a picture with Kiyomi and the below caption.
Back in August 2018, the rapper said that his then-girlfriend Kiyomi Leslie had suffered a miscarriage. He posted saying 'Don't really care. The media crucify me.'
He also shared an emotional tweet where he tweeted,
'My dad is a alcoholic and is now sick,' he lamented before he dropped the bombshell 'I lost my son this year.'
He sadly continued;
 'I'm over everything. Mentally I feel detached I'm in so much pain bro…'
Before fans were able to react, the rapper deleted his tweet. Despite the deletion, later he took to the social page to clarify his relationship with his ex-girlfriend, Kiyomi Leslie. He stated,
'I love her with all my soul! @Thee_Kiyomi [heart emoji] no matter what! I love her.'
Who is Bow Wow's new mystery girl?
After Bow Wow broke up from Kiyomi, he has moved on into his life. Now, let's go deeper, who is that lucky girl.
According to sources, Bow Wow was spotted courtside at a Basketball game with a new beautiful girl. Wow had an arm wrapped around the mystery girl and sit next to her.
He posted a photo of himself smiling with a caption that hinted at his past relationship.
"Reminiscing on the failures wont help you grow live learn and move on."
Bow Wow: Past Relationships
Everyone's got a crush once in their life but love and crush are two different words.
In this part, we've together a quick timeline of Bow Wow's past relationship.  Take a glimpse!
For those of us who can remember, Bow Wow and Erica Mena were formally engaged and made it all public. Unluckily, the two ended up. Ex-fiance, Mena said that she was allegedly abused by the 'Like You' rapper.
He also romantically linked up with a singer, Ciara but they broke up for a very simple and direct reason. Bow Wow is the one who just couldn't stick to one woman.
He has dated several gorgeous ladies like Keyshia Cole, Ayisha Diaz, Masika, and Joie Chavis.
Bow Wow: Daughter
Every love story has left some memories behind which help to live their entire life. Likewise, the rapper the most precious gift that keeps a big smile on his face.
The reason behind his smile is his daughter, Shai Moss. Did you ever think that he would be the father of Seven years old? We are here to make you believe and we have evidence for that!
Bow Wow aka Shad Moss's daughter was born on 27 April 2011 from his ex-girlfriend, Joie Chavis. At first, he denied that he had a daughter.  Later he admitted that he waited so long to announced his daughter birth but he was nervous about how his fans would react at him.
After being a father everything has changed, he said. Shai lived with her mother and it was really hard for the star. He told Oprah,
'It's so hard — I Skype with [Shai] and I just wish that I could just reach in there and grab her little self.'
The rapper makes a lot of efforts it works, this we know because of social media where he shared many pictures with sweet captions.
Social Media
The rapper who has been spotlight since his childhood and established himself as one of the successful rappers in the music industry. Now, Bow Wow is officially known as Shad Moss. Wow' Instagram is shadmoss and he's also on Twitter using his name @smoss.
Will Shad Moss marry the girl whom he is currently dating? What do you think?
For more celeb gossips, don't forget to like our Facebook and Instagram.